Last week Yahoo! (YHOO) announced its third quarter results, which were below the street expectations. Yahoo!'s revenue ex traffic acquisition cost, or TAC, posted a decline of 1% year over year to $1.08 billion. The most alarming was the 27% year-over-year decline in income from operations, and 13% decline in the Non-GAAP EPS. The management said that it has put an enormous amount of energy and efforts into repositioning the company for growth, and it expects to benefit in the coming years. Also, in its third quarter results, Yahoo! made an amendment in its most profitable investment, Alibaba, share agreement.
Rising valuation of Alibaba
While Yahoo!'s third quarter results were dismal, there were some positive developments. Yahoo! has made changes in its share sale agreement with Alibaba Group Ltd. Alibaba Group, through its subsidiaries, engages in developing consumer e-commerce, online payment, business-to-business marketplaces, and cloud computing businesses in China and internationally. Yahoo! owns 523.6 million shares, which is 24% stake in Alibaba, and it will now sell only 208 million shares, i.e. around 40% of its total holdings, as compared to 261.5 million shares earlier. The management feels that Alibaba has long-term potential and will maintain a large stake in it.
| | | | | |
| --- | --- | --- | --- | --- |
| Alibaba | Total Value | Yahoo!'s stake | Yahoo! Per share (Outstanding 1.02 billion) | Sale of 39.72% stake |
| Bull case | $125 billion | $30 billion | $29.41 | $11.92 billion |
| Bear case | $75 billion | $18 billion | $17.64 | $7.15 billion |
In May 2012, Yahoo! sold off half of its stake in Alibaba for $7.1 billion; it has now decided to sell around 40% of its present stake and monetize the remaining stake post-IPO. Analysts have valued Alibaba from $75 billion to $125 billion, and thus Yahoo!'s stake comes out to be in the range of $18 billion to $30 billion. Sale of its 40% stake is likely to fetch Yahoo! around $7 billion-$12 billion pre-taxes. Seeing strong growth potential of Alibaba, we believe that Yahoo! has done right thing to sell only 40% stake in Alibaba from 50% stake earlier, as its valuation continue to grow after its IPO.
After deciding not to list in Hong-Kong, due to some regulatory issues, Alibaba is heading to the U.S. to be listed on the NYSE. The announcement of the IPO, along with its strong revenue growth, is expected to increase Alibaba's valuation. We believe this will work in favor of Yahoo!, as it decided to hold onto a larger portion of its stake in Alibaba.
Boom in the Chinese e-commerce market
Alibaba recorded revenue of $1.73 billion and net income of $707 million in the second quarter of 2013, up from $273 million in the same quarter last year. The rise in e-commerce in China is responsible for the growth of Alibaba Group, as Alibaba dominates the Chinese e-commerce market with 79% market share. The e-commerce industry in China is growing fast, and its penetration rate has reached around 9% of total retail sales in the second quarter of 2013, from 2% in 2010. Meanwhile, the U.S. has a penetration rate of 10-11%. What is more significant here is that China rose from a penetration rate of 2% to 9% in just three and a half years, while the U.S. achieved it in 10 years. The growth in e-commerce penetration has been due to many factors, such as increase in broadband penetration, innovation by the online retail industry, along with rise of online transactions on smartphones.
Apparently, Alibaba wants to expand the Chinese retail industry; it plans to invest $16 billion in logistics and support by 2020. It is encouraging retailers to be more internet -savvy and build backup infrastructure to further expand the e-commerce industry in China. It is encouraging retailers to include internet as a platform and thus build more businesses. Alibaba wants to revolutionize the industry and expects it to be around $500 billion by 2016, overtaking Wal-Mart Stores as the world's biggest retail network. The e-commerce is evolving quickly, the pace of innovation is increasing, and Alibaba needs to innovate consistently in order to maintain its dominant market share. We believe that increasing online investment in e-commerce will have a positive impact on the retailers and Alibaba in the medium to long term.
Can mobile be the growth driver in future
Yahoo!'s future is mobile, which is supported by the fact that it witnessed 390 million monthly mobile users in the third quarter from 340 million in the last quarter. However, mobile monetization is yet to show significant progress, with Price per Ad and Price per Click both declining by 7% year over year and 4% year over year respectively in the third quarter of 2013.
Yahoo! has made several efforts in product redesigning, which we covered in our last report, and made huge investments in acquisitions in the last one year. One of the investments is on mobile monetization with native ads, or Yahoo! stream ads. These ads are based on the user's search experience, and increase the likelihood of clicks. Yahoo!'s strength lies in content varying from Finance to Entertainment, and it has gained large audiences through its massive content. Thus, leveraging on its content, Yahoo! can promote native ads more effectively to its user base and boost ad revenue. The result of these native ads looks promising, which could increase revenue per page view for Yahoo!
Yahoo! is heading in the right direction with the rise in the number of ads, but the declining price per ad is a concern. If Yahoo! is able to increase site traffic, it will increase the advertisers, resulting in a better price per ad. We believe that Yahoo! mobile monetization will pay off, if it is able to expand its advertiser base.
While Yahoo! has yet to bear fruit from mobile advertisements, its rivals Google (GOOG) and Facebook (FB) are racing ahead in this segment. Both companies dominate the U.S. advertisement market, and both are shifting ad business towards smartphones and tablets.
Google, which is a leader in both mobile and digital segments, has done well to maintain its position in the ad industry. Google rolled out an important update to its AdWords called Enhanced Campaign, or EC, in July this year. This update allows advertisers to better target their audience, as Google will now stream ad campaigns on all desktop, mobile, and tablet devices. Google recorded 26% year-over-year increase in paid clicks, which includes aggregate clicks related to ads served on Google sites in the third quarter of 2013 due to the EC rolled out last quarter.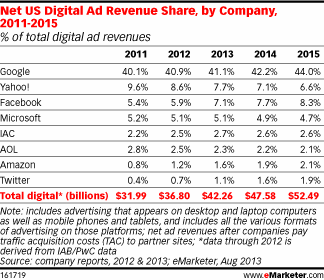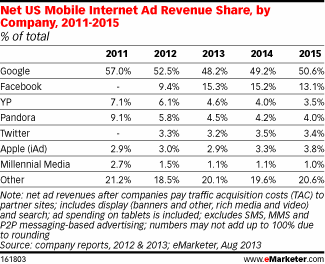 Source: eMarketer
According to Android Police, a web blog, Google will now start showing ads on its Gmail app. This may be annoying for users, but it is a great opportunity for advertisers to reach their audiences and help Google grow ad revenue.
Although Facebook is the second largest in the U.S mobile ad industry, it is far away from Google in terms of market share. Facebook has generated approximately 41% of its total ad revenue from mobiles in the second quarter this year and is looking to increase this share. Like Google, Facebook is also looking to beef up its mobile ad revenue as people shift from desktops to smartphones and tablets. It is now looking to earn more ad revenue through showing ads on external apps. It will offer external mobile ads, which would allow advertisers to get data from Facebook profiles and target potential customers using personal user data. The dominance of these two companies shows that Yahoo! has a long way to go in mobile monetization in order to rise as an emerging player in the U.S. mobile advertisement industry.
Conclusion
The most recent quarter results may not delight investors, but Marissa Mayer has done well to turnaround Yahoo! in a year or so. The path ahead will not be easy, especially with competitors like Google and Facebook. Yahoo!'s enterprise value is around $34 billion. Based on the table above (at the beginning), Alibaba's valuation is going to be between $18 billion-$30 billion. Thus Yahoo!'s valuation can be as low $4 billion, which indicates just how much valuable its stake in Alibaba is. Also, we expect that the past acquisitions and strategic changes will gradually reflect in the coming year's results. We remain bullish on Yahoo! and expect upside potential in its stock in the long run.
Disclosure: I have no positions in any stocks mentioned, and no plans to initiate any positions within the next 72 hours. I wrote this article myself, and it expresses my own opinions. I am not receiving compensation for it (other than from Seeking Alpha). I have no business relationship with any company whose stock is mentioned in this article.
Additional disclosure: Fusion Research is a team of equity analysts. This article was written by Rohit Gupta, one of our research analysts. We did not receive compensation for this article (other than from Seeking Alpha), and we have no business relationship with any company whose stock is mentioned in this article.