We now have the refill data from sales of Arena Pharmaceuticals (NASDAQ:ARNA) Belviq for week 18. Before moving into the numbers there is an important factor to understand. The key in looking at any data is not really the data itself, but rather how that data stacks up against expectations. For example, 20% sales growth can be good or bad. It is good if people were expecting 15% growth. It is bad if people were expecting 25%.
Over the past couple of weeks, what we have seen with Arena is that expectations are now more muted and tempered than they were at launch and the first weeks of sales. The high expectations placed on sales of the anti-obesity drug Belviq had not been met for several weeks, and what we saw happen was that analysts of Arena have adjusted models. Adjusted models mean adjusted expectations. The dynamic of stock performance based on expectations was demonstrated when we saw the prescription sales numbers this past Friday. Script sales were essentially flat. A month ago that data would have sent the stock tumbling. Last week, the equity held on the flat script growth news.
When looking at refills, what I attempt to do is assess the data to determine the near term catalysts that will move the equity. That makes the chart included in this series of articles fluctuate as time passes. When you look at the chart below, the first thing you will notice is that this week's numbers are not red across the board, nor are they yellow or green. The sentiment is a gradient of red and yellow. Simply stated, there appears to be a shift in expectations happening. If that shift is confirmed, the sentiment would have been neutral (yellow). If that shift is not confirmed the cells in the chart would be red. I expected refills this week to be fairly flat for a few reasons. I covered those reasons in an instablog late last week. As I projected, this past week was a modest number. I anticipate the same for next week. Two weeks from now I see great potential for the numbers to beat expectations of the street. To better understand this, I recommend that you read the instablog I wrote late last week.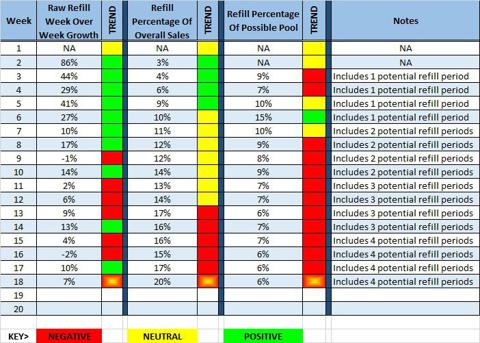 Click to enlarge
The latest data is for week 18 since the launch of Belviq. That data takes us through October 11, 2013. There are a few dynamics I look at for refills. These categories are: the raw growth of refills, the second is the percentage of refills in the current week vs. total prescriptions, and the last is the percentage of this week's refills vs. the potential pool.
Raw Refill Growth
The raw refill growth week over week was about 7%. This has been a bearish number in the past, but may be shifting to a more neutral number. As stated, it is the data vs. expectations that is important here, and not the number itself. We do want to see continued refill growth because it helps us assess the success of the product and whether or not it is gaining traction. While there is only one reason a person would refill a drug, there are many as to why they might not. People refill a drug that is working. They may not refill because it is not working, the cost, or simply because they have already gotten the desired results. With this category, what we want to see is a steady growth in the number that reflect what we are seeing the total sales growth.
Refills vs. Total Prescriptions
This category can be used in a few ways. I like to use it as a leading indicator. High front-end growth will make this number very low. Thus, the lower this number is the better (provided we are already seeing raw refill growth). When this number is high, like it is this week, it indicates that the front-end supply of new patients is slowing. That will impact the refill numbers two weeks from now, and then every four weeks thereafter. This week, overall sales were essentially flat. That is not good if expectations are high. With tempered expectations, the flat week is much more neutral. If, as an investor you can gauge expectations, and then assess data like this, you can develop a trading strategy. The flat week in overall sales this week will impact the refill number two weeks from now. The good news is that two weeks from now we will be entering a phase where the front-end growth of two months ago will deliver a bigger positive.
Refills vs. Total Possible Pool
In this category, I take the data back to 4 possible refill periods. I go back two weeks to take into account a two-week free trial, and then go back for three standard refills. I only go back this far because at that point the methodology of the data shifts. What measuring services like IMS Health and Symphony measure are total scripts and new scripts. The delta between these are refills. It seems simple, but let's remember how things work. It is reasonable that a doctor will write a 15-day free trial script and then a script for 3 refills. When the doctor writes the 15-day script, it is counted as a new script because the patient walks into a pharmacy with a script in hand. After the 15 days is up, that patient will likely walk in with another new script for a three month supply. The first month will likely get counted as another new script, while the next two will be counted as refills. In essence, one patient on the drug for 3.5 months will be counted as a new script twice and a refill twice. After the three months expires, the patient will return to the doctor and, if the drug is working, will get a new script. That same patient will then be counted as new again, and then counted as a refill twice. I am aware that there are numerous ways a doctor can write scripts, but in my opinion, the system outlined above is likely the most common. Rather than debate the methodology, try to understand it, and how you as an investor can use it to monitor progress vs. expectations.
This week, the refills as a percentage of the possible pool showed minor improvement for the third week in a row if you go out two decimal places. While that improvement is modest, it is establishing a trend in the proper direction. I characterized that as cautiously neutral vs. expectations.
Summary
The expectations regarding Belviq sales and refills are more realistic than they have ever been. This sets a stage where the equity can now improve. The front-end growth was very slow this past week, and we want to see improvement here. The refills tout of the possible pool is trending in the right direction. Next week will have total prescriptions modestly impacted by the Columbus Day Holiday (a federal holiday). The refills next week will be hampered by the Labor Day Holiday 8 weeks prior. The following week the potential pool for refills will jump substantially, and front-end growth should be showing some improvement (though not huge) from the early stages of direct to consumer advertising. In my opinion, we have another week to get through with modesty before getting to a week where numbers might be perceived as bullish rather than bearish or neutral. Combine the timing with a quarterly conference call, and we could have an interesting situation. Stay Tuned.
Disclosure: I am long ARNA. I wrote this article myself, and it expresses my own opinions. I am not receiving compensation for it (other than from Seeking Alpha). I have no business relationship with any company whose stock is mentioned in this article.