Recently, I announced that Seeking Alpha has partnered with Zacks Investment Research to provide our authors with another powerful research tool at no cost.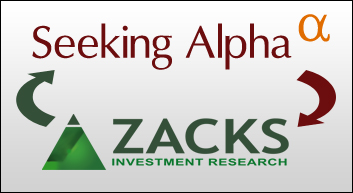 I am now pleased to announce that we have extended this offer to our most active community participants as well. Anyone who appears on one of our Seeking Alpha Leaderboards on December 15 (top commenters, StockTalkers and Instabloggers) are also entitled to a complimentary subscription to Zacks Premium for one full year.
There are two elements of the premium service that many in our community will find particularly valuable. The first is a stock and industry screening tool. Users can utilize pre-set screens or customize their own by adjusting up to 150 attributes. Additionally, users can screen by the Zacks Rank for both stocks and industries. The Zacks Rank, driven by earnings estimate revisions, is assigned to a stock or industry based on a quantitative model that accounts for the direction and degree of change in earnings estimates.

The second element, full access to Zacks Equity Research, is the fundamental research needed to round out the insight provided by the Zacks Rank. Zacks Equity Research provides users with research reports produced by Zacks' 50 independent and unbiased analysts who follow small, medium, and large cap stocks.

We are pleased to provide our most active community participants with this service for free. In exchange for providing free subscriptions, Zacks simply requests that instablogs, StockTalks or comments that quote or are based on Zacks Premium data cite the source with a link to Zacks' website.

To sign up, please click here.
Zacks competes with Yahoo Finance (YHOO), MSN Money (MSFT), Money (TWX), CNNMoney (TWX), Wall Street Journal (NASDAQ:NWS), SmartMoney, Barrons, and Marketwatch (NWS).