Introduction
I first encountered Camac Energy (CAK) a few years ago when the company seemed to be in a death spiral with a lack of strategy and direction. The company owned several offshore Nigerian oil wells and some gas blocks in China, but didn't seem to have a focus. While the company was engaged in energy exploration, geographically the company didn't seemed to be focused. Since then it has sold off the Chinese blocks and focused on energy exploration in Africa.
I previously wrote about CAK just after their 2Q13 results were released, and the company had contracted for a drill rig to come in and drill additional wells. Due to circumstances out of its control, the movement of the drilling rig was delayed until September 9th when drilling began. Since then, the company seems to be on track with increasing value for shareholders and bringing in additional revenues.
Latest press release
CAK released the following on October 16th 2013, providing an update to its drilling operations:
HOUSTON, TX -- (Marketwired) -- 10/16/13 -- CAMAC Energy, Inc. (NYSE MKT: CAK) today announced it has been informed by Allied Energy PLC ("Allied") of preliminary results from the Oyo-7 well in OML 120 offshore Nigeria. The results exceed internal pre-drill expectations. Oyo-7 commenced drilling operations on September 9, 2013. Based on logging while drilling ("LWD") data, the well encountered gross oil pay of 133 feet (net oil pay of 115 feet) and gross gas pay of 103 feet (net gas pay of 93 feet) in the gas cap from the currently producing Pliocene reservoir, with excellent reservoir quality. The top of the reservoir was penetrated at 5,564 feet. The well is currently drilling to the planned total depth of 8,038 feet and is expected to penetrate the deep Miocene secondary objective.

"We are highly encouraged by these preliminary net pay results in the Pliocene reservoir, which is the primary objective of the well," said Dr. Kase Lawal, Chairman and CEO of CAMAC Energy. "Not only have we confirmed net oil pay results that exceed our internal expectations, but a smaller than expected gas column was also penetrated. As a result, we expect improved oil production from the horizontal section. I am proud of the technical teams at both Allied Energy and CAMAC Energy for our successful drilling operations, and look forward to updating shareholders as we complete drilling and evaluation of the deep Miocene reservoir."
For those unfamiliar with the technical aspects of drilling for oil, it is hard to understand the significance of this release, but the following picture may help understanding where the company is: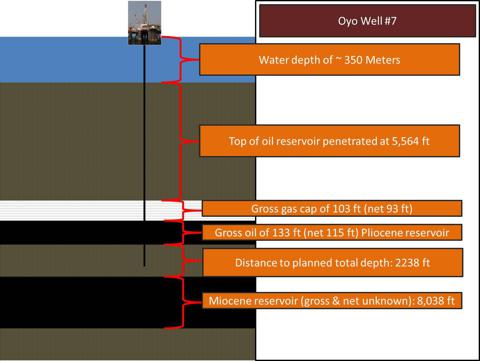 Click to enlarge
The drill rig sits in about 350 meters of water, and drilled down 5,564 ft to the top of the Pliocene reservoir. The rig first encountered the gas cap, with 103 ft of gross gas, and 93 ft of that being recoverable. Oyo intends to reinject the gas back into the well to help with the recovery of the oil. The Pliocene reservoir measured 133 ft thick based on the logging while drilling data, with 115 ft being recoverable, or an 86% recovery rate. The rig will continue to drill down to the Miocene reservoir, which the company expects to encounter in another 2,238 ft, or a total of 8,038 ft.
The benefit of continuing to drill is tapping two different oil reservoirs with the same well, killing two birds with one stone. Once all the economically recoverable oil is pulled from the Pliocene reservoir, the company can then continue to recover oil from the Miocene reservoir.
The Oyo field is currently producing around 2,000 bopd from the Oyo wells #5 and 6. But once Oyo #7 comes on line, another 7,000 bopd is expected to be added to the recovery. After the well is finished, CAK will then move the rig to drill Oyo #8, which is also expected to produce 7,000 bopd.
What is coming in the next 12 months
In the next few months, we should see several press releases that will boost shareholder value:
Oyo #7 hits the Miocene reservoir, proving it has

two reservoirs being tapped by one well. I expect to see this in the next week (end of October 2013).

The company announces the commencement of drilling Oyo #8. The company has already announce its plans to drill #8 after #7 is finished, and expects to see similar production.
Partnerships with large oil and gas producers. Dr. Kase Lawal stated his intent with the Oyo field was to bring in partners who can assist with capital to bring the entire field into production:
What we're attempting to do is leverage off the fact that we're drilling an Oyo development well in this location, take advantage of that well, test the Miocene. If we prove that there's oil in the Miocene, then that significantly de-risks some rather large -- some very large Miocene prospects that we have elsewhere on the block. And we would then look to bring in a partner to help defray the cost and the risk of drilling one of those large Miocene prospects.
Announcement of other wells to be drilled. The company has already stated its plans to fully exploit the field, but have yet to fully map out the plan past well #8.
Now we anticipate that these are not the last two wells to be drilled in the field. Our technical staff is currently making plans to drill additional development wells, which would bring -- continue to increase production into 2014. But we haven't put out any expectations of what that would be.
Revenues from exploration
I stated this before, but wanted to update my predictions for how this will impact the bottom line and quarterly revenues:

Click to enlarge
Since CAK is an exploration company, an accurate valuation of the company is difficult. Currently the company is reporting just over $2M in revenues per quarter. If Oyo #7 is able to bring in 5,000 bopd, that would be an additional $4M, bringing the totals to $6M per quarter. Management estimates that #7 and #8 will each bring about 7,000 bopd, or a total of 16,000 bopd when #5, #6, #7 and #8 are all taken into account. So at $100/barrel, we can expect the revenues to jump from about $2M per quarter to about $15M per quarter if the estimate is correct.
Bringing Oyo #7 and #8 online will not only bolster these revenues, but also instill confidence in the project management capabilities of the company.
Long term
While the Oyo field is providing near-term value for CAK investors, there are still additional streams of future revenue. CAK owns blocks in Gambia and Kenya that are still being mapped and explored for future production.
In Gambia, the company owns two blocks, located adjacent to two blocks operated by African Petroleum, which has already been 3D mapped, and shows promising results with estimates of 500 MMBbls. This project is in the very early stages, but based on neighboring research, looks promising and will deliver revenues to the company in the next 2-3 years: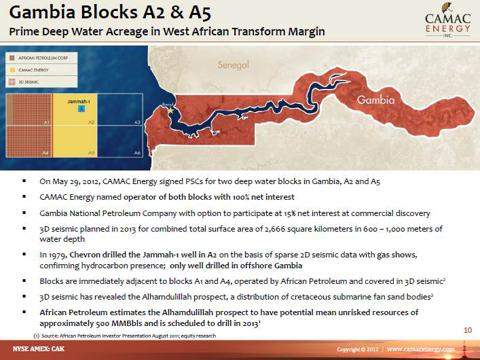 Click to enlarge
The company also has almost 37,000 km2 in Kenya that is being explored. The prospects here are not as well known since this region of the world has not been as intensely explored. There are several wells that have been drilled, and several other blocks that are being mapped with 3D seismic mapping and could be positive catalysts for CAK without having to devote any capital.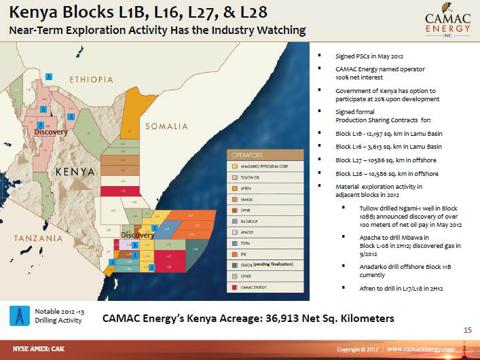 Click to enlarge
Conclusion
Camac Energy has several more press releases coming that will significantly increase shareholder value in the coming weeks and months. Announcements about estimated oil production, the tapping of additional oil reservoirs and partnerships to aid in the production will all send the price higher. Expect these catalysts any day now.
Disclosure: I am long CAK. I wrote this article myself, and it expresses my own opinions. I am not receiving compensation for it (other than from Seeking Alpha). I have no business relationship with any company whose stock is mentioned in this article.