2013 has, so far, been quite the whirlwind for REIT investors. Though many REIT equities trade at a similar price today compared to what they did at the beginning of the year, most experienced a dramatic interim rise and fall. Realty Income (NYSE:O), for instance, rose from $40 all the way to $55 and is now back where it began. Simon Property (NYSE:SPG) started at $160, jumped to $180 and is also back where it began the year.
REIT Volatility Explained
The low interest rate environment has created relative yield starvation for income investors. REITs, with their 3-8% distribution points, have and still offer investors a reliable income stream well in excess of current risk-free payouts and most shorter-term investment grade fixed income products. At the beginning of the year, specifically from April to mid-May, there was almost an aura of panic buying in the REIT space, as investors and traders flocked to the group, driving prices up and yields down.
For the past six months, however, REITs have fallen under a spell of valuation and interest rate worry, which has led to a sizeable performance lag compared to robust overall market returns. The potential for a tapering of QE seemed to kick off the selling, which in turn led to heightened scrutiny over valuation. The past few months have been comparatively quiet, although a pullback in the 10-year Treasury has led to a near-term rally in most sector constituents.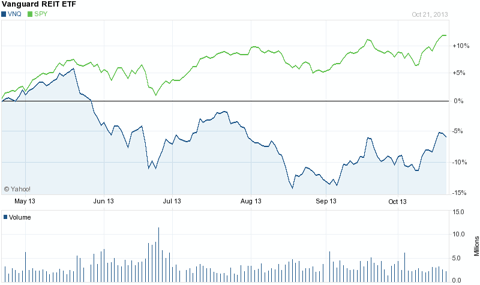 Click to enlarge
So despite stable performance from most REITs, stock price volatility and a terrible sentiment overhang has frozen the group. Ever since the April/May run-up, I've been somewhat negative on near-term prospects for REITs and have recommended an underweight position relative to other market sectors for both income and total return players. However, the current lull combined with growing dovish interest rate sentiment has decidedly decreased my bearish tone on the group. While this is hardly a call to load up the truck like my call at the beginning of the year, I think many REITs at these levels afford a decent total return proposition once again, with substantially reduced risk as compared to six months ago.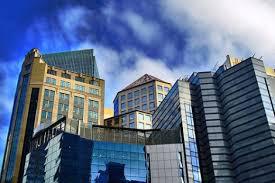 Interest Rate Risk Explained
I continue to feel that a rising rate environment will likely be a negative for REITs, but the extent of the impact will be dependent on the swiftness of moves on both the short- and long-end of the yield curve. We've already seen this year the impact long-end movement can have on the group. As competitive investment yield rises, the allure of the REIT decreases. If I can get a 36-month CD again for 5%, do I really want to own a REIT yielding 4%?
As short-term rates increase and borrowing costs rise, the impact on especially higher levered REITs will be more than marginal. Yet a move on short rates would likely signal economic strength. For REITs, economic strength could take the form of increased demand for leasable space, leading to increased rents, better long-term lease terms, and robust NOI growth. An improved economy could also lead to higher overall real estate pricing, which obviously benefits the existing portfolio and NAV, but could pose challenges on forward building purchases depending on where cap rates and interest rates settle.
Thus the forward outlook is far from certain in a rising rate climate, although it does appear that expansion would be a challenge for most, especially if for whatever reason short rates zoom up. However, my sense is that interest rate gyration will be negligible for the time being, providing for a stable entry opportunity in reasonably valued REITs.
Strategy Session
Although now appears like a decent time to be upping exposure to REITs, I still don't consider it a wholesale opportunity. Focus on REITs with low P/FFOs, a pipeline of business that affords FFO and AFFO growth, lower levels of debt, and companies that distribute a reasonable amount of AFFO.
Some of my current favorites include:
American Realty Capital Properties (ARCP): Continuing to digest acquisitions, but reasonably valued, ARCP is increasing AFFO and dividends. The company recently received an investment grade rating of Baa3 from Moody's.
NorthStar Realty Finance (NYSE:NRF): More of a hybrid REIT than a traditional equity REIT, NRF's business model affords efficient allocation of capital to a variety of commercial real estate business lines. I feel the management here is cream of the crop in the REIT sector.
Summary
This year's boom/bust cycle for REITs appears past us. Though I would not expect eye-popping total returns going forward, acceptable valuations, decreasing bearish growls from the bleachers, and stable cash flows seem to be signaling a more stable baseline from which to invest.
Disclosure: I am long ARCP, NRF, HME. I wrote this article myself, and it expresses my own opinions. I am not receiving compensation for it (other than from Seeking Alpha). I have no business relationship with any company whose stock is mentioned in this article.
Additional disclosure: Disclaimer: The above should not be considered or construed as individualized or specific investment advice. Do your own research and consult a professional, if necessary, before making investment decisions.