Starbucks (NASDAQ:SBUX) faces the challenge of a new generation of coffee drinkers, as the market and technology has significantly changed since the first company store opened in Seattle in 1971.
The major differentiator over the years has been a social atmosphere to accompany a good cup of coffee, which is the major reason Starbucks has been able to hold its pricing power. That advantage has slowly been evaporating for the beverage company, as new technology has resulted in not only the ability to make a better cup of coffee, but to place robotic baristas in places which accommodate social interaction. This poses a very real threat to Starbucks over the long term, as it targets the higher-end coffee market.
On the lower end of kiosk coffee machines (which isn't what this article refers to when mentioning robotic baristas) Starbucks has been competing for a little over a year, making deals with several companies such as Coinstar's Red Box to sells its lower-end 'Seattle's Best' brand. That has allowed it to expand that market without cannibalizing its better and more profitable high-end beverage brands.
Now there are a growing number of quality competitors which will at minimum cut into some of the sales of Starbucks and disrupt the overall coffee house industry in a big way. It's probably not going to be a disruptor in the sense of making them obsolete, but it will definitely change the way the industry operates - especially Starbucks - while putting pressure on revenue and earnings.
source: Yahoo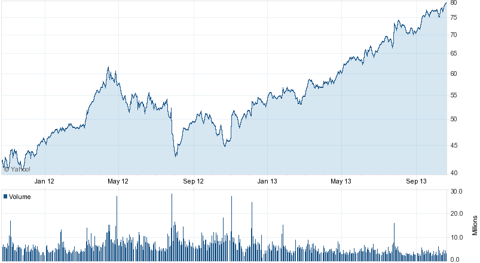 Robot Baristas and Capsules
With the introduction of smart, robotic baristas, both the quality of coffee and social attraction of Starbucks shops are under siege.
The days of the image of securing automated coffee at the automat are long over, where you simply got your coffee and left. That's still viable for those who are on the go, but for those wanting more of a social experience with their coffee there will continue to be demand for a place to hang out and socialize while drinking.
What will be an increasing challenge for Starbucks will be the relative ease of placing a automated barista in a wide variety of areas where people congregate. Places like university bookstores, airports, hospitals and corporate cafeterias. In the not too distant future there will be automated kiosks all over the United States and the world in places people can interact with one another. Starbucks will become simply one of many options for people to go to.
Starbucks quality has been slowly eroding over time in the eyes of some coffee drinkers, who don't perceive enough difference in many cases to justify the higher prices.
There is also now a better way to create a cup of coffee, one which offers the same taste with each cup. It is with vacuum-sealed capsules, which help retain the quality of the coffee bean.
Robot Baristas
There are a growing number of automated baristas out there, including the one already mentioned from Red Box, as well as Marley Coffee Automated Stores and Briggo, among others. I'm going to look at Briggo here as an example of a company that will compete with Starbucks in the high-end coffee market.
Its robot barista takes up only 50 square feet, so can be strategically placed almost anywhere without interfering with valuable space. This is why it is dangerous to coffee shops like Starbucks, because it can be put in a lounge or any area where people get together. That reproduces the atmosphere part of the equation; one that automated baristas haven't had much impact on in the past. This is the primary threat to Starbucks.
The second threat is the uniformity of the experience from a robotic barista like Briggo provides. High turnover at Starbucks results in a low number of expert baristas that can make the same tasting drink every time. Briggo doesn't have that problem, as the automated shop churns out the same tasting drink every time. This rates it high in customer satisfaction. The quality is also very high, as the robotic barista has been calibrated based upon champion barista Patrick Pierce.
Finally, with Briggo in particular it has the added value of allowing customers to pre-order their drink and conveniently pick it up. This is done via an app created by Briggo. All a customer has to do is log in and make an order while providing payment information. You then add when you want to pick it up and it'll be ready for you. Pretty cool.
Adding to the experience is the ability to communicate with the app on social media like Facebook, where you can let friends know you're getting some coffee at the kiosk and whether or not they want to meet up there.
source: Briggo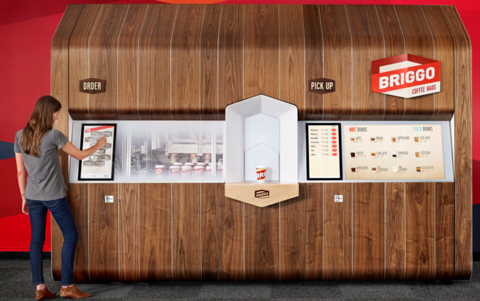 Coffee Capsules
Another threat to Starbucks is in regard to quality of coffee, where a number of companies have developed coffee capsules which provide a higher quality cup of coffee.
If you haven't heard of this you may scoff, but taste tests have been performed, and the coffee capsules outperform expert baristas when going head to head against each other.
The reason capsules outperform human baristas is because they are vacuum-sealed immediately after the beans are roasted. This keeps the beans from oxidizing until they're brewed. Coffee capsules also always contain the right grind.
Systems using capsules are able to control the temperature and pressure elements of the brewing process, as well as control how the water interacts with the beans. The bottom line is a better tasting cup of coffee.
Open coffee systems have the continual problem of leftover coffee oils which will become oxidized and stale. This flavor will transfer to the following cup of coffee made, which obviously interferes with the expected flavor result. Capsules prevent that from happening.
What Type of Disruption?
An important thing to know in regard to this disruptive technology is what type of disruption it will be. Taking two fairly recent examples will give an idea of what to expect in regard to Starbucks.
First is the RedBox demolition of Blockbuster. In that case the reason Blockbuster couldn't respond was it had nothing to differentiate it from RedBox. Anything you could get at Blockbuster you could get at RedBox, and there was nothing to keep customers coming back.
Second is the disruption of the computer industry by the smartphone. While we'll always have some of the larger computers, we don't have near the need of them we had in the past. This is the experience I see happening with Starbucks.
Rather than the destruction as experienced by Blockbuster, it may be more of a shrinking as experienced by Hewlett Packard. I say this because even with the potential to place robotic baristas in areas where socializing can take place, there are so many Starbucks locations available that it will still attract those accustomed to hanging out there.
The new generation of customers emerging are different though, and have no problem securing coffee from a kiosk and communicating concerning a place they can meet up afterwards. This and the convenience of kiosks providing uniform, quality coffee and beverages, will be a challenge to Starbucks in the years ahead.
Keep in mind that younger customers have been raised up on social media, and it's as compelling and real to them as a physical coffee shop is.
Conclusion
Robotic baristas or kiosks are just beginning to take hold in America, and while they pose no immediate threat to Starbucks and other coffee shops, when they start to proliferate across the country, they will make a material impact on the performance of Starbucks.
It's one of those events which will start somewhat unseen and small, and suddenly break on the scene as kiosks spring up everywhere and are accepted by a new generation that has no qualms about buying from a robot barista and enjoys social networking as much as physical contact.
When asked recently whether or not Starbucks would boost automation beyond what it now uses at its stores, spokeswoman Linda Mills says the company has no intention of moving in that direction because it would take away from the experience customers are used to.
Unfortunately for Starbucks, that relates to existing customers and not the new generation of potential customers.
Of course Starbucks has entered into the fray on the low end, but it is stubbornly holding to its current business model on the high end. I think this is a mistake; one that will come back to bite them over the next several years.
Again, this isn't an imminent threat for Starbucks, but one that will play out in the next few years. For now its international and domestic same-store growth will help to overcome this emerging trend, but over time there is no doubt Starbucks will have to respond if it doesn't want to become a much smaller company.
Investors need to watch this situation closely as it's one of those trends which will seem to appear out of nowhere and dramatically impact the coffee industry. If Starbucks is in your portfolio, this will be its greatest challenge to growth in the years ahead, and how and if they respond to it will determine its performance.
I believe once it saturates the Asian markets the competition from robotic baristas will force Starbucks to respond or diminish in size. Another metric to watch for will be same-store sales domestically. The trick there is taking into account store closings which may have underperformed or cannibalized other Starbucks nearby. Sometimes that can give the impression of same-store growth when in fact growth came from the elimination of competing with itself.
Another negative catalyst will be when the economy stagnates again. We have been in a bull market and a slow, but steady uptrend economically. When that changes the lower-priced offerings of Starbuck's competitors will also likely slow down growth.
Disclosure: I have no positions in any stocks mentioned, and no plans to initiate any positions within the next 72 hours. I wrote this article myself, and it expresses my own opinions. I am not receiving compensation for it (other than from Seeking Alpha). I have no business relationship with any company whose stock is mentioned in this article.