The market dumped D.R. Horton (NYSE:DHI) after it reported last quarter losing $0.73 a share rather than the market consensus loss of $0.30. DHI has been beaten down from $12.20 to a low of $9.82 since it reported. It's been an awful loser and that's saying a lot when one looks at the other companies in the sector: Hovnanian (NYSE:HOV), KB Home (NYSE:KBH), Pulte (NYSE:PHM), Toll Bros. (NYSE:TOL).
I have a simple question: did anybody listen to the conference call? (See earnings call transcript.)
Management brought up three key points not addressed in their earnings report:
1. They took in $113 million in November in tax refunds after the quarter ended.
2. They expect another $150 million coming later in 2010.
3. As a result of the tax law changes in carry back for NOL to 5 years, they expect another $200 million or more coming to them in 2010.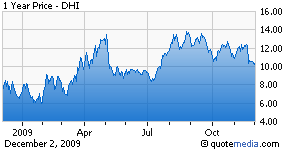 All in all, tax refunds to DHI come to at least $463 million. That's on top of their almost $2 billion cash on their balance sheet. $2.5 billion in cash goes a long way for a $3.15 billion market cap company. Total debt has been brought down from $6.1 to $3.3 billion over the last 3 years. Impairments for the quarter were $192 million; the previous year's quarter were $1.1 billion. Still a big number but eighty per cent less than last year's quarter. Management indicated in the conference call that impairments for future quarters should continue to wind down.
I took a position today at $9.84. My prediction: DHI more than weathers the storm, coming out strong in 2010 with a pile of tax refunds, cash, and declining write-downs.


Disclosure: Long DHI