Yes, the equity markets have rewarded investors well over recent years. However, those investors in agricultural equities, Agri-Equities, have earned a higher return. The wide disparity of returns is apparent in the chart below. That gain was driven by strong Agri-Fundamentals, ones that will continue into the future.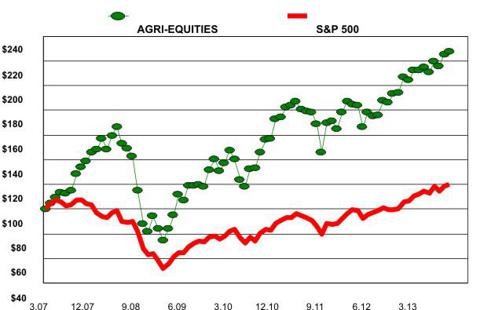 In Agri-Foods, grow it and someone will eat it. According to the USDA, in 2012, a more normal year than 2013, the world consumed 99.7% of the grains harvested. In 2014, which includes the corn and soybean harvests now taking place in North America, that consumption ratio will plummet all the way down to 98.5% of total world grain output. 2015 will be again a more normal year. With U.S. corn production expected to decline, that ratio will move back above 99%. As should be readily apparent from these consumption ratios, the concept of surplus grain is near meaningless in the modern world. (Note that the USDA works in crop years, not calendar years.)
As with all industries, Agri-Industry revenues are a function of both volumes and prices. While domestic production and consumption are clearly important for the global Agri-Industry, the export market plays a critical role. For those nations that must import food, global export markets are an absolute necessity if their citizens are to eat.
For an example of this situation, consider corn. During crop year 2013 global export volumes of corn fell near 20% due to the U.S. drought. In the coming year, global corn exports will rise by 10%. Contributing to that increase are U.S. corn exports, which are expected to rise 67%.
Prices are a more complex situation, but the overall pricing environment is going to be positive in 2014. As Agri-Commodities are extremely heterogeneous, ranging from corn to steers to palm oil, so is the pricing. Too much focus exists on corn, and perhaps too little on the others. While U.S. corn prices are down 35% in the past six months, egg prices have risen 40%. Prices for hogs are up by 15% and feeder cattle have risen 6% due to the shortage of beef cattle in the U.S. Taking it all together, Agri-Commodity prices on average should rise in 2014 by a moderate amount. Note also that the Spring 2014 planting of corn in the U.S. may drop by a record number of acres and that U.S. corn prices have already passed a major bottom.
While the volume expansion and pricing environment in 2014 should be beneficial to near all participants in the Agri-Food industry, one group is well positioned for the year when compared to the experience of 2013. Agri-Collectors are those companies that gather the Agri-Grains from producers around the world and then deliver them to consumers wherever in the world they might reside. Some of these companies also serve as Agri-Processors by processing those grains further before passing them on to consumers.(See AgriMoney (2013) for further discussion.)
Two of the Agri-Collectors, Bunge (NYSE:BG) and Archer Daniels (NYSE:ADM), should be in portfolios in 2014, and in the years ahead. The global Agri-Food export markets simply do not function without them, and the world does not eat with out those markets. Bunge operates in the two prime areas for the global grain business, North America and the increasingly important production region of Brazil and Argentina. In 2013 the revenues of Bunge and others were volume constrained. That will not be the case in 2014 as export volumes expand due to higher grain production.
Archer Daniels has traditionally been thought of as a North American operation. However, that description has become less appropriate as the company has been shifting to a more global Agri-Food foot print. It has sold a Mexican operation and is acquiring GrainCorp of Australia. Upon completion of that acquisition, the company will dominate the grain, especially wheat, export market on the east coast of Australia, a major grain exporter to China and Asia.
A not quite so obvious beneficiary is AGCO (NYSE:AGCO). The inadequate harvest in North America in the Fall of 2012, crop year 2013, highlighted the risk of relying on one region of the world for a disproportionate share of global Agri-Grain production. Globally, Agri-Producers have been and will be aggressively expanding harvest area and production. To do so requires Agri-Equipment, the business of AGCO. Only a quarter of the company's sales are in North America. The remainder, 75%, is done in Latin America, Europe, Africa, Middle East and Asia. All regions where Agri-Industry is expected to grow faster than in North America.
And remember to eat well, while you can afford to do so.
Disclosure: I have no positions in any stocks mentioned, and no plans to initiate any positions within the next 72 hours. I wrote this article myself, and it expresses my own opinions. I am not receiving compensation for it (other than from Seeking Alpha). I have no business relationship with any company whose stock is mentioned in this article.