Over the last couple of months, there's been a large separation when it comes to the large cap technology space. You can see this in the chart below, and there is one key name that has not rallied with the group. It is Cisco Systems (NASDAQ:CSCO). The networking giant has greatly underperformed its peers over the past 3 months, erasing a large amount of its rally over the past year. Cisco is now at a key point, because the dividend yield has crossed the 3% level. The question is, does a 3% yield get investors to jump back into this name? Let's see where Cisco stands today.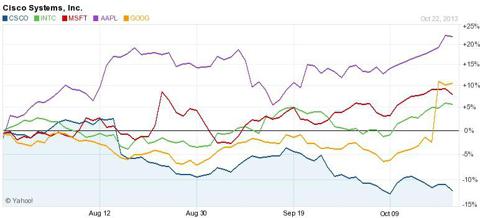 Click to enlarge
(Source: Yahoo! Finance)
The reduction of estimates and growth expectations:
It's been a little over two months now since Cisco last reported. At that report, the company issued guidance that was a bit light. Cisco called for Q1 revenue growth of 3% to 5%, while the street was looking for 4.9%. Additionally, the company guided to earnings per share range of $0.50 to $0.51 against expectations of $0.51.
Revenue estimates have certainly come down since then, when analysts were calling for $12.46 billion and $0.51, respectively. Current expectations now stand at $12.36 billion and $0.51. That's a $100 million decline in revenue estimates but earnings per share estimates have stayed the same. We can see that trend in the full year forecast as well. Since Cisco's last report, the average revenue estimate has gone from $51.27 billion (5.5% growth) to a new estimate of $50.87 billion (4.7% growth). The earnings per share estimate average is down by a penny to $2.11.
Cisco is not the only name however to see a decline in its forecast. I recently discussed how Microsoft (NASDAQ:MSFT) is seeing a fairly sizable cut to its forecast, thanks to last quarter's ugly report and write-down. Microsoft estimates continue to come down, as we approach the company's report on Thursday afternoon. Intel (NASDAQ:INTC) is also having a problem with growth, one that is going to lead to two straight years of revenue declines. Intel investors need to be concerned because the chip giant's growth story is falling apart quickly. On the other hand, you have names like Apple (NASDAQ:AAPL) and Google (NASDAQ:GOOG), whose estimates are being raised by analysts.
A capital return dream stock?
It's been about a month now since I looked at Cisco in depth, discussing whether or not investors could argue that this was a capital return dream stock. While I noted that the company's buyback plan had slowed down in recent years, the company offset most of that by instituting (and since then raising tremendously) a dividend. When that article was published, Cisco shares were trading above $24, and have come down about $1.50 since then. The dividend yield is now back above 3%, which is the basis of my article today.
Cisco has promised to return at least 50% of its free cash flow to investors, and this stance was reiterated on page 62 of the 10-K filing. In the past three fiscal years, Cisco has reported free cash flow of $8.905 billion, $10.365 billion and $11.734 billion (most recent). It has paid out more than the 50% level, as you can see in this table.

Cisco has gone from a buyback only model in the past few years to a combined dividend/buyback one. In the most recent fiscal year, the company returned more in dividends than it did in buybacks. I expect that trend to continue. In fiscal 2013, the company declared dividends of $0.62. The current annual dividend rate is $0.68, so even without a dividend raise the dividend payouts will go up by about 10% in the 2014 fiscal year. Should the dividend rate be raised, you could be looking at roughly $4 billion in dividend payments for the fiscal year. It remains to be seen if the company will then cut the buyback rate to make up for the extra dividend payments, and this obviously depends on free cash flow.
Comparisons among large cap tech names:
I've done a lot of comparisons lately among large cap technology names. I've used the same table in a number of articles, including some of the ones mentioned above, so I'll update it for you here. Here's some comparisons for Cisco against other technology names that have similar market statistics. While these names aren't necessarily true competitors, they do have similar numbers to Cisco (revenues, market cap, dividend yields, etc.), which is why I group them together.

*Non-GAAP numbers for EPS and P/E values.
Now I mentioned in those previous articles that if you turned Cisco's non-GAAP earnings into GAAP ones, Cisco's P/E would be roughly in-line with Intel and Microsoft. Right now, Cisco's GAAP P/E would be a little lower, around the 12 area and Apple. Does that make Cisco a strong buy? Well, it really just lumps Cisco in with the pack. Cisco doesn't have the strongest growth, the strongest buyback, or the highest yield, and trades at a similar valuation. You really are getting what you pay for, but you could basically get the same total package with many of these other names. For Cisco to really stand out, it needs to improve on one of two items that I've specifically discussed today: dividend yield or growth. If the dividend yield right now was around 3.50%, it would be a more compelling argument. If Cisco's growth was around the 6% level, it would be a stronger buy.
Final thoughts:
Cisco's dividend yield crossed the 3% level on Tuesday as the networking giant has seen its stock underperform the tech space in recent months. Poor guidance at the last report has caused the stock to lose a large share of its yearly gains. The company does have a decent dividend and buyback, but there is no separation from many other top level tech names. Cisco either needs to boost its dividend or its revenue/earnings growth to separate it from the pack. A 3% yield is a normally a good place for investors to start a position, but I wouldn't make this a large position just yet. Cisco needs to get investors excited, and maybe that comes on November 13th with the Q1 report. For now, Cisco is a decent dividend play, but there are plenty of those in top tier tech land.
Disclosure: I have no positions in any stocks mentioned, and no plans to initiate any positions within the next 72 hours. I wrote this article myself, and it expresses my own opinions. I am not receiving compensation for it (other than from Seeking Alpha). I have no business relationship with any company whose stock is mentioned in this article.
Additional disclosure: Investors are always reminded that before making any investment, you should do your own proper due diligence on any name directly or indirectly mentioned in this article. Investors should also consider seeking advice from a broker or financial adviser before making any investment decisions. Any material in this article should be considered general information, and not relied on as a formal investment recommendation.