Freeport-McMoRan (NYSE:FCX) is up 4% on Q3 earnings yesterday which were solid on a variety of fronts. Revenues increased 40% to $6.2 billion in Q3 2013 compared to $4.4 billion in Q3 2012. Operating cash flow jumped to $1.9 billion compared to $526 million (up 257%) and led me to believe that I previously underestimated Freeport's operating cash flow rebound potential. Especially the turnaround in cash flow is important for further equity valuation growth. Net income, however, decreased $3 million to $821 million compared to last year and diluted EPS decreased 8% from $0.86 in Q3 2012 to $0.79 in Q3 2013.
Freeport also achieved a number of operational improvements that showed in financial results this quarter: Consolidated copper volumes increased 13% to 1,041 mm lbs in Q3 2013 compared to 922 mm lbs in Q3 2012. Over the same time period, Freeport substantially decreased consolidated production and delivery unit costs (per lb) from $2.03 to $1.85 in Q3 2013 (down 9%). Unit net cash costs (per lb) decreased 10% from $1.62 in Q3 2012 to $1.46 in Q3 2013. Consolidated gold volumes increased 51% from 202k oz in the third quarter 2012 to 305k oz in the same period in 2013. Overall, Freeport has made meaningful operational progress y-o-y.
Share performance
YTD Freeport-McMoRan's shares managed to climb 3%. Over a one- and two-year measurement period, the shares are down 7% and 8%. Shares of major basic materials producers such as Rio Tinto (NYSE:RIO) and Alcoa (NYSE:AA) have corrected over the last year as China's growth started to slow down. China's real estate sector currently drags down the entire country performance with GDP growth revisions in the coming quarters a real possibility. Barrick Gold (NYSE:ABX) and Goldcorp (NYSE:GG) are two of the largest publicly traded gold miners: Barrick Gold lost 57% and Goldcorp 43% over the last two years. In my piece about Goldcorp, I have laid out the fundamental long-term drivers that keep me bullish on the gold sector in general. Limited supply, only a few major discoveries since the 2000s, Asian economic dominance in the future and portfolio diversification benefits are all reasons why gold producers should profit from their mining operations in the long-term. Many of the long-term drivers mentioned are also valid for other commodities such as aluminum, copper and zinc because these commodities simply aren't convertible and can't be substituted. Alcoa, as one of the world's most dominant aluminum players, lost 12% over the last two years. Southern Copper (NYSE:SCCO) gained 0.48% but is down 19% over the last year.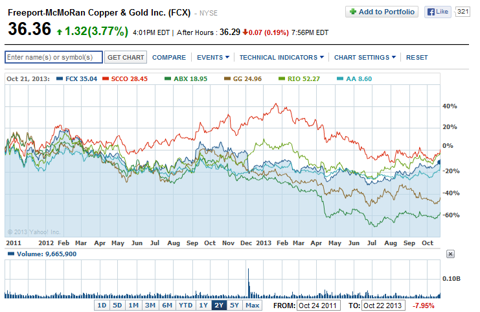 Click to enlarge
Industry background
The relatively disappointing performance of the basic materials sector, independent of the underlying commodity, over the last years is driven by China's slowing growth. No economy can grow 10% forever without experiencing occasional setbacks; especially when capital allocation policies are misguided. China plays a vital role for gold- and copper demand due to its large industrial- and consumer base. Europe is recovering and demand in the United States is improving. Incremental growth is likely to come from China once it returns to its long-term GDP growth path.
Freeport sees strong copper demand down the road and acts accordingly. Its core copper asset, the open-pit mine Cerro Verde Mill in Peru, is set to add 600 mm lbs copper production per year once expansion projects are completed in 2016. The Morenci Mill expansion project in Arizona aims at increasing copper production by 225 mm lbs per year.
Freeport's oil and gas business offers great production upside (which I previously underestimated) and positions the company in the liquid-rich shale plays in Eagle Ford and other locations such as the Gulf of Mexico and California. Freeport's oil and gas segment is a high-spread business for the company: Consolidated realized revenue stood at $80.93 per barrel while cash production cost came in at $16.80 per barrel yielding a cash operating margin of $64.13 or 79%.
Peer Group valuation
I have deliberately picked companies for the peer group that operate outside the narrow copper business. All companies have in common that they mine core commodities and that their firm values highly correlate with the underlying commodity price. Oftentimes firms have to take impairment charges as a result of a correction in the gold or copper price although the long-term trends (higher industrial production especially in the auto industry, higher wealth in Asia, importance of commodities for investment strategies such as ETFs) remain intact. The ongoing correction in the basic materials sector (affecting both precious and industrial metal exploration companies) is therefore not indicative of the long-term supply/demand picture the industry faces.
If Freeport is compared on an earnings basis, it definitely does better than its closest competitor Southern Copper: Freeport trades at 11.83 forward earnings whereas Southern Copper trades at 15.51. Rio Tinto trades at 10 times earnings and is just a bargain as Barrick Gold at 8.76 times forward earnings.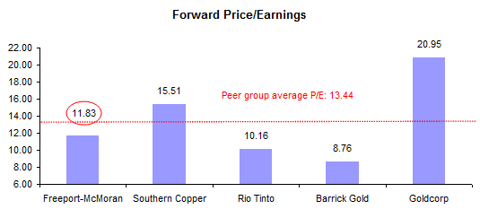 Click to enlarge
Basic materials producers can make attractive additions to long-term oriented portfolios which are dividend focused. Despite my discomfort with Freeport's free cash flows (for instance Freeport's 2013 full-year guidance suggests only $500 million free cash flow or around $0.50 a share with substantial projected capex increases in 2014 & 2015) dividend investors seem to get a good deal with a dividend yield of 3.44%.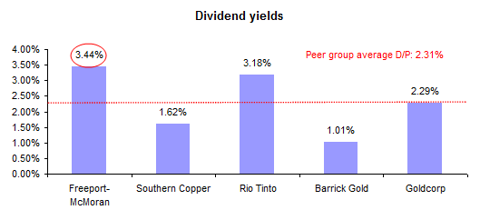 Click to enlarge
An overview over the most relevant valuation metrics is provided below. Freeport-McMoRan presently trades at a 12% discount to the peer group average P/E of 13.44. Its dividend yield is nearly 50% above the peer group average yield of 2.31%.

Click to enlarge
Summary
Freeport operates an attractive diversified exploration business that has made meaningful progress in production growth and cash unit cost reduction. The ultra-deepwater business in the Gulf of Mexico and operations in Eagle Ford are attractive long-term assets that could boost production growth and improve Freeport's profitability in the future.
I am still cautious when it comes to Freeport's free cash flows which are relatively low. However, the company pays a decent dividend of 3.44%. Investors who are comfortable with paying a material up-front free cash flow premium to access Freeport's dividend stream can still do fine in the long-run. Freeport's EBITDA and operating cash flows are highly dependent on the commodity market prices for copper, gold, molybdenum and oil. A strengthening China and rebounding commodity prices could provide a substantial boost to cash flow which would alleviate my concerns in this regard.
Disclosure: I am long ABX, GG. I wrote this article myself, and it expresses my own opinions. I am not receiving compensation for it (other than from Seeking Alpha). I have no business relationship with any company whose stock is mentioned in this article.