Ford Motor (NYSE:F), the manufacturer of the top selling F series pickup trucks will report third quarter earnings pre-market at 9AM EDT on October 24th, 2013. The Wall Street consensus forecast is for $0.37 EPS on $33.9 billion in revenue. Ford has managed to beat Wall Street's estimates the last four quarters with large earnings surprises.

Click to enlarge
In the second quarter, revenue was $38.1 billion, showing a 15% year-over-year increase and beating analysts' estimates. Net income came in at $1.2 billion, up $193 million year-over-year. F series truck sales were up 22% year-to-date, combined with strong sales of the Fusion. Ford reported $3.3 billion in positive operating cash flow for the quarter, up from $700 million year-over-year.
Ford has managed to grow their Asia-Pacific market share, reporting its best profit yet of $177 million. Its European sales are showing improvement, reporting a $348 million loss, which is a $114 million improvement from last quarter. The North American market reported strong sales of $2.3 billion. Ford's CFO believes foreign sales are just starting to take off. He said, "I think we're at the beginning of the phase where over the next several years you'll start to see the operations outside North America take on more and more significance. You're starting to see what's possible."
Surprisingly, with their stellar earnings beating last quarter, Ford's stock has not been trending higher and appears to be consolidating and resting. With record F series truck sales and the strength of the overall auto industry this year, combined with Ford's strong performance, if Ford has another strong quarter it should have the strength to push higher and test the 2011 high of $18.97 in the coming months.
Ford has been pleasing long-term investors as well by restarting their dividend of $0.10 a share per quarter, which they stopped back in 2006. With Ford improving cash flows every quarter, it also provides the possibility of a dividend hike in the coming quarters. Standard & Poor's also upgraded Ford from BBB- to BB+, because Ford's credit measures will improve from strong performance in North America.
I expect another strong quarter from Ford, including continued strong sales in the U.S, Asia and more improvements in the European region this quarter. With Ford vehicles selling extremely well, profitably improving every quarter, strong cash flow and their market share in other regions continuing to grow or improve, it is a strong long-term investment. With growth forecast at 15% and their price-to-earnings ratio (P/E) well below the automotive industry average, it is certainly not overpriced at these levels. The key for the third quarter for Ford will be to minimize their losses in Europe, which should help provide the push the stock needs. Ford's CEO Alan Mulally said in last quarter press release, "Our strong second quarter with improved results in every region around the world is another proof point that our One Ford plan is continuing to deliver and is building momentum. We remain absolutely committed to our plan of serving customers in all markets. As we do, we are providing profitable growth for everyone associated with Ford." I completely agree with Mulally and will be looking for strong sales and growth in non North American regions.
Technical Analysis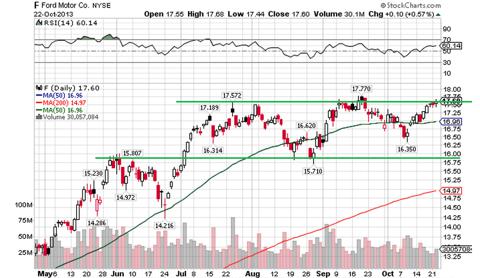 Click to enlarge
Ford has been trying to push through this resistance zone (upper green line) right at the Q2 earning highs. I am looking for a push through resistance on strong earnings which should resume the uptrend and get it out of this consolidation zone. It has support below at the lower green line. Ford is going Ex-Dividend on October 30th, so if you plan to play options remember this.
Disclosure: I am long F. I wrote this article myself, and it expresses my own opinions. I am not receiving compensation for it (other than from Seeking Alpha). I have no business relationship with any company whose stock is mentioned in this article.