Forest Labs (NYSE:FRX) blew away estimates in its FY14Q2 quarter coming in at $0.36 vs. $0.15 consensus estimate. FRX finish up over 5% on 3.5x normal volume. The quarter increases our confidence FRX offers a favorably skewed risk-reward profile in which the stock could double over the next 24-36 months with a limited 25% downside from $46.
Product sales were strong across the board and are on track to hit our estimates for FY14 (March). The story is tracking as we anticipated in our original piece (10/02/13). The shaded areas show the comparisons of where the major product lines are in the first half FY14 versus our estimates. Because several products are fairly recent launches we expect and acceleration throughout the remainder of the year.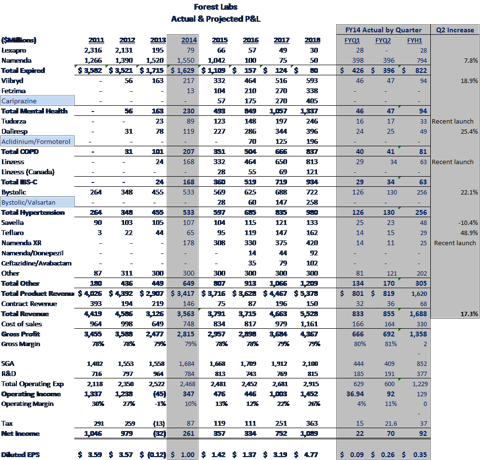 Click to enlarge
Brent Saunders, new CEO, was on his first quarterly call having been on the job for three weeks. We expect Mr. Saunders to be much more aggressive in propelling shareholders returns higher. Although he is saving his strategic plan until January, Mr. Saunders did layout the immediate initiatives for Forest:
Expanding Linzess (IBS) to a wider prescriber base. Linzess is the major growth driver growing forward so it is critical it perform.
Accelerating the patient switch from Namenda to the XR version. The current conversion rate is 17%. Since Namenda's patent expires in 2015 the company is considering a "hard switch" by selling only Namenda XR. Given the lack of therapeutic options in Alzheimer's we believe they have little lose by doing so.
Reducing cost structure. Relatively, Forest has one of the highest SG&A lines in the business.
Capital allocation - Using Forest's cash-rich balance sheet to create growth and improve shareholder returns through dividends, share buybacks and/or deals. Forest currently has $3.1B in cash and no debt. Plenty of firepower if used intelligently.
Fetzima for depression will be fully launched in December. The company will thus have two anti-depressants along with Viibryd to push through its mental health sales force. We are pleased with Viibryd launch so far; already tracking at $200 million annually.
In addition to the Fetzima launch, Forests additional upcoming milestones are:
The upcoming PDUFA date for cariprazine (acute mania in bipolar, schizophrenia) in late November and release of studies in bipolar depression in 2014.
Filing an NDA for a Bystolic/valsartan combination this quarter.
Filing an NDA for a Namenda XR/donepezil combination during the first half of calendar year 2014.
The Forest product marketed portfolio is young with several relatively low risk, late phase drugs to be launched through calendar year 2015, the year Namenda ($1.5B) loses patent protection. However, the company does have the option of a hard switch to the XR version and a Namenda/donepezil that should be approved in 2015 as well. Most Alzheimer's patients on Namenda also take donepezil.
We expect Q3 to be a weaker quarter in terms of EPS due to higher spending for the Fetzima launch in December and higher R&D due to milestone payments.
Post the Namenda expiry, 2016 is the low point in EPS so we have modeled the downside on that year; although it may be more muted depending on decisions with the Namenda XR switch and timing of the Bystolic/valsartan and Namenda XR/donepezil launches. The stock should outperform as the pipeline matures, cash flow shows signs of improvement, and Forest in-licenses new products or makes other strategic moves if management remains financially disciplined. By 2017 all current late stage products should be marketed and gaining steam, making it the breakout year with 2018 seeing significant margin improvement. The model shows operating margins of 26%, below the 30% of FY11 due to an incremental increase in SG&A needed to support a larger sales and marketing effort for numerous products; although the new management team is stressing its ability to reduce costs while still supporting its products. With the current pipeline, R&D expense should begin to moderate in absolute terms and as a percent of revenue as this slew of new product introductions slows providing additional margin upside. A couple hundred basis point improvement in gross margins for 2018 would be expected as the company reaches scale on several products. An additional $1B stock buyback is modeled, which could prove conservative given the current cash position and strong cash flows in 2016-18.
A discounted cash flow analysis (8% hurdle rate) of FCF provides a price of $87 (unchanged from our 10/2/13 report); providing an extremely favorable risk-reward opportunity with the downside at $35 (up from $32 from the 10/2/13 report). This is derived using 2015 (FY March) enterprise value/EBITDA of 7.5x, which is lower than its peers with comparable market capitalizations and historically lower for Forest prior to the patent expiration concerns. The upside of $87 is unchanged from our previous article.
Given Brent Saunders's track record we expect a focus on shareholder returns to be the top priority. Given the current strong, diversified product line up and the company financial flexibility, additional upside is likely over the next two years.
Disclosure: I have no positions in any stocks mentioned, and no plans to initiate any positions within the next 72 hours. I wrote this article myself, and it expresses my own opinions. I am not receiving compensation for it (other than from Seeking Alpha). I have no business relationship with any company whose stock is mentioned in this article.