NQ Mobile (NYSE:NQ) announced a new product/platform, NQ Live, which truly changes the paradigm of how a user interacts with his Android smartphone. NQ Live is the tool to monetize the most valuable real estate in mobile, the smartphone homescreen, either directly or through traffic generation. NQ announced NQ Live will be pre-installed on 470 million incremental handsets! Almost ½ billion incremental handsets!! Ponder on that fact for a moment. NQ Live is a game changer. As a result, I am raising my 2014 and 2015 estimates (below) and increasing NQ's fair value price target to $64.

What is NQ Live?
It is extremely hard to fully appreciate the power and sophistication of NQ Live without seeing it in-person. That said, I will attempt to describe it the best I can. NQ Live is an instant-on, always live replacement for the wallpaper on Android devices. Think of NQ Live as a personalized customizable homepage that is the first thing a user sees when he looks at his phone. NQ Live is not an app and therefore it does not have to be opened like an app. NQ Live is an extension of the Android operating system and is integrated into the user interface. It sits between the Android operating system and the user.
NQ Live dynamically delivers content and functionality to the user's homescreen, tailored to the brands a user follows or the news he desires. Examples of content and functionality include; search (traditional, voice and visual), weather, time, stock quotes, sport scores, breaking news, content updates, etc.
NQ Live is truly a platform and is available to all partners in the NQ ecosystem, including handset manufacturers, mobile carriers, handset design shops, content publishers, brands and advertisers. NQ Live does not attempt to replace the application ecosystem or mobile web that exists today. In fact, to the benefit of all participants in the value chain, NQ Live creates opportunity for significant traffic generation and user engagement for developers and publishers, and supports the capability to direct this newly found traffic to existing mobile investments in applications or mobile websites.
NQ Live Will Be Pre-Installed on at Least 470 Million Handsets - Wow!!
NQ Live has already signed pre-installation distribution partners that represent 470 million handsets. 470 million!! NQ Live will be pre-installed on handsets from ZTE, Ginee, Vivo and China Telecom. The currently signed pre-installation handset manufacturers represent 150 million handsets, the design house partners add another 120 million pre-installed handsets and China Telecom and other signed carriers (yet to be announced) add another 200 million pre-installed handsets. For handset manufacturers and mobile carriers, NQ Live fundamentally builds strategic relevance by giving them the power to manage, offer, and curate content and participate in the revenue opportunity. NQ Live can also be installed on all current Android smartphones. For extreme conservatism, I do not assume any penetration of NQ Live into Android's existing installed base of approximately 1 billion smartphones.
As stated by co-CEO Omar Khan on the NQ Live conference call, we will hear quite a bit more about various partners for NQ Live soon. "In the coming months and quarters, you will see a stream of announcements with global carrier and content partners leveraging the innovation of the NQ Live platform. We are working with these partners in close technical and commercial collaboration as we speak."
One other bonus is that China's Ministry of Industry and Information Technology (MIIT) recently listed NQ apps on the China government's list of approved mobile applications to be pre-loaded on smartphones.
NQ Live Revenue Model
Like with its other businesses, NQ will only book net revenue, which is the revenue after any revenue shares are paid to partners. NQ will monetize NQ Live several ways; advertising, content and app placement and promotion fees, revenue share on search and crossing selling NQ's numerous other fee-based products. To better understand the enormity of NQ's revenue opportunity from NQ Live, let's look at just the advertising revenue stream from NQ Live.
Advertising
The average user looks at his smartphone 150 times per day. Using the initial launch number of 470 million handsets, the total number of ad impressions available to be sold is easily calculated to be 25.7 trillion annually. Mobile ad rates range from $0.25 (untargeted) - $2+ (well-targeted) per thousand ad impressions (CPM). Given the global mix of users, I assume that the blended revenue per thousand ad impressions is just $0.20 in the base case, even though NQ Live's ads are well-targeted. Further, I assume only 2.5% of the available ad inventory is sold (again, quite conservative). Even with these conservative assumptions, NQ will generate over $128.7 million in incremental advertising revenue from NQ Live. This results in an incremental $0.66 of earnings per ADS.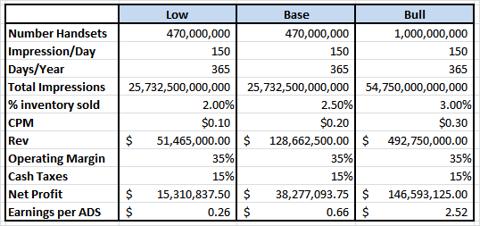 The above calculation is just one of the ways NQ will monetize NQ Live. Revenue streams from paid content placement, app promotion, search revenue and crossing selling NQ's fee-based products are all incremental.
Valuation Update
Comparison Company Analysis
As mentioned before, performing comparable (comp) company analysis on NQ is a bit difficult since there are no perfect comps besides Qihoo (NYSE:QIHU). NQ Mobile is a hybrid between a SaaS model and a hyper-growth mobile Internet company. As a result, the SaaS and Internet comps selected reflect NQ's growth rate and revenue levels. Since the last comp analysis I ran in July 2013, the valuations and multiples of most of the comps have markedly increased. Despite the fact that NQ is growing faster than almost all of the comps and that NQ has much better operating margins and free cash flow, NQ still trades at a steep discount to the comparable companies. If NQ were to trade at just the blended average multiple of the comp set, NQ would trade at just under $69.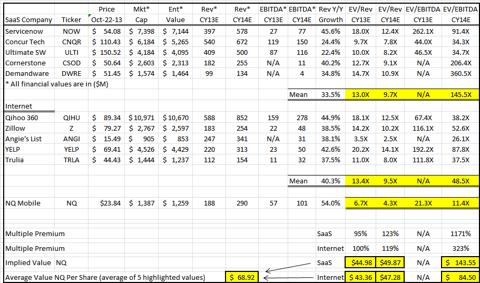 Discounted Cash Flow
As we near the end of 2013, it is time to roll the discounted cash flow analysis forward one year. The forward roll coupled with the incremental revenue assumed from NQ's recently announced initiatives (NQ Care, NQ Live and Music Radar) leads to an increase in NQ's valuation calculated from DCF analysis. Current DCF analysis equals just over $60.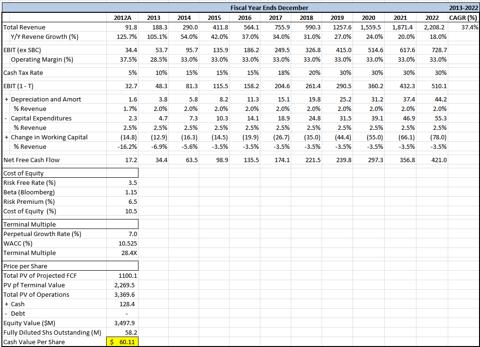 EV/FCF/Growth
As have written in previous articles, my preferred growth valuation metric is EV/FCF/G, as I believe it is more insightful than a simple PEG ratio. EV = Enterprise Value, FCF = Free Cash Flow and G = Growth. "EV" is preferable to "P" since EV takes into account the whole balance sheet and does not reward heavily levered companies nor penalize companies with large net cash positions. P (Price) solely relates to a company's market capitalization and does not adjust for strong or weak balance sheets.

NQ continues to have a spectacular balance sheet with $2.21/share of net cash. "FCF" is preferable over "E" as free cash flow is the life blood of a company and reported E (net earnings) can be easily manipulated. Investors generally believe companies with EV/FCF/G ratios equal to 1.0 are attractively valued since the investor is receiving growth at a reasonable price. I believe it is extremely conservative to assume a hyper-growth company like NQ should only be valued at an EV/FCF/G ratio equal to 1.0, given that many hyper-growth companies trade at EV/FCF/G ratios over 2.0. NQ would trade at $62, if NQ just traded at a 1.0 EV/FCF/G ratio.
NQ's Blended Value
Given the rapidly growing diversity of NQ's revenue composition, a sum of the parts analysis is not as relevant going forward. Hence, it has been eliminated from this valuation update. I assign equal weight to each of the 3 valuation methodologies and averaged them to arrive at NQ's fair value of $63.68 per ADS.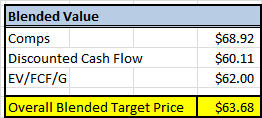 NQ Has Several Upcoming Catalysts
As mentioned on the NQ Live conference call, NQ will be announcing several content and distribution partners for NQ Live in the coming weeks/months. On November 12, 2013, NQ releases 3Q13 results. NQ pre-announced that 3Q13 revenue will exceed the high end of its guidance. Additional color from Matt Mathison, VP of Capital Markets, on the NQ Live call, "The fundamental trends that led to better-than-expected results in the second quarter continued to flourish throughout the third quarter." In other words, NQ is continuing to fire on all cylinders. On November 15, 2013 the new 13F forms are released (reflecting holdings as of September 30, 2013) and NQ's holders list will be updated. I believe we will see some new well-respected institutional holders on NQ's list. Finally, November 19, 2013 is NQ's Analyst Day. This event will provide updates on NQ's various businesses, more detail on the overall corporate strategy and allow attendees to experience NQ Live hands-on.
NQ remains deeply undervalued and NQ's prospects continue to get better and better. Street consensus numbers for 2014 appear to be too low. Hence, NQ remains a beat and raise story for the foreseeable future, yet still trades at a sharp valuation discount to inferior companies. This dynamic is unsustainable. NQ is destined to trade much higher in the near future.
Disclosure: I am long NQ. I wrote this article myself, and it expresses my own opinions. I am not receiving compensation for it (other than from Seeking Alpha). I have no business relationship with any company whose stock is mentioned in this article.