As of Tuesday morning, Advanced Micro Devices (NYSE:AMD) has continued the trend of its recent sell-off, giving up almost a full point of share price, which is pretty painful when referring to a $4 stock.
Tuesday's slide coincided with a downgrade from Mr. Stacy Rasgon of Sanford C. Bernstein.
Of the analyst coverage I have read, Mr. Rasgon seems to be one of the most bearish on AMD. In this article, I would like to look at the various price targets he has assigned to AMD, look at the effect that lower OPEX and paying off the bond debt in 2015 will have to earnings, and explain how Mr. Rasgon's PT (price target) can actually be used by individuals that are bullish on AMD.
What Changed Since Friday?
Exiting the Q3 earnings report, Mr. Rasgon was unimpressed and lowered his PT on AMD from $4 to $3. According to an article on Benzinga:
The analyst concluded, "The quarter's results brought back serious concerns over the health of AMD's core PC business, which once again appears to be materially underperforming the market on both units and pricing, with company expectations for another challenging year in the market in 2014."

Bernstein decreased 2013 revenues from $5,347M to $5,248M, 2014 from $5,729M to $5,529M, and 2015 from $5,909M to $5,622M. The analyst's EPS estimates also decreased from -$0.06 to -$0.12 for 2013, from $0.22 to $0.03 in 2014, and $0.36 to $0.07 in 2015.
To follow this up on Tuesday, Mr. Rasgon revised his PT on AMD. Again, from Benzinga:
In the report, Bernstein Research noted, "We promised ourselves once upon a time never to take an active stance on AMD again, pursuing instead a thesis of 'prudent avoidance.' That being said, we have been tempted to go short for some time, with only our fear holding us in check. However, recent results have made the structural short case simply too tempting for us to ignore. Therefore, we are diving back into the pool, and downgrading the stock to Underperform, lowering our target price to $2.50."
To provide a contrast to Mr. Rasgon's point of view, Mr. Hans Mosesmann of Raymond James states (Source: Barron's):
Reiterates an Outperform rating, and a $5 price target. "AMD's print and guide will be a source of controversy today on a number fronts, with a few bearish tenets (weak notebook trends and "only" 5% q/q sales growth for 4Q) offset by a significant console ramp that exceeded even our bullish expectations. CEO Rory Read's expectation of another 10% drop in PC units in 2014 is somewhat alarming. However, Mr. Read's vision is offset, we suppose, by big game console momentum and profitability. This effectively allows AMD to de-emphasize the PC market while investing in semi-custom and datacenter projects (SeaMicro and ARM-based CPU solutions). We applaud Mr. Rory's masterful plan and early execution to AMD's transformation, and we believe we are at the early stages of a more stable and profitable AMD." Mosesmann cut his 2014 estimates to $5.91 billion and 35 cents a share in net profit from a prior $6.22 billion and 40 cents a share.
In this instance I have deliberately chosen to provide a "bear" and a "bull" at opposite ends of the spectrum to give readers an insight as to how divided analysts are regarding AMD's future.
Breakdown of the $3.00 PT
| | | |
| --- | --- | --- |
| Year | Revenue | EPS |
| 2013 | $5,248 | -$.12 |
| 2014 | $5,529 | $.03 |
| 2015 | $5,622 | $.07 |
The table above is consolidated data taken from Mr. Rasgon's initial $3 PT on AMD following earnings.
It is also worth noting that an article on Forbes from October 2012 states that Mr. Rasgon downgraded AMD with a PT of $2.50. To quote the article:
Rasgon now sees a 2012 loss of 23 cents a share; previous expectations were for a profit of 8 cents. For 2013, he goes to a loss of 41 cents a share from a profit of 14 cents.

"At this point we model AMD losing money through 2014; we see structurally lower gross margins, cash burn, and a core business in turmoil," he writes. "We acknowledge risk to the name in both directions given the highly uncertain outlook, but it seems clear that every aspect of our structural bull thesis has, at this point, been well and truly beaten."
To arrive at a price target of $2.50 in October of 2012, a forecast of negative $.41 EPS for 2013 and an overall loss during 2014 were used.
The more recent PT of $3.00 was based on being barely FCF positive in 2014, along with a much smaller loss for 2013, but is assuming a much heavier erosion of the core business.
Based on AMD's 2%-8% revenue growth for Q4, AMD expects revenues of $1.49B to $1.58B. As of Q3, AMD has earned a cumulative $3.71B in revenue, with GAAP EPS standing at -$.23. So full year 2013, AMD expects revenues to come in between $5.2B and $5.3B. A negative $.12 EPS for the year implies an estimated EPS of $.09 for Q4 2013.
Combined Revenues Based On Lowest Results From Prior 5 Quarters, Verizon Deal, and Consoles
During the previous 5 quarters, dating back to October 2012, the lowest revenue for AMD's CS (computing solutions) segment was $751M during Q1 2013. Factoring out estimated revenues from console chips sales of $401M, the lowest value for GVS revenues is $270M during the most recent quarter. I chose to go back to October 2012 as that was when Mr. Rasgon had initially set a $2.50 PT on AMD.
Given that console sales came in at $400M, but some forecasts call for lower console sales this generation, I will assume an average of $300M per quarter for consoles.
According to Barron's, Mr. Christopher Rolland of FBR puts SeaMicro's annual revenues around $75M prior to the Verizon deal, with the Verizon deal adding an additional $50M annually. In addition, he states SeaMicro could add up to $500M in revenues by 2016. The $500M I believe is estimated on overall growth of the microserver market. I made a similar estimate in a previous article.
Combining the above data: lowest revenues for AMD's operating segments from the previous 5 quarters, console sales that are 25% lower per quarter than the current estimated rate, and an additional $50M annually from the Verizon deal, I arrive at annual revenues of $5.33B as a base for AMD.
I use the above example as a way to illustrate what a $3.00 PT seems to imply for AMD: almost no possibility for revenue growth in either the CS or GVS segments and console sales being weaker than in Q3 going forward. A $2.50 PT seems to imply further erosion in earnings and revenue.
The Effect Of Simply Paying Off Debt And Reducing OPEX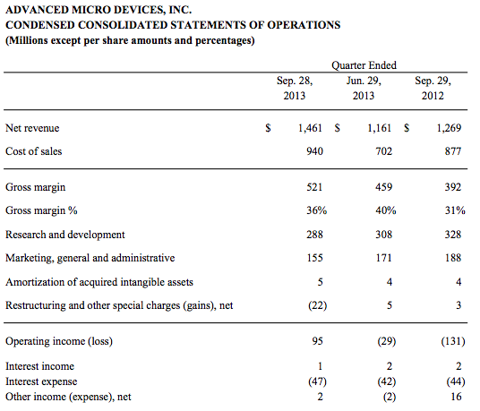 Looking at a screenshot of AMD's financials from the most recent quarter, you can see there is roughly ~$45M/qtr in interest payments.

The above screenshot is taken from AMD's 2012 10-K filing, depicting the bond issuances for AMD. AMD has ~$580M in debt (there is a footnote in the 10-K explaining the $25M difference as an unamortized discount if you are wondering about the difference between $580M and $555M). The final payments on the 2015 notes come due on May 1st of 2015. This will result in a reduction of interest payments of ~$13M/qtr.
Factoring in the additional ~$25M net positive effect of reduced interest payments in H2 2015 will alone add just over $.03 EPS, using 741M outstanding shares.
Given Mr. Rasgon's estimations of revenue of around $5.5B/year, assuming gross margins of 35%, and an average OPEX of $450M/qtr, we arrive at a quarterly operating income of $31M/qtr.
So it seems both the revenue guidance and EPS guidance used to arrive at a $2.50 PT factor in a pretty dire scenario for AMD. Simply paying off interest debt in 2015 will add ~$.05 EPS annually.
The Value Of The $2.50 PT
I believe a $2.50 PT implies extremely low expectations for AMD moving forward.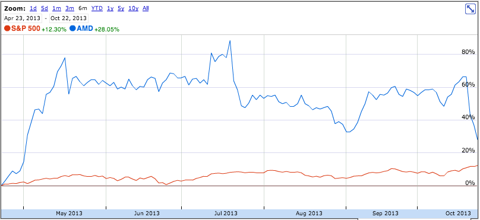 Overlaying the 6 month chart of AMD with the overall performance of the S&P 500 is a useful tool at this point. At the time of writing, AMD is up ~16% compared to the S&P over the past 6 months - largely thanks to the recent post earnings sell off.
And coincidentally, 6 months ago AMD was trading at ~$2.50, prior to the market taking notice of consoles and the earnings potential. After AMD's landslide during 2012, the stock bounced from $1.80 and found a trading range roughly around $2.50. Based on these factors, $2.50 seems to be a reasonable figure to use for implied downside from here for AMD, or roughly another 25%-30% downside.
If you believe in the long case for AMD, looking at the example of Mr. Hans Mossesman illustrates the asymmetric risk/reward ratio to the positive side from these levels. Mr. Mossesman's PT of $5 for AMD includes beating expectations on consoles, as well as accounts for the possibility of growth in other areas.
Looking At The Long Case
IDC data shows that PC sales are leveling off, but during the Q3 conference call, Mr. Read stated AMD is expecting the PC market to decline about 10% this year, by a "similar amount" next year, and that AMD will "not lean into it", which I believe means AMD is attempting to continue diversifying away from the PC market to become less susceptible to fluctuations.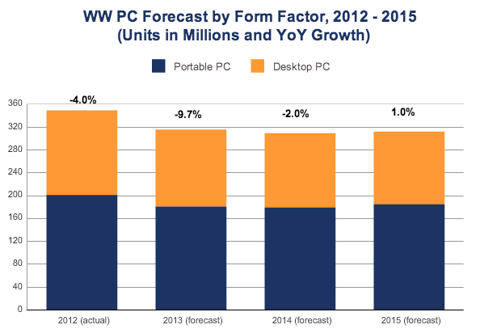 Contrasting Mr. Read's statements against IDC data indeed shows AMD is trying to get in front of the problem, rather than being caught off guard by an unexpected drop off in PC sales -- AMD's estimates are more conservative than what the IDC shows.
To more closely examine the numbers used in my base revenue calculation, Q1 of this year was "the worst decline in two decades" for the overall PC market, meaning a low expectation of $750M in revenues for AMD's CS segment should provide conservative.
Looking specifically at Q3 for GPUs, AMD recently updated the company's GPU line. The R7/R9 GPUs consisted largely of rebranded 7000 series cards, with the exception of the R9-290X, which is AMD's answer to rival GPU maker Nvidia's (NASDAQ:NVDA) high-end cards. Based on consumers waiting to upgrade, and looking historically at market share trends and revenues for the GVS section, $320M/qtr is likely a reasonable assumption for a base revenue. $320M/qtr excludes revenues from the PS4 and Xbox One, and is the average of the past five quarters of GPU sales, including the low quarter of $270M during Q3.
For those that think China will open up a much more massive gaming market, be aware there are some barriers to entry, some of which are outlined on Kotaku. A post on Seeking Alpha also explains that hardware has been obtainable in China before the ban was lifted. Not to say this is not a positive for AMD, but it is not necessarily a home run either. An article on Bloomberg details the joint venture between Microsoft and a Chinese company that I find most interesting. The article also states that Sony has no plans with regards to the FTZ. Closely monitor news regarding the joint venture to see if Microsoft (NASDAQ:MSFT) pairs with AMD on another console. Note that at this point there is no news regarding hardware specifics.
Mr. Read stated during the conference call the third year is typically the peak for consoles, and Dr. Su mentions that pent up demand during the first year could offset seasonality. Factor in the world wide roll out happening in 2014, and the likelihood of the revenue generation from consoles remaining high seems pretty good. Couple this to Mr. Kumar's statements regarding improving margins from the mid-teen level, and the earnings power of these consoles goes up going into the fourth quarter and beyond. Using this info, a safe average may be to assume around $375M/qtr for consoles until the impact of the ban being lifted in China can be better speculated.
Now, given the same $750M/qtr for the CS segment, $320M/qtr for GVS (excluding the PS4 and Xbox 360 revenues), console revenues of $375M/qtr, and finally add in the $50M/year revenue from the Verizon deal, and we come to $5.83B in annual revenues, which is still below Mr. Mossesman's 2014 revenue prediction of ~$5.9B.
Using the $5.83B calculated above, ~$45M/qtr in interest payments, a $450M quarterly OPEX, 741M shares, and corporate margins of 35%, we arrive at a 2014 EPS of $.08, already above Mr. Rasgon's 2015 PT of $.07. Simply adding in the benefit from $25M less in interest payments in the back half of 2015 further boosts EPS.
Conclusion
The bear case for AMD assumes further deterioration of the PC market, the inability for the company to continue to diversify outside of PCs, as well as possibly a bleak outlook on consoles, or even another financial misstep such as a mismanagement of inventory and a subsequent write down.
And unfortunately, I think a 20%+ sell off after beating estimates on both the top and bottom line, as well as providing guidance just above analyst expectations indicates the kind of sentiment baked into this stock. I consider AMD to remain a speculative play for now. If the PC market further crumbles, or a financial misstep occurs, it could spark another quick sell off, possibly even below $2.50.
The trick to understanding the long side of AMD is to understand the company's attempt to drive revenue growth while maintaining a target OPEX of $450M. The bear case prices in very little room for revenue growth.
AMD becomes much more interesting in the event of another major semi-custom design win, or possibly the major server deal Dr. Su potentially hinted to during the earnings call (speculative based on her answer to a question). AMD has several initiatives, such as "Mantle", which are meant to try and continue to build on some of the console momentum. AMD gaining traction in any of the company's core business segments (CPUs and GPUs) would also fracture the bear thesis.
The three biggest near term events for longs to pay attention to will be AMD's APU 2013 event in November, the Battlefield 4 "Mantle" update in December (to provide proof of concept for "Mantle"), or any news of the server deal alluded to during the recent conference call.
Disclosure: I am long AMD. I wrote this article myself, and it expresses my own opinions. I am not receiving compensation for it (other than from Seeking Alpha). I have no business relationship with any company whose stock is mentioned in this article.
Additional disclosure: I own both shares and options in AMD, and actively trade my position. I may add or liquidate shares/options at any time. I am short NVDA via a very small number of puts.