As equity markets continue to march higher, and investors are still willing to commit capital to growth opportunities, a number of small companies are seizing the opportunity to sell stock and raise permanent capital. I can't disagree with the strategy, as the liquidity window may only be open for a short time (at current prices), but a few deals have raised the question as to whether investors are wise in committing this capital.
Two weeks ago, Taleo Corp. (NASDAQ:TLEO) was able to raise more than $125 million by offering 6.5 million shares to the public. Actually the underwriters exercised their option to purchase another 975,000 shares, so the proceeds are closer to $140 million. While traditionally, small companies will use capital from a secondary offering to pay down debt, or to fund a merger or business investment, Taleo noted that they "intend to use the net proceeds from this offering for general corporate purposes…" Essentially, investors are giving management a blank check worth up to $140 million with very few documented plans.
To its credit, Taleo is operating a profitable business during a time that is particularly challenging for small businesses. The company provides "talent management" software for use by human resource departments. This software helps companies through the recruiting, performance management, compensation management, internal mobility, and other analytics processes. The software is offered under the Sofware as a Service (or SaaS) model, meaning customers use an internet interface instead of downloading the software on their own machines. Most customers are set up with a subscription payment plan which allows for lower up-front costs, and also gives TLEO a recurring revenue stream.
Taleo has put together an impressive string of quarterly earnings figures with significant growth in 7 of the last 8 quarters. However, some questions arise when looking at the company's revenue trends (growth has been slower in each of the last four quarters) as well as trends in deferred revenue. With many customers paying for a full year of services ahead of time, Taleo is forced to book the majority of this cash flow as deferred revenue. In future quarters when the service is performed, the revenue will be recognized based on a pro-rata schedule. So deferred revenue can actually give us a good picture of what future revenue will look like in the coming quarters.
When the company announced earnings for the September quarter, deferred revenue was basically flat from the level at the end of 2008. This implies that the company is either having trouble booking new business, or is seeing its retention rate decline. This is not a deal killer as far as an investment is concerned, but it certainly raises some questions about future growth.
Currently, analysts are expecting the company to earn 82 cents per share in 2010 which would represent a 12% increase over 2009 expected levels. Expectations may be a bit aggressive given the rising level of unemployment which could very well lead to a decline in demand for Taleo's services. But despite the uncertainty in the business, investors are willing to pay more than 25 times earnings for a company expected to grow 12% next year. That appears to be a bit optimistic and I wouldn't be surprised to see the stock decline to a more reasonable multiple of 12 to 15.
The secondary offering set up a situation where a large portion of the investment base has a cost basis of $20.25 per share. For the time being, it looks as if the underwriters are supporting this stock and buying shares to keep it above that level. This practice won't continue for long – especially if the market becomes weaker. If the stock drops below the $20.25, then a good number of investors will be underwater and you could see selling pressure increase very quickly. So one way to approach this opportunity would be to set an alert at $20.20 or close by so that you can short the stock once it breaks below the secondary offering price.
Speculative prices in growth stocks are likely to lead to losses in the coming months or quarters. It is difficult to pick the correct timing for entry, but once the selling begins, I fear we could see significant investment losses mount. So please use caution in today's market and employ risk management strategies to protect your capital.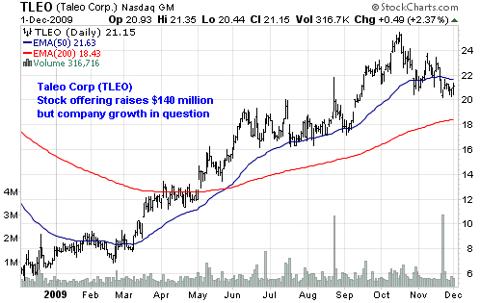 Click to enlarge
Disclosure: Author does not have a position in TLEO