The September jobs report, which was supposed to be released on October 4th, was finally released Tuesday. This article first reviews the September jobs report and will cover the implications for tapering and the equity markets. For those readers who want to directly skip to the top-down market analysis and suggested stock names, feel free to do so.
The September Jobs Report:
Here is a quick summary of the report (Consensus is the Bloomberg consensus as of October 21):
Headline non-farm payrolls of 148K vs. consensus of 185K
Private payrolls of 126K vs. consensus of 184K
Unemployment rate of 7.2% vs. consensus of 7.3%
Average hourly earnings of 0.1% vs. consensus of 0.2%
Average workweek of 34.5 hours vs. consensus of 34.5 hours
The report is clearly disappointing. The headline non-farm payrolls number continues to decrease and came in much lower than the consensus expectation of 185K. The main culprit was the weak private payrolls which came in at 126K, a variance of 58K from consensus estimates. Furthermore, the lower than expected wage growth, 0.1% vs. expected 0.2% month-over-month, shows that income growth is still weak, which explains the recent weak earnings reported by retailers including Wal-Mart (NYSE:WMT). The 0.1% drop in the unemployment rate is negative because the number of people not included in the labor force increased slightly from 90.47 million to 90.61 million. Although that small increase did not decrease the participation rate, the Fed will need to see that number decrease to feel more comfortable with the labour market recovery.
The negative September jobs report is positive for risk assets. Equity futures are rallying on the news while fixed-income yields are declining since the report supports the view that tapering will be delayed until early next year.
Implication for Fed Tapering:
When the open-ended QE3 program was initiated in September last year, Fed members continuously reiterated that QE3 was designed to improve the labour market "substantially". Looking at the scorecard, there was some improvement, although the labour market recovery faded in recent months. One noticeable improvement was in the unemployment rate, which declined from 8.1% to the current 7.2%. Also, the 3-month and 6-month rolling payroll averages increased from near 100K at the beginning of QE 3 to 200K in May. However, both averages declined to near 150K given the most recent data released today.
Graph 1: 3-year history of payroll numbers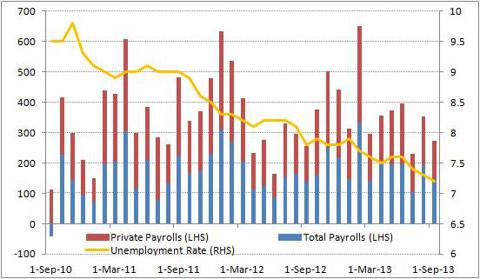 Click to enlarge
Source: BLS
Table 1: Historical Trend in Non-Farm Payrolls
| | | | |
| --- | --- | --- | --- |
| Month | Reported Payroll | 3 month average | 6 month average |
| Jan | 148K | 205K | 180K |
| Feb | 332K | 233K | 207K |
| Mar | 142K | 207K | 208K |
| Apr | 199K | 224K | 215K |
| May | 195K | 179K | 206K |
| Jun | 188K | 194K | 201K |
| Jul | 104K | 162K | 193K |
| Aug | 193K | 162K | 170K |
| Sep | 148K | 148K | 171K |
Source: BLS, 3 month and 6 month are rolling averages calculated from the reported figures
As table one shows, the labour market improved from January to April and then started to weaken from May to September. Looking at the 3 month and 6 month rolling averages, one could see why the Fed wanted to taper back in late-May. In Congressional testimony in late-May, Bernanke signaled to the market that the monthly purchase size of QE3 could be reduced in the "coming meetings". Back in May, labour markets looked very robust with the 3 month and 6 month averages remained above the 200K level for the third consecutive month. 200K is an important number as many Fed presidents and governors stated in their public speeches that monthly payroll growth should be at least 200K to be considered as acceptable. Unfortunately, those averages fell to near 150K as of August and the Fed was forced to delay the taper in its September meeting. However, this table does provide clues that the Fed may consider tapering again if the 3-month and 6-month average payrolls can sustain above 200K level for 3-4 months. Tapering in October and December are both unlikely options given the 3 month average is still falling, hitting the lowest since August 2012.
Table 2: Unemployment Rate (%) , Labor Participation (%) and Long Term Unemployment Numbers (in millions)
| | | | |
| --- | --- | --- | --- |
| Month | Unemployment Rate | Labor participation | Long Term Unemployment |
| Jan | 7.9 | 63.6 | 4,708 |
| Feb | 7.7 | 63.5 | 4,797 |
| Apr | 7.6 | 63.3 | 4,611 |
| May | 7.5 | 63.4 | 4,353 |
| Jun | 7.6 | 63.5 | 4,328 |
| Jul | 7.4 | 63.4 | 4,264 |
| Aug | 7.3 | 63.2 | 4,290 |
| Sep | 7.2 | 63.2 | 4,146 |
Source: BLS
In addition, investors should not pay too much attention to the 7.0% threshold mentioned in Bernanke's June press conference. QE3 may not end when the unemployment rate hit 7.0% because labour markets did not improve "substantially" as defined by the Fed. The unemployment rate can drop because of a decline in the labor participation rate, which is not positive.
As table 2 shows, the 0.6% improvement in the unemployment rate is partly due to the 0.4% drop in labor participation. Therefore, investors should pay attention to a number of labour market indicators instead of just focusing on the change in the unemployment rate. These include non-farm payrolls, unemployment rate, labour market participation rate, wage growth and changes in long term unemployed (27 weeks or longer). If all these indicators show a substantial improvement since August 2012, then the Fed will taper.
Because of the debt ceiling debate early next year and uncertainty over the impact of the 16-day government shutdown, Fed officials may exercise caution when deciding the first date to taper. In the latest minutes, Fed officals stated: "...risk management considerations called for a cautious approach and that, in light of the ambitious cast of recent readings on the economy, it would be prudent to await further evidence of process before reducing the pace of asset purchases". Recent weakness in the labor markets and economy, coupled with political risks in January/February, will delay tapering until March next year. Nonetheless, the first tapering date is heavily data dependent and investors should scrutinize all important economic reports to gather clues.
Implication for the Markets:
According to a Bloomberg survey, most economists expect tapering to start in March,2014. That is a complete change from the August survey when most economists expected a "septaper" but the Fed surprised everyone last month by maintaining the purchase size of QE3. This author wrote a blog post on why the Fed did not taper back in September for those who are interested to read it.
Graph 2: 5-year Trailing P/E of the S&P500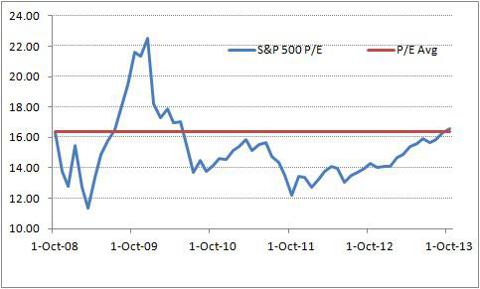 Click to enlarge
Source: Bloomberg Data
The tapering delay has pushed the S&P 500 (NYSEARCA:SPY), Dow Jones Industrial (NYSEARCA:DIA) and Nasdaq (NASDAQ:QQQ) to new highs. Currently, the S&P 500 is trading at 16.6X trailing earnings and 14.6X forward earnings according to Factset data. The 10-year average is 15.6X for trailing P/E and 14x for forward P/E as presented in the Factset report. Using Bloomberg data since 1955, the average trailing P/E ratio is about 16.4X. Although the market appears to be overvalued based on these historical numbers, a combination of seasonal trends (October-December best period for stock gains), positive price momentum and higher level of monetary stimulus will propel stocks higher in the near term. The 22% rally in the S&P 500 this year is driven by multiple expansion, responsible for 77% of the 22% advance with earnings growth only expected to be 5% for 2013. Because tapering is delayed, investors may still push prices higher due to the absence of a monetary cliff. A further 0.5X multiple expansion, above the current 14.6X forward ratio, means the index could reach 1800 in the next few months, although could end the year between 1750-1800.
Sectors to Invest:
This author still favors cyclical sectors like industrials, financials, and technology. Within the industrials space, the auto manufacturers are benefiting from the vehicle re-fresh cycle in North America and stronger demand in Europe. Investors could seek exposures via General Motors (NYSE:GM) and Ford (NYSE:F). Within financials, the author prefers names that can benefit from a steeper yield curve including banks. Within the U.S. large bank space, the author agrees with Warren Buffett that Wells Fargo (NYSE:WFC) is a good play to bet on a continued U.S. economic recovery with less litigation risks compared to JPMorgan (NYSE:JPM) or Bank of America (NYSE:BAC). As a Canadian, the author believes Canadian banks will outperform their U.S. counterparts in Q4 as discussed in his prior seeking alpha article with TD bank (NYSE:TD) and Scotiabank (NYSE:BNS) as his preferred names. In addition, the author also prefers selected insurance names like Manulife (NYSE:MFC) and Sun Life (NYSE:SLF) that can benefit from a stronger U.S. economy and a raising rate environment in the long run. Technology will benefit as investors rotate from defensive names and into technology names. Companies like Apple (NASDAQ:AAPL), which have huge cash piles, are facing pressures from activists like Carl Icahn to buyback stocks and increase future EPS growth. These activist pressures are net positive for tech names like Apple. Finally the author prefers selected energy names that are attractively valued and provide solid long term earnings growth. Suncor Energy (NYSE:SU), a stock Berkshire Hathaway bought in Q2, is the author's favorite pick that possesses a strong growth profile, free cash flow and excellent dividend growth.
Despite a delayed taper of QE, defensive sectors such as consumer staples, telecoms and utilities do not possess strong earnings growth or top line sales growth to support future price appreciation.
Overall favor stocks with strong balance sheets, high return on capital and earnings growth. These stocks can provide a margin of safety for investors even if the economy grows less than expected in the next few quarters. Even though tapering is delayed, investors are still facing a rising interesting rate environment and must be cautious. For income investors, they should focus more on the dividends growth rather than absolute dividend yields. Many academic studies have showed a strong correlation dividend growth and share appreciation.
Conclusion:
Today's job report support the Fed's decision to await more data before they begin to taper QE. Equity valuations are not extremely attractive at the moment but equities are still the best asset class in a overpriced neighborhood as shown in graph 3. It should be noted that the S&P 500's earnings yield is approximately 6%, which is higher than the 10-year treasury bond (NYSEARCA:IEF) yield of 2.6%, Aa bond yield of 3.5% and junk bond (NYSEARCA:HYG) yield of 5.5%.
Graph 3: A comparison of S&P 500 earnings yield to various fixed income yields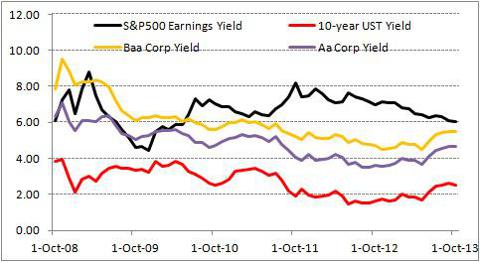 Click to enlarge
Source: Bloomberg Data
Given the positive seasonal trend and price momentum, stocks will move higher until the New Year holiday. Although stocks may face headwinds in 2014 as the debt ceiling debate re-emerges, stocks are rallying currently because the punch bowl (QE 3) will not be taken away until March 2014 especially after the weak September jobs report released today. Recall what former Citigroup CEO Chuck Prince said back in 2007: "As long as the music is playing, you've got to get up and dance". Investors are still dancing at the moment but it may be prudent to take some risk off the table as equities advance further. The author is prepared to adjust his long portfolio as the market advances.
The author will end the article with a Howard Marks quote: "There are times for aggressiveness; Now is a time for caution". As the market moves up, investors should be more cautious, not more optimistic especially heading into the New Year with numerous possible headwinds. Nevertheless, enjoy the short term rally!
Disclosure: I am long MFC, SU. I wrote this article myself, and it expresses my own opinions. I am not receiving compensation for it (other than from Seeking Alpha). I have no business relationship with any company whose stock is mentioned in this article.
Additional disclosure: This post is for informational purposes only and does not constitute an offer to buy or sell any securities discussed in the report. Readers are encouraged to conduct further due diligence before investing in any stock. The author is not responsible for losses incurred by the reader if they wish to invest in the names suggested.