Sometimes it's just too easy shorting biotechs. They seem to attract starry eyed dreamers with little to no experience in either finance or science. Worse still, bio-gamblers love to recite company promotional materials verbatim as their reasons for investing, with almost no critical thought or independent research of their own. The result is a group of investors that companies can lead around like sheep, selling them all the stock they can muster up.
Over the last year, I warned investors about inevitable implosions in hot biotechs such as Arena Pharmaceuticals (NASDAQ:ARNA), Dynavax (NASDAQ:DVAX), and oh yes, Inovio (NYSEMKT:INO). As I recall, I told investors to dump Inovio shares before they plummeted 50%. A few short weeks later, the stock did just that.
Inovio bulls were not put off, however. The stock has rallied over 300% since this time. The result is that INO is now grossly overpriced and is ready to be shorted for a minimum 50% gain.
To their credit, shorts have been paying attention and have ramped up their position threefold over the past three months. I presume they intend to take advantage of yet another biotech bubble stock.
So why are shorts picking on Inovio? To answer this question, let's first look at the fundamentals.
A quick look at Inovio's Fundamentals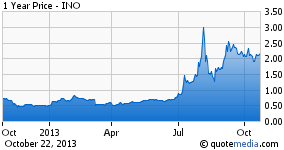 Based on Inovio's investor presentation combined with their latest 10-Q, I estimate the company to have about $37 million in cash and cash equivalents. Inovio has stated multiple times that they should have enough cash to keep the operation viable until Q3 2015. I'm not sure where they get that optimistic estimate based on their precarious cash position and current burn rate of approximately $2.5 million per month. My estimate, by contrast, puts them closer to Q1 2015.
Perhaps the company plans on slowing their cash burn rate, or they are counting revenues from licensing deals. Who knows? Their 10-Q doesn't address this issue beyond saying they have sufficient resources. And they failed to update their cash position on their investor materials, although they did update other items regarding their current financial deals. Suffice to say, I think the company is being overly optimistic about their finances.
So Inovio is not cash rich? What does that mean?
The simple is answer is more dilution. I know Inovio likes to champion their record of non-dilutive funding, and it is impressive as far as biotechs go. Yet, they didn't get 190 million shares by shying away from dilution. That's not a pretty number and it's going to get bigger in the not so distant future.
Okay, so when are they supposedly going to perform another secondary?
I am thinking around March 2014.
Why do you predict a dilution event around next March? Are you psychic?
Good question! The answer is that I'm not psychic. By contrast, the reason dilution is coming is simple: Inovio is expected to announce Phase II trial results for its lead clinical candidate VGX-3100 around this time. To jog everyone's memory, VGX-3100 is a DNA vaccine delivered by electroporation to adult women with biopsy-proven HPV 16 or 18 associated cervical intraepithelial neoplasia grade 2/3 or 3.
Let me be clear here: Inovio is going to dilute shareholders before these results are announced-no matter what.
Why? First off, they need money. There is no good reason to believe the Roche deal is going to provide substantial income to Inovio prior to this date.
And secondly, did I mention they need money? It is standard practice in the industry to perform a secondary prior to a major clinical milestone. If the results are positive, it gives the company cash to advance the clinical candidate (Phase 3 trials can be extremely expensive). If bad, a secondary can save the company from resorting to death-spiral financing. That's why a secondary is near an absolute certainty in this case.
I keep reading that Inovio's pipeline is revolutionary? Going to generate multiple blockbusters?
The truth is that Inovio is being heavily pumped by folks not acknowledging the major risks of the company's DNA vaccine platform.
Don't believe me that DNA vaccines are risky? Okay, don't take my word for it. Here is a snippet from a recent review article published in a peer-reviewed scientific journal:
"Over the past 15 years, multiple generations of DNA vaccines have been developed and tested in preclinical models for prophylactic and therapeutic applications in the areas of infectious disease and cancer, but have failed in the clinic. Thus, while DNA vaccines have achieved successful licensure for veterinary applications, their poor immunogenicity in humans when compared with traditional protein-based vaccines has hindered their progress…"
Bottom line: DNA vaccines have a 15 year track record of clinical failures in humans and multiple approaches have been tried to no avail.
Are there any other reasons Inovio looks like a good short candidate?
Glad you asked! Inovio's fundamentals are way out of line with prevailing sector trends, giving the company a ridiculous valuation. Specifically, INO is now trading at over 16X its cash/share, as well as its book value. Yikes! By contrast, most biotechs trade somewhere in the neighborhood of 3-5X cash/share, even ones generating revenue. This radical overpricing of INO compared to its financials is eventually going to make Mr. Market unhappy.
But isn't the company's share price cheap at $2?
This is a common error among biotech retail investors. Just because the stock is under $10 does not mean it's cheap. What really matters is the company's market cap. With a market cap of $400 million, Inovio is more expensive than several biopharmas with FDA approved drugs, e.g., Amarin (NASDAQ:AMRN), Dendreon (NASDAQ:DNDN), Horizon Pharma (NASDAQ:HZNP), etc. Market caps as high as Inovio's are generally reserved for biopharmas with at least a strong Phase III candidate. Inovio has no such candidate, and the company's market cap is way out of line compared to prevailing sector trends.
How big of a short opportunity is Inovio?
Inovio bulls are a stubborn bunch. But that works to the short's advantage. They have run the price up to untenable levels, and the company is going to seek a major secondary ahead of announcing Phase 2 results for VGX-3100. It makes too much financial sense for the company not to perform a secondary around this time.
I am betting it's going to be big, irrespective of the clinical trial data. An offering around $100 million shouldn't surprise anyone that's watched biotechs over the past decade. An offering of that size should easily drop the stock 30% from current levels.
But I am betting it's a lot juicier than 30%. Inovio is undoubtedly telling a positive story about their DNA vaccine platform, but history tells a vastly different one.
I am betting VGX-3100 fails come March 2014. Yes, fails. With 15 years of DNA vaccine failures, I am not optimistic about Inovio's chances for success. The effect of a failure for its lead candidate will send this stock right back into the 40 cent range, if not lower. At that point, the viability of the entire platform will be a major concern, and things could unravel in a hurry.
What are the risks of shorting Inovio?
The only risk going forward is a positive Phase II trial result for VGX-3100. But history suggests this risk is minimal.
I know, I know, Inovio has finally figured out how to effectively increase DNA uptake and vaccine expression via its electroporation technique. But we've heard this same story for over 10 years now and still no FDA approved therapies. And if electroporation was the gold standard, why are researchers busy looking for better routes like bacterial vectors for vaccine delivery?
Lastly, if Inovio was about to make a major breakthrough with DNA vaccines, why have institutions not noticed? They own less than 4% of outstanding shares, and have actually been decreasing their holdings of late. Decreasing institutional interest and increasing short interest ahead of a major clinical milestone ain't exactly a good sign.
Seems like the pros are betting against Inovio.
Disclosure: I have no positions in any stocks mentioned, and no plans to initiate any positions within the next 72 hours. I wrote this article myself, and it expresses my own opinions. I am not receiving compensation for it (other than from Seeking Alpha). I have no business relationship with any company whose stock is mentioned in this article.