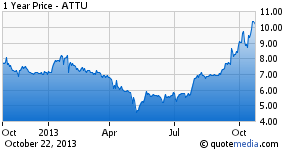 Last Thursday, PTT Research attended a presentation that introduced Attunity's (NASDAQ:ATTU) latest release, Replicate 3.0. This Thursday morning, ATTU will introduce investors to its Q3 financial results. In this article, I will discuss both events.
Beginning with Replicate 3.0, the advent of Big Data has created an explosion in data volumes, driving accelerating demand for data replication solutions. Increasingly, these solutions need to include support for application release automation, managed file transfer, and web deployment.
Attunity is addressing all of this and supporting a growing variety of data types. The volumes are exploding. Attunity has seen customers driving over 200GB of changes per hour. This is raising the bar for what it takes to fulfill customer requirements, creating separation between leading vendors and the rest of the pack.
Traditionally, ETL (extract, transform, and load) has been the hallmark of data integration. Informatica (NASDAQ:INFA) established itself as the pure play leader of this space. However, ETL goes back to the mainframe days and COBOL developers. These old school solutions are no longer optimal for dealing with data appliances and the multitude of databases / applications. Attunity looked at solutions from companies like INFA to determine how they were still relevant (and more importantly, how they fell short). This allowed them to think about how Big Data integration should be done, with a starting-from-scratch view of things.
The result was a new approach to dealing with real-time replication that also provided much of the functions provided by traditional (high-priced) ETL solution sets. On an ongoing and 24/7 basis, ATTU's solution monitors information as it changes and only focuses on that data. This is differs from looking at all data on a non-real time basis. This approach is less cumbersome and more proactive - directly in line with the direction in which Big Data analytics is moving.
This is a big part of the reason why ATTU has tripled since I first wrote about it. Its technology has attracted significant relationships with the likes of Amazon (NASDAQ:AMZN), EMC (EMC), HP (NYSE:HPQ), IBM (NYSE:IBM), Microsoft (NASDAQ:MSFT), and Oracle (NASDAQ:ORCL). Attunity's unique approach to data integration for Big Data made it attractive to these large partners.
As a result, revenues are starting to ramp up. The company did $6 million in revenue last quarter. Investors should be looking for that number to increase to approximately $7 million when they report Q3 results on Thursday morning. $7 million on the dot would represent 14.8% growth over Q2 and 18.6% growth over Q3 of last year.
That would be enough to demonstrate that ATTU is making progress toward the real excitement, which should come over the next few quarters. The company is hiring sales people aggressively and plans to ramp its quota carriers by more than 50% over the next year.
Hiring salespeople is a sign that the company is seeing plenty of demand and wants to take advantage of it. The magnitude of its hiring plans suggests that the company might be able to post 50% growth at some point in the future. Meanwhile, 2013 guidance only calls for 6-18%. In other words, growth looks set to accelerate, which is exactly what investors like to see.
Disclosure: I am long ATTU, INFA. I wrote this article myself, and it expresses my own opinions. I am not receiving compensation for it (other than from Seeking Alpha). I have no business relationship with any company whose stock is mentioned in this article.