E.I. du Pont de Nemours & Company (NYSE:DD) just reported Q3 results yesterday tempting me to take a look at its recent performance.
DuPont reported Q3 2013 revenues of $7.74 billion slightly underperforming consensus revenues of $7.77 billion. On the other hand, the company managed to beat EPS expectations: Analysts expected operating EPS of $0.41 while DuPont delivered $0.45 (an earnings beat of 10%). Operating earnings were also 5% higher in the current quarter than in Q3 2012. Net sales increased by 5% to $7.74 billion driven by higher sales volume and partly offset by price and currency effects. YTD revenues increased 2% to $28 billion compared to last year also driven by increased sales volume. DuPont made progress in improving its capital position, too: DuPont's net debt position decreased by $3.8 billion y-o-y mainly due to higher cash balances.
DuPont's Q3 operating performance was decent across all business divisions unless you considered the Performance Chemicals segment: Operating earnings decreased by $159 million y-o-y and eradicated all other segments gains and then some in the third quarter.
(Source: DuPont's Q3 2013 presentation)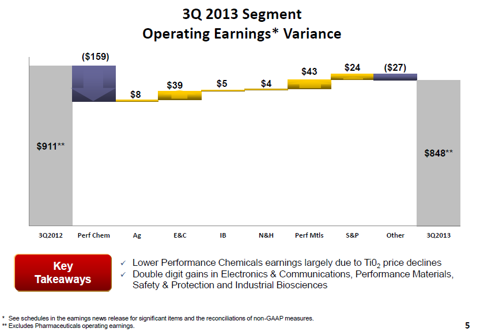 (Click to enlarge)
Performance Chemicals was impacted by weaker pricing for its core Ti02 and fluoropolymer products which offset Ti02 volume increases. In addition, lower raw material prices affected segment profitability with operating earnings down 38% y-o-y.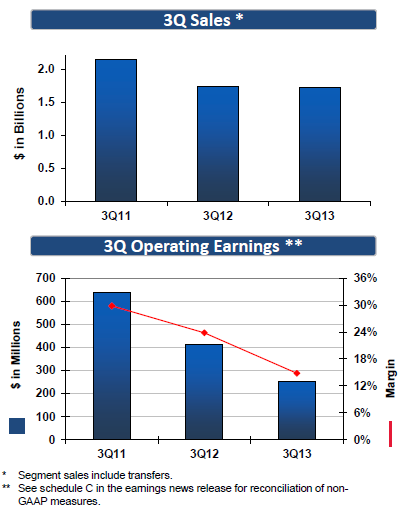 DuPont expects higher demand for its Performance Chemicals' products in Q4 2013. Higher forecasted demand should eventually lead to a rebound in pricing but I estimate that raw material cost challenges will persist for a few more quarters.
Share performance
E.I. du Pont de Nemours & Company returned 105% over the last five years while Dow Chemical (NYSE:DOW) gained 74%, Air Products & Chemicals (NYSE:APD), a recent darling of Bill Ackman, 121%, Airgas (ARG) 246% and Celanese (NYSE:CE) 328%. Compared to Airgas and Celanese, which helped lift the entire sector performance, DuPont has substantial room left to catch up to its competitors.
Peer group overview
DuPont fetches a 14x forward earnings multiple fairly in line with its closest competitor Dow Chemical. Air Products & Chemicals and Airgas have the highest sector valuations at 18.49 and 18.92 times forward earnings. Celanese's valuation of 11.58 future earnings is particularly noteworthy because its shares have rocketed 328% already but Celanese is still the cheapest stock, relatively speaking, in the peer group.
The diversified chemicals sector offers investors not only exposure to cyclical companies that do well when the economy gathers momentum but also presents investors with attractive dividend yields. The top three firms DuPont, Dow Chemical and Air Products & Chemicals pay dividends in the 3% neighborhood. DuPont currently pays $0.45 per quarter and has a long history of dividend continuity and growth.
DuPont pays a dividend that represents a 26% premium to its close peers in the chemicals sector. DuPont's P/E ratio is 10% lower than the average peer group P/E of 15.50. A summary of valuation metrics is provided below:
Summary
DuPont operates a diversified business with 33% of sales occurring in the US & Canada, 25% in Asia, 23% in EMEA and 19% in Latin America. Revenue diversification allows the company to mitigate country risk and provide investors with stable operating cash flows and dividends. DuPont's dividend record stretches way back into the early 1920s and exhibits a high degree of dividend certainty. Investors who can see past a few bumpy quarters in order to gain exposure to global industrial growth might find DuPont an interesting Buy. DuPont offers income investors a diversified business with fairly stable cash flows, an outstanding dividend record in terms of continuity, a 3% initial dividend yield and chances of a rebounding Performance Chemicals division that could turbocharge EPS growth.
Disclosure: I have no positions in any stocks mentioned, and no plans to initiate any positions within the next 72 hours. I wrote this article myself, and it expresses my own opinions. I am not receiving compensation for it (other than from Seeking Alpha). I have no business relationship with any company whose stock is mentioned in this article.