Mutual funds and institutional money managers have dropped shares of Apple (NASDAQ:AAPL) en masse over the last year as the stocks'
44% decline weighed on fund performance. While ownership was more stable last quarter than the previous one, there were still many more owners looking to sell than those adding to their position. While inflows will be something to watch when the third quarter 13F filings are reported, the new product cycle should support revenue growth and sentiment over the near-term. I am setting my 2014 target price at $596 per share.
How smart is the "smart money"
Over the last quarter, funds bought a total of 10 million shares but sold 16 million for a net reduction of 6 million. While this is only approximately 2.3% of the total shares held by mutual funds, it continues a trend since the last quarter of 2012 when funds held about 366 million shares compared to a current count of 260 million shares.
Institutional owners picked up a net four million shares over the quarter, increasing their position by 0.7% to 579 million shares. While the share ownership by institutionals was up marginally over the quarter, they too have been dumping shares with a reduction of approximately 153 million shares from 732 million in the last quarter of 2012.
Several institutional firms posted sizable reductions in their position over the last quarter. Susquehanna Financial Group sold almost a third of its position, reducing its shares by 3.18 million to 6.6 million. T. Rowe Price reduced its position by 2.9 million to 8.7 million shares last quarter, well off of the approximately 25 million shares held in the last quarter of 2012. Most notable in the selloff was Tiger Management which liquidated its remaining stake in the first quarter of this year, down from more than $22 million as late as the fourth quarter of last year.
Perhaps more telling is the difference in the number of owners buying and those selling portions of their portfolio. Only 1,295 institutional owners and 1,321 fund owners added to their positions last quarter, that is a decrease of 0.77% and 0.30% from the previous quarter. Compare that to 1,100 institutions and 1,615 funds selling part of their positions last quarter, up 22% and 17% from the prior quarter.
While the ability of fund managers to beat the market is up for debate - in fact only 24% of active managers outperformed the broader market over the last decade - the massive selling by big money players can affect the direction of the stock. The roughly 259 million shares sold by these managers since the last quarter of 2012 represent more than 28% of the shares outstanding and helps explain the 44% selloff in the stock.
Is more selling on the way?
I haven't been afraid to call the alarm on shares of Apple. I warned investors August 28th that the enthusiasm building up to the company's product launch made the stock too risky. The launch ultimately disappointed and the shares dropped 8% through mid-September.
So combine my fear of herd mentality in the shares with an exodus of the big money players and you might guess my position. Not so fast, while I am not holding out for the shares to top the 2012 high anytime soon I think a target of $596 next year is well within reach.
The product cycle is just starting to refresh and the company's record nine million phones sold during the weekend launch in September is a good start. The company continues to gain market share in the U.S. with most rivals fading fast.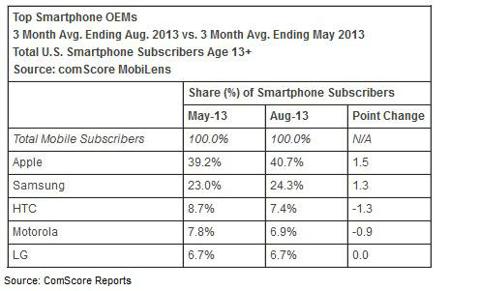 Analyst estimates have bottomed around $43.12 per share for 2014, well under the $44.15 earned in 2012. This is despite expectations for sales of $181.6 billion against 2012 revenue of $156.5 billion. So the street expects sales to jump 16% next year over 2012 but earnings to fall almost 3%? This means the company's net margin would have to remain uncharacteristically weak even against newer products commanding higher prices.
My own estimate is for 2014 earnings of $47.68 on consensus sales of $181.6 billion and a stock price of $596 per share. This would imply a price multiple of 12.5 times trailing, just under the current multiple, and a 23.5% net margin. Even this estimate could prove conservative on stronger sales growth or multiple expansion.
What turned out to be a disappointing iPhone launch in terms of a simple refresh of the iPhone 5, may turn out to be a huge revenue boost for the company next year. The iPhone 6 is expected out mid-2014 and will cannibalize 5-sales when it does, but that still gives the recently launched phones almost a year to sell. Instead of one product cycle refresh, investors will get two within a year.
Most of the fund positions reported by Morningstar were as of June 30th of this year, a quarter which saw shares drop almost 10% to a 52-week low of $390 from $430 per share. Over the most recent quarter, shares have increased more than 12% to $507 and should be supported by record phone sales during its launch weekend. I think a lot of this support is coming from funds buying back into the shares on the new products.
Some firms, like Susquehanna Financial, are more active traders and may increase their holdings as the product cycle ramps up. Susquehanna analyst Chris Caso came out in Barron's with a positive rating and a $625 price target on encouraging supplier checks and the possibility for higher margins. The firm increased its position from about 5 million shares in the first quarter of 2012 to more than 15 million shares in the last quarter of the year before reducing back down to its current position.
The bottom has been set
I think shares have seen their multi-year bottom and the new product cycle should keep revenue growing and sentiment stronger for at least a couple of years. The company has grown revenue by an annualized 38% over the decade to 2012 and expectations are too low for next year. The drop in fund and institutional ownership over the last year is a short-term phenomenon as managers selling out with the herd only to buy back in as the outlook improves.
Disclosure: I am long AAPL. I wrote this article myself, and it expresses my own opinions. I am not receiving compensation for it (other than from Seeking Alpha). I have no business relationship with any company whose stock is mentioned in this article.
Additional disclosure: Long bull options spread Jan 2015 $450/$460 calls established earlier this year.