For the last several years retail stocks have been on a fast escalator upward. You almost could not go wrong investing in retail from the March 2009 market low through the first quarter of 2013. The chart of the SPDR S&P Retail ETF (NYSEARCA:XRT) shows just how true this has been.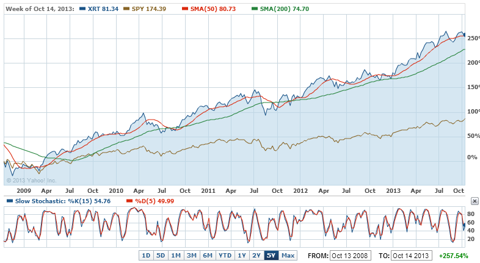 The brown line below the blue line of the SPDR S&P Retail ETF represents the SPDR S&P 500 ETF (NYSEARCA:SPY). The SPDR S&P Retail ETF has gone up 257.54% over the last five years as of the close of October 21, 2013. By comparison the SPDR S&P 500 ETF has only gone up 100.37% over the same time period. If you calculated the gains from the March 2009 lows, they would both be more dramatic. Yet even over the five-year period selected, most people would think that both the SPY and the XRT are due for a significant retracement. In fact since 1871, the mean length of a bull market has been 50 months; and the average length has been 67 months. The current bull market has run since the market bottom in March 2009 (about 55 months).
Recent economic data supports the view of a significant market retracement. The US Fed recently downgraded its US GDP growth forecast for Q4 2013 from 2.3%-2.6% to 2.0%-2.3% (-0.3%). It downgraded its forecast for 2014 too; and that was before the recent government shutdown and default scare. A Reuters's poll estimates that the government shutdown and default scare hurt GDP growth for 2H by about -0.3%. Many businesses that are dependent on the government have laid off employees. The government temporarily stopped buying many goods, etc.
The record high amount of margin debt provides strong support for a big retracement. The chart below of both the NYSE Margin Debt and the S&P 500 price line shows that in recent years a historical high in margin debt has been followed by a dramatic fall in the S&P 500 shortly afterwards.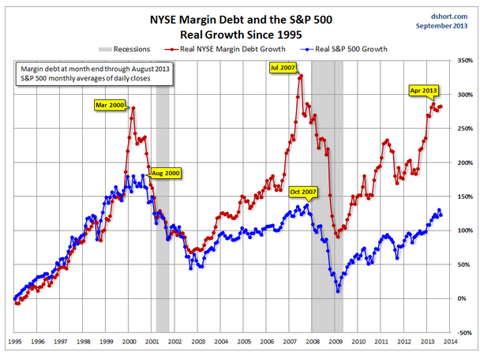 There is no way of telling exactly when you have reached a peak; and there is no way of knowing exactly when after a peak the market will begin its fall. However, the two recent peaks suggest that a dramatic fall occurs within 18 months of a historic margin debt peak. If this market has not already reached a margin debt peak, it is likely very close to such a peak. This is a good reason to beware this market. When a highly margined market turns downward, it may fall quickly.
Remember also that the Fed had a lot to do with creating the bubbles that led to the last two dramatic stock market falls. Plus HFT trading only became prevalent in the late 1990s with the huge expansion of the internet and faster computers. The overvalued stocks that are short squeezed upward to ridiculous multiples are partially the result of this new technology. HFT effectively acts as a multiplier for momentum trading. Hence HFT also has had a lot to do with the dramatic falls we have seen. It is usually the culprit when the CNBC folks say the market is "melting upward."
When a company like Amazon.com (NASDAQ:AMZN) does not make a profit, it should not trade at an FPE of 113.35. It has a past five years EPS growth per annum of -13.58%. Yet analysts insist that it will have a next five years EPS growth per annum of +36.33%. This is wishful thinking at its worst. AMZN has been consistently cutting estimates and profitability metrics. Its net income has fallen significantly each of the last two years. It lost money for FY2012 (GAAP net income); and it isn't doing well in 2013. Its multiple is insane, yet the pumpers keep pumping it. It may be one of the big losers in late 2013 and in 2014. Such insanity cannot last forever; and AMZN has already disappointed on earnings three out of the last four quarters. At some point investors will simply stop believing the propaganda the analysts spew about this stock. With the current overall Consumer Discretionary sector fundamentals (and overall market fundamentals), that time may be soon.
Around the world much of the economic news has been negative too. The World Bank downgraded China's GDP growth estimate for 2013 to 7.5% from 8.3%. It expects GDP growth of only 7.1% in East Asia. This is down from its previous estimate of 7.8%. The World Bank is also worried about China's shadow banking system. Further the September 2013 Chinese inflation rate month over month was +0.8% (or +9.6% annualized); and this is with a backdrop of a -0.3% fall in exports in September 2013. This makes the prospect of further stimulus or quantitative easing in China much less likely. India is in the same boat with a September 2013 inflation rate of 6.46% year over year and a CPI of 9.84% year over year. The World Bank dramatically lowered its forecast for India's GDP growth for the current fiscal year to 4.7% from 6.1%. Both countries may need to tighten and/or scale back pro-growth policies due to the above data. Any such actions are likely to translate into still slower growth.
Further Greece needs another bailout. The other PIIGS are still viewed as high risk areas; and countries such as Slovenia, Slovakia, Malta, and Luxembourg are viewed as probably needing bailouts soon. In addition, Merkel is seen as weaker after the recent election; and the German people are seen as being more against further bailouts. If one bailout is not approved, the result could be a sharp plunge in the overall EU economy. A cascade effect could occur such as the one seen when Lehman went bankrupt.
A slight improvement from the European tourist season has prompted some to claim that all is improving in the EU. However, few serious economists would make such a claim. China, India, and other Asian countries are likely to dump products in the US and Europe due to their ever more troubled economies. This will make life that much tougher for the EU and US economies. Consider that Spain's unemployment rate is still 26.6%. Greece's is 27.60%. Italy's is 12.20%, and that is up from the previous 12.10%. France's unemployment rate at 10.90% is also up from its previous reading of 10.80%. Everything is not improving. In fact the ECB's Draghi on October 12, 2013 said risks to recovery are mostly on the downside. If Draghi is to be believed (and he should have more credibility than the market pumpers), those hyping a strong recovery in the EU are just spewing very weakly supported propaganda.
All of the above seem likely to contribute to a weaker than expected retail environment. However, there are many more reasons US retail EPS and revenues are likely to fall dramatically in 2013 and in 2014. First the payroll tax and the new Medicare tax in January 2013 increased taxes for the average US citizen by 2.9%; and don't forget that employers have to pay a matching amount. This will cut into their profits.
Some scoff at this tax hike because it is only 2.9% of total income. However, it is in the ballpark of 15% of discretionary income for the average US citizen. They have to pay housing costs, taxes, food costs, transportation costs, education costs, utility costs, etc. Only what is left over after all of that can be used for discretionary spending. The pie that the stores can take bites out of has gotten significantly smaller. The sequester cuts hurt too. All told the CBO estimated the total adverse effects on the US economy to be -1.25% less GDP growth for FY2013 due to the payroll tax hikes and the sequester. Retailers should be hurt more.
Another item a lot of stores have to worry about is the interest rate. After two years of decreasing yields and/or low yields, the 10-year US Treasury Note's yield spiked up by roughly 100 bps in Q2 2013. This meant that a lot of stores that had to borrow in order to purchase their Christmas inventory had to spend that much more to do so. Further companies with large amounts of debt will have to pay more for that debt over time; and most economists expect the yield of the 10-year Treasury Note (interest rates) to continue to rise longer term. This will put continued negative pressure on indebted retailers. The five-year chart of the 10-year US Treasury Note yield is below.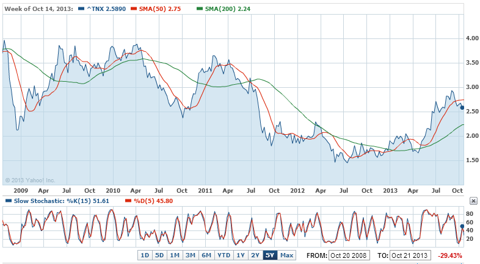 Until recently the 10-year US Treasury Note yield had been trending lower since 2010. This has been a positive for the retail industry. With the recent reversal of that trend, the former positive has become a negative.
Apparel stores, department stores, and specialty stores are likely to be among the hardest hit by the above negative fundamentals. Those with low profit margins will be hit the hardest. A Few of these are: The Bon-Ton Stores (NASDAQ:BONT), J.C. Penney Company (NYSE:JCP), Sears Holdings (NASDAQ:SHLD), Office Depot (NYSE:ODP), and Macy's (NYSE:M). The chart below contains a few of their financial fundamentals as of October 16, 2013 that may be especially pertinent to their performance in the near future.
| | | | | | |
| --- | --- | --- | --- | --- | --- |
| Stock | BONT | JCP | ODP | SHLD | M |
| Stock Price | $11.19 | $7.35 | $5.39 | $54.50 | $44.46 |
| Total Debt (mrq) | $903.55M | $5.82B | $649.55M | $3.74B | $6.91B |
| Market Cap. | $229.26M | $1.62B | $1.56B | $5.80B | $16.73B |
| Enterprise Value | $1.12B | $5.93B | $1.63B | $8.92B | $21.53B |
| Book Value per Share | $2.43 | $01.53 | $1.97 | $22.26 | $15.56 |
| Short Interest as a % of Float | 30.00% | 54.60% | 33.20% | 54.30% | 2.20% |
| Beta | 3.52 | 1.20 | 3.03 | 2.96 | 0.58 |
| Quick Ratio (mrq) | 0.18x | 0.53x | 0.73x | 0.2x | 0.42x |
| Interest Coverage (mrq) | -- | -- | -- | -- | 5.56x |
| Total Debt/Total Capital (mrq) | 94.79% | 71.50% | 40.48% | 56.99% | 54.15% |
| Revenue Growth (mrq) | -5.97% | -11.88% | -3.53% | -6.30% | -0.85% |
| Revenue Growth 0.30% (TTM) | 0.30% | -22.80% | -6.56% | -5.38% | 3.88% |
| Dividend Yield | 1.79% | 0% | 0% | 0% | 2.28% |
| Operating Profit Margin | 2.65% | -15.66% | -0.82% | -3.51% | 9.14% |
| Net Profit Margin | 0.01% | -13.29% | -1.24% | -3.99% | 4.93% |
| P/E | 860.77 | N/A | N/A | N/A | 12.86 |
| FPE | 9.56 | N/A | 67.38 | N/A | 10.20 |
| Mean Recommendation | 2.5 | 3.3 | 2.8 | 4.0 | 2.2 |
The above stores carry heavy debts relative to their market caps. They all had negative revenue growth in Q2 2013. Most had very low or negative net profit margins over the last year. Four of the five had non-existent PEs or an extremely high one. All had relatively low book values per share for brick and mortar stores. All except Macy's had substantial short interest. They along with many other apparel retailers (and other retailers) seem likely to get hurt badly due to the fundamental factors put forth above and below. A few of the other retailers that may be hurt badly are: American Eagle Outfitters (NYSE:AEO), Aeropostale (NYSE:ARO), Lululemon Athletica (NASDAQ:LULU), and Chico's FAS (NYSE:CHS). These four have already seen troubled times recently; and the points made in this article should only make them perform worse.
In addition to the negative economic factors mentioned above, the government shutdown and the near default by the federal government on its debt put a damper on US consumer spending for many weeks (and perhaps even for weeks to come). Shopper traffic was -4.7% lower year over year for the week of September 15-21, 2013. It was -5% lower for September 22-28. It was -7.5% lower for September 29 - October 5; and it was -7.1% lower for October 6-12, 2013. In all likelihood the week of October 13-19 was lower too. This put a big dent in back to school sales and early Christmas sales. It will be hard for retailers to make up for these lost sales. Both their Q3 and Q4 sales will be hurt. Plus remember all of the other negatives mentioned earlier. Remember that a Reuters's poll estimated a -0.3% GDP growth effect for 2H 2013 due to the government shutdown and the default scare.
For the S&P 500 as of October 18, 2013 after 97 companies had reported, the blended earnings growth rate was only 1.3% for Q3 2013. The blended revenues growth rate was only 1.9%; and this is down from the estimate of 2.5% revenue growth as of September 30, 2013. Further the revenue growth rate for Q4 2013 is only currently predicted to be 0.6%; and this may be without many of the effects of the federal shutdown and the default scare taken into account.
When you consider that the Consumer Discretionary sector at an average FPE ratio of 17.5 has the highest FPE of any sector in the market, it is easy to see that a retracement in the Consumer Discretionary sector is extremely likely. When you consider that the five-year average FPE of the S&P 500 is 12.9 (14.0 for the ten-year average FPE), the Consumer Discretionary FPE is far too high for comfort. Even the current FPE of 14.6 for the S&P 00 index makes one think a significant overall market pullback is likely. When you consider that the EPS and revenue forecasts have been going continuously downward for the last 6+ months, you realize the above numbers may be too high, especially for Q4.
When you look ahead, you see nothing that will lead to improving guidance. The government shutdown led to job losses. It led to a curtailment of spending by many businesses, not just those closely associated with the government. Further the first sequester (of March 2013) has not been fully felt yet. Some estimate only about half of its effect has come into play so far. This means more of the effect will come into play in Q4 2013 and Q1 2014. It means the economy will slow by that much more.
Add the next stage of sequester cuts that are slated to take effect in FY2014; and you have a significantly worsening economic situation. The first sequester was an $80B reduction across the board. The Budget Control Act calls for a further $109.3B reduction from the FY2014 budget (half from defense programs and half from non-defense programs). The FY2014 budget year begins October 2013. Hence we will have perhaps half of the $80B in cuts from the first sequester going into effect in Q4 2013 and Q1 2014. Plus we will have $109.3B in new cuts going into effect in Q1 -Q3 2014. This will further slow the economy.
The temporary funding bill to keep the government open expires on January 15, 2014. Congress and the President have until then to reach a compromise on the new sequester cuts; or all of those will go into effect in a destructively, draconian way. Congress and Obama do not have a good history of being able to reach an agreement. This makes draconian cuts for the next stage of the sequester a higher than 50% likelihood.
Further the Wall Street Journal estimates that healthcare premiums for a typical family of four will go up by $3000 per family. There are about 300 million people in the US. If you divide this by four, you get a ballpark estimate of 75 million families. By my calculations this means that another $225B will be spent on healthcare premiums (and the Obamacare red tape) by the US public. This will be money that is currently discretionary income for most people. It is money that stores can attract with advertising. In 2014 it will be money that will not go to retail. It may mean fewer new cars will be bought. It will certainly mean people will spend less on new clothes or new fashion. Fashion is often an area in which people scrimp first. Retailers will be hit hard in FY2014. Guidance virtually has to fall. When stores have more sales in order to sell their unsold goods, margins have to be hurt. Admittedly Obamacare may be slow starting up, so the effects may not be fully felt for several years. However, that just means Obamacare will continue to be a negative for the retail industry for several years at least.
Mark Bertolini, CEO of Aetna (NYSE:AET), said "We're going to see some markets go up by as much as 100%." Do you want to believe the CEO of one of the nation's biggest healthcare insurers? Or do you want to believe the demagoguery of Obama, which is almost certainly self-serving. My guess is that we have not begun to see the cost increases from Obamacare.
All of those people who previously could not get insurance because they had prior chronic illnesses such as cancer or heart disease, now will effectively have their insurance costs distributed across the rest of the population. One report found that between 50 million and 129 million people under the age of 65 had pre-existing illnesses. The report estimated that about 25 million of those were uninsured. If the medical care costs of those with chronic illnesses range from $20,000 to $1,000,000 per year, that is far above the average costs of the rest of the population. As an example the cost of heart bypass surgery is between $80,000 and $250,000. The American Heart Association pegged the average cost at $117,094, which does not include the doctor fee. Covering such costs for 25 million formerly uninsured chronically ill people will raise the average healthcare insurance costs for the people who will soon be sharing those costs. President Obama seems to have neglected to tell most of the American people this simple fact of life.
When those who believed the demagoguery of Obama and others realize their gullibility at believing Obamacare would cost them less, it will be too late. When they realize that the extra bureaucracy associated with Obamacare by itself will cost more money, it will be too late. I admit I would like Obamacare repealed. However, my point in this article is that many of its costs will be big negatives for retail businesses. The extra money that the average US citizen will pay for Obamacare will come from the discretionary income of most people. When that discretionary income is no longer there, it cannot be spent on retail goods; and the stores selling those goods will consequently suffer.
With all of the above in mind, my view on retail is decidedly negative. According to FactSet the expectation for EPS growth for the Consumer Discretionary sector is still +6.6%, which is great. Revenue growth is still +5.3% for the Consumer Discretionary sector. However, the EPS growth number is down from more than +10% a few months ago. I expect this EPS growth number to continue its recent downward trend for the reasons explained above. Companies in this sector with already low or negative net margins are likely to do increasingly worse, especially if they already have a high amount of debt.
This is even more true of teen retailers, since most teens don't have jobs in this still troubled economy. Statistics published by the Center for Labor Market Studies said only 32.25% of teens 16-19 had a job this summer (2013). In other words 7 out of 10 teens were unemployed. They can't spend money they don't have; and many teens get the money they spend on teen fashions from working summer and/or part time jobs. Younger adults have higher unemployment rates than usual too. This means companies like AEO, ARO, and LULU, who cater to the young, will be hurt more than others. Companies like Macy's may see their youth sales evaporate almost completely. Retailers such as JCP and SHLD, who have already been labeled troubled, will almost certainly become more troubled. These stocks are all sells. They are not worth the risk they represent. Aggressive investors may wish to short them.
The 2013 year to date charts of two popular teen retailers -- AEO and ARO -- show an already disturbing trend this year. The chart of Macy's for 2013 shows the same trend. The above fundamentals convince me that fundamentally these trends should remain intact for some time.
The 2013 year to date chart of AEO: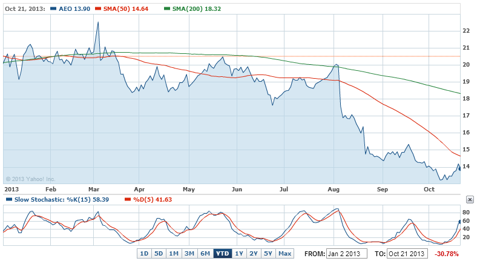 The 2013 year to date chart of ARO: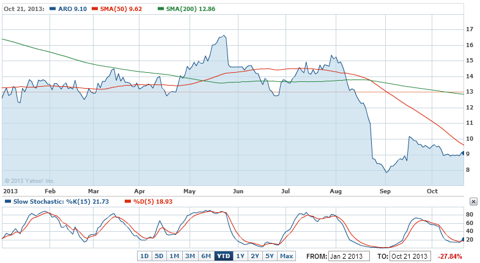 The 2013 year to date chart of Macy's :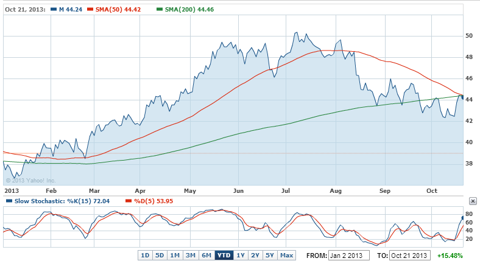 All of the above charts show negative trends in the second half of the year. My explanation for this is that most people did not cut back on their spending until Q2 2013, even though the payroll tax hike and Medicare tax hike went into effect at the beginning of January. Only when the sequester was signed into law in March did the public start to understand that they might have to conserve a bit more.
I am sure some will argue that the perceived increase in home owner wealth will keep people spending. There is some truth to that. However, the roughly 1% increase in interest rates and mortgage rates in Q2 2013 is having a negative effect on the affordability of housing. Many seem to feel that the housing market is topping out, especially with relatively flat salaries. This means that an important source of increased wealth (or sense of financial well being) will have slower growth going forward. It will be less of a stimulus to retail spending.
In sum there are many negatives for retail companies in the year ahead. Retailers that were already having trouble should have worse trouble. Investors should be very wary of investments in this overpriced sector (highest average FPE in the S&P 500) with its overly exuberant forecasts. It will be hurt badly in the next year; and if you are in it, you can blame Obama and your Congress. They are thinking of everything but you (and retailers). Sell this sector and especially the above companies. They are not worth the risk. They will likely only bring you a lot of financial pain.
NOTE: Some of the above fundamental financial data is from Yahoo Finance.
Good Luck Trading.
Disclosure: I have no positions in any stocks mentioned, but may initiate a short position in M, SHLD, SPY, AMZN, XRT over the next 72 hours. I wrote this article myself, and it expresses my own opinions. I am not receiving compensation for it (other than from Seeking Alpha). I have no business relationship with any company whose stock is mentioned in this article.