The purpose of this series is to highlight stocks that are undervalued, profitable, have underperformed the market, and have a favorable technical outlook. The stock that I will be covering for my undervalued series this week is Landec Corporation (NASDAQ:LNDC). LNDC stock has fallen 22.92% in the last quarter compared to the S&P 500 (NYSEARCA:SPY), which has gained 2.89% in the last quarter. I believe Landec is a solid undervalued long-term choice to gain exposure to the trend of consumers choosing healthier food items.
In an investor presentation from Landec, the chart below shows that a large percentage of the United States population is considered overweight or obese. This represents a large opportunity for Landec, which through its largest subsidiary Apio, provides packaged produce with the packaging for the produce being made by Landec. According to its investor presentation, Landec has products from its subsidiary Apio that are in 80% of US grocery stores, and with this large presence in grocery stores, Apio is positioned perfectly to capitalize on the trend of healthier diet choices.
Value
To value LNDC I will be using a DCF calculator, with data for earnings and growth coming from Zacks.com, benchmark data from longrundata.com, and CPI data from the BLS. The DCF table below shows shares of LNDC are undervalued by 77.97%, which represents a significant opportunity for price appreciation for shares of LNDC.
EPS [TTM]: $0.76
Long-term Growth Rate: 20.00%
Earnings grow for next: 5 years
Level off: to 1% after
Benchmark return: 10 yr annualized SPY return of 7.34%+1.50% inflation= 8.84% benchmark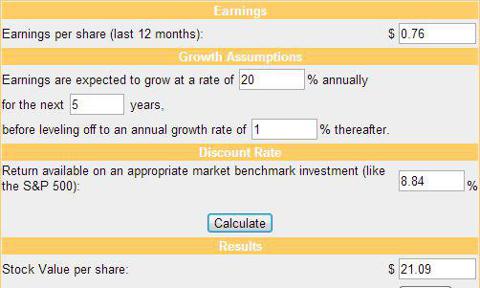 Technical Outlook
The chart below shows that shares of LNDC have been in a steady downward channel [red lines] since the end of July. Currently, shares of LNDC are in the middle of this channel, and with the market at all-time highs it is possible that there could be a market pullback, which could cause shares of LNDC to follow its channel lower. However, I expect shares of LNDC to test the top of the channel since it has recently been near the bottom of the channel, and I expect a breakout above the upper band of the channel in the future. If shares of LNDC do continue lower, they have a significant level of support [Blue Line] at $10.20, which is the level where shares failed to break through at the end of 2012, but were able to break through at the beginning of 2013. In addition, the $10.20 level was tested in late February, the stock was able to hold this level, and I expect the stock to hold this level if tested again.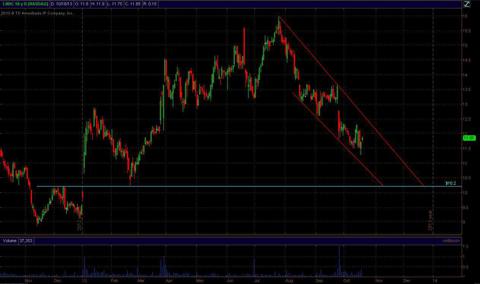 Catalyst
The biggest catalyst for Landec going forward is the continued growth in its produce packaging division, which will be led by the shift to healthier eating. As highlighted in the first chart above, obesity and overweight consumers are on the rise, and for the most part this problem can be fixed with a change in diet and exercise. Landec has positioned itself very well to take advantage of this trend because as consumers move away from unhealthy foods, the most logical place to turn to is produce, and its products are widely available in some of the largest grocery stores in the United States for instance: Costco, Sam's, Sysco, Kroger, Safeway, and Trader Joe's.
In addition, Landec has committed $15 million in investment capital to Windset farms, which provides hydroponic and greenhouse-grown produce, and for the $15 million preferred investment Landec made, they receive an annual dividend of 7.5%. By doing this investment Landec is better able to control its supply chain for produce that it packages, and collects income from its loan to Windset as well.
Risks
The biggest risk to LNDC is the weather. In the most recent earnings report, Landec noted that they had weather-related produce sourcing issues. Specifically, the Landec Chairman & CEO said:
Gross profit in Apio's value-added vegetable business was lower in the first quarter of fiscal 2014 compared to the first quarter last year as a result of an increase in lower margin food service sales and higher than expected raw produce sourcing costs from lower yields due to heavy rains in the Midwest and along the East Coast and cooler than normal temperatures in California.
With the weather causing problems for growers, this led to decreased crop yields which when combined with increasing demand led to prices increasing which cut into the margins for Landec. Even though this is a risk, the management of Landec has a plan they are sticking to. In the earnings report the CEO stated that even though the weather was an issue, the company was still able to beat its revenue and operating income goals. In addition, produce harvested from Windset will also soften the issue of weather because the produce is grown in a greenhouse.
The second risk for Landec is its investment in Windset farms. Landec shares fell substantially at the end of September when it reported earnings and missed estimates. The earnings miss was caused by a change in how income from the Windset farms investment is recognized by Landec. This change led to EPS being $0.06/share less for the earnings Landec just reported, and that $0.06/share will be recognized in the upcoming quarters. Going forward this is a wildcard as to how much of the income from Windset farms will be recognized in each quarter.
Closing thought
I believe shares of LNDC are poised to move higher from current levels because the stock is undervalued, and the change in consumers' diets towards healthier items, will continue to provide plenty of demand for Landec produce packaging products. In addition, I believe shares of Landec could surprise to the upside in the upcoming quarters because of the Windset Investment Income of $0.06/share being pushed out to the coming quarters. I believe going forward shares of Landec in the long-term will move higher to my fair value estimate of $21.09.
Disclosure: I have no positions in any stocks mentioned, and no plans to initiate any positions within the next 72 hours. I wrote this article myself, and it expresses my own opinions. I am not receiving compensation for it (other than from Seeking Alpha). I have no business relationship with any company whose stock is mentioned in this article.