ETF Spotlight on the Guggenheim Raymond James SB-1 Equity ETF (NYSEARCA:RYJ), part of an ongoing series.
Assets: $181.8 million.
Objective: The Guggenheim Raymond James SB-1 Equity Fund tries to reflect the performance of the Raymond James SB-1 Equity Index, which is comprised of equity securities rated "Strong Buy," or SB-1, by Raymond James & Associates Inc.
Holdings: Top holdings include Arkansas Best Corp (ABFS) 1.0%, Advance Auto Parts (NYSE:AAP) 0.9%, Brightcove (NASDAQ:BCOV) 0.9%, PrivateBancorp Inc (NASDAQ:PVTB) 0.9% and Applied Micro Circuits Corp. (NASDAQ:AMCC) 0.9%.
What You Should Know:
Guggenheim Investments sponsors the fund.
According to Raymond James & Associates, Strong Buy (NYSEMKT:SBI) is "expected to appreciate, produce a total return of at least 15%, and outperform the S&P 500 over the next six to 12 months. For higher yielding and more conservative equities, such as REITs and certain MLPs, a total return of at least 15% is expected to be realized over the next 12 months."
RYJ has a 0.75% expense ratio.
The fund has 135 components and the top ten holdings make up 9.9% of the overall portfolio.
Sector allocations include financials 31.5%, consumer discretionary 21.8%, information technology 16.4%, industrials 12.8%, health care 8.3%, energy 5.3%, telecom services 2.3%, materials 0.8% and consumer staples 0.7%.
Market-capitalization allocations include mega-cap 8.8%, large-cap 14.5%, mid-cap 29.8%, small-cap 24.0% and micro-cap 22.9%.
The ETF is up 2.5% over the past month, up 7.1% in the last three months and up 35.5% year-to-date.
Over the past five-years, RYJ has generated an average annualized return of 23.0%, compared to the S&P 500′s annualized 15.7% gain.
The fund is currently trading 11.9% above its 200-day exponential moving average.
The Latest News:
The S&P 500 Index broke to new historic highs after Congress drafted a last minute proposal to extend to the debt ceiling.
"The focus is squarely back to where it is supposed to be, on earnings and the economy," Frank Fantozzi, chief executive of wealth manager Planned Financial Services, said in a Wall Street Journal article. "The markets are confident in the direction they are heading."
The markets will be bullish, but in a slow pragmatic manner," Fantozzi added.
Analysts calculate that S&P 500 companies' profits increased 1.1% year-over-year.
However, some economists are already warning that the prolonged government shutdown will reduce fourth quarter U.S. GDP numbers.
Guggenheim Raymond James SB-1 Equity ETF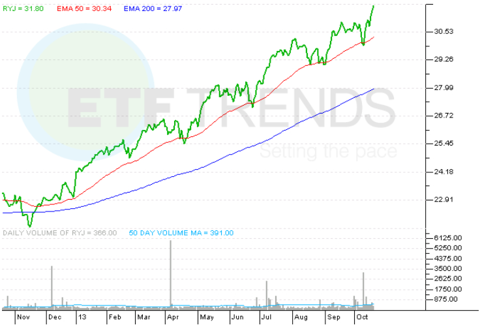 Max Chen contributed to this article.
Disclosure: I have no positions in any stocks mentioned, and no plans to initiate any positions within the next 72 hours. I wrote this article myself, and it expresses my own opinions. I am not receiving compensation for it. I have no business relationship with any company whose stock is mentioned in this article.