The tablet war is getting interesting. Launched by Apple (NASDAQ:AAPL) in April 2010, the iPad created the tablet market which immediately took a bite out of personal computer (PC) demand, much to the chagrin of companies tied to PCs like Microsoft (NASDAQ:MSFT), Intel (NASDAQ:INTC) and Hewlett-Packard (NYSE:HPQ).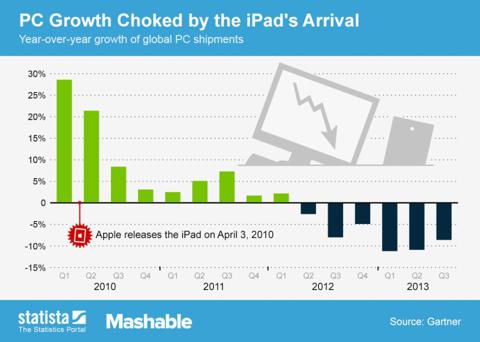 Tablets are primarily consumption devices rather than computers used for creation of content or for work in enterprises. The major casualty of their popularity was lower priced laptops and "netbooks" which were also popular for consuming content rather than creating it.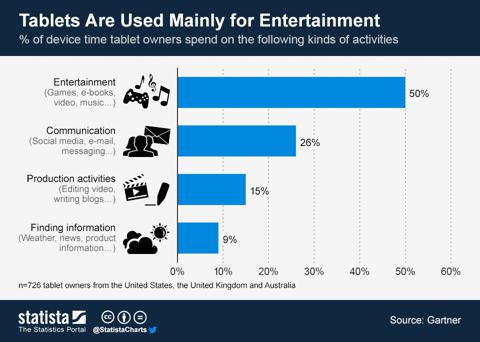 Having created the market, Apple dominated tablet sales for an extended period until it attracted competition, in particular from Android devices. By the second quarter of 2013, Android-based tablets had more than doubled Apple's global market share in tablets with 67% of the market. Apple's market share dropped from 47% to 28% over the previous year not only as a result of Android's success but also as a result of the more than fourfold growth of Windows-based tablets, albeit from a very small base.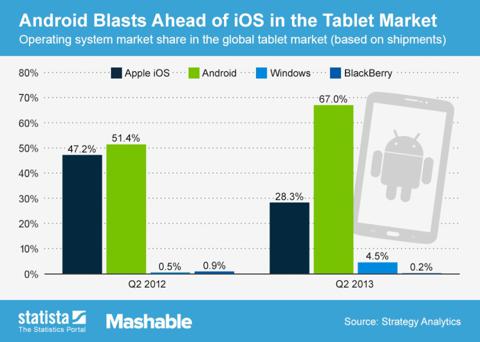 Apple's efforts to protect its position included upgrades to the iPad annually and the introduction of the iPad mini in October 2012. The popular iPad mini sold well but did not stop the relentless erosion of market share.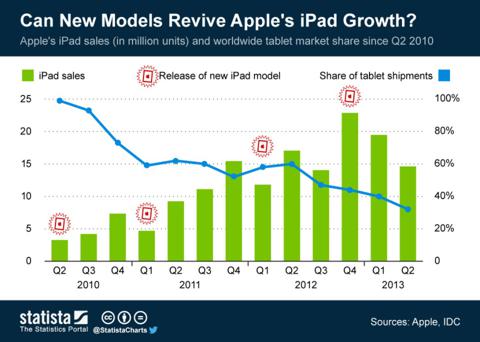 While the iPad mini did not stem the market share erosion Apple was facing, it did displace full sized iPads. At the same time, in the Android space, Amazon's (NASDAQ:AMZN) Kindle Fire tablet was a hit with consumers along with various Samsung Galaxy tablets of differing form factors. By the fall of 2013, almost one in five iPads sold was an iPad mini, while Samsung Galaxy tablets represented a full 55% of the Android tablets sold followed by Kindle Fire tablets representing another 21% of Android tablets.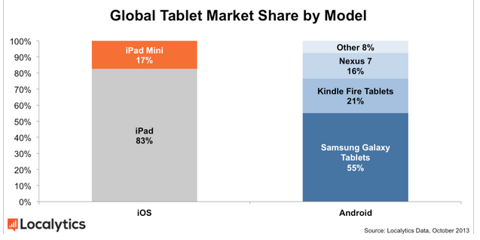 Microsoft's efforts to get into the tablet space got off to a rocky start. Microsoft introduced the Surface RT tablet running on an Nvidia processor based on an ARM Holdings design and a Surface Pro tablet based on an Intel chip and capable of operating all Windows software in much the same fashion as a PC. Critics panned the devices. The RT model was criticized for having little application support and the Pro model for having inadequate storage and limited battery life. Despite a large advertising campaign neither the RT nor the Pro model sold particularly well and Microsoft took a $900 million charge to write down inventory.
At the same time, in Asian markets, smartphones with larger than 5 inch screen sizes called "Phablets" took off in terms of consumers demand, surpassing tablets in volumes by the first quarter of 2013 in the Asia Pacific region.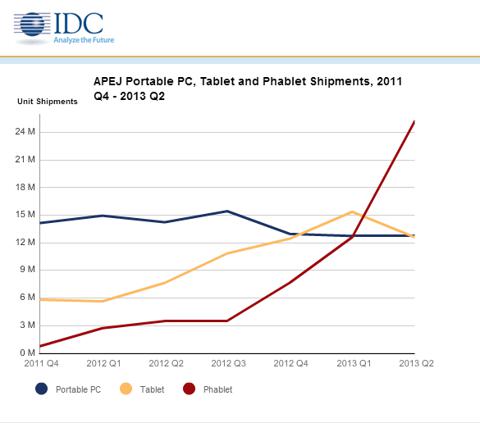 Fast forward to October 22, 2013, when Apple launches the new iPad mini with retina display and a new full sized iPad based on the powerful A7 processor and in a thinner chassis, to be called the iPad Air. As you might expect from Apple, both devices are gorgeous to look at and continue Apple's outstanding combination of design and innovation.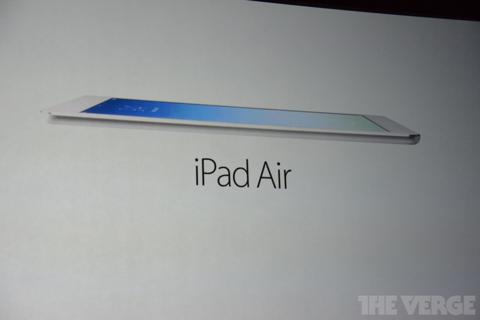 Coincidentally Nokia (NYSE:NOK) also launched a new tablet, the Lumia 2520, another very nice looking design based on Microsoft's RT operating system and shipping with a full version of Microsoft Office.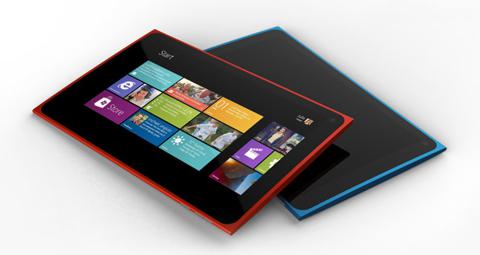 The question for investors is whether the announcements will have an effect on share prices. Given that Nokia's handset business is about to be acquired by Microsoft and that the handset business is likely to be a small part of Microsoft for years to come, I would not expect the market to react to the Nokia announcement.
The real money to be made or lost is in the case of Apple.
Apple stock typically rises in anticipation of new products as it did leading up to the iPhone 5s and iPhone 5c announcements.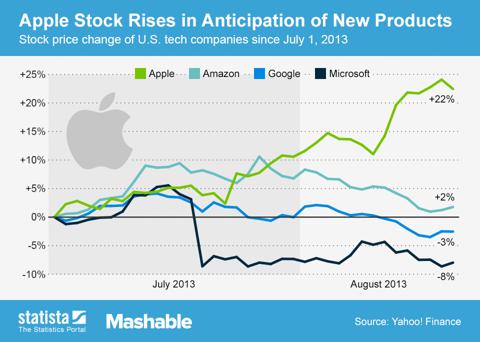 But, typically, the stock falls away in the weeks following the news.

I don't expect this announcement to be any different. The news is out now, and while it is good news it is unlikely enough good news to offset the competitive forces the market sees and in my view fears.
Apple is a big company with a massive market capitalization and it needs big news to move the needle higher. New products which are incrementally better, and in the case of the A7 processor a lot better, may not be enough to convince investors that Apple will not suffer the reality that many competitors have entered what is a maturing market and despite its incredibly good products Apple is losing share.
I am short Apple calls at $515 strike with a January 2014 expiry. I may add to the short by shorting the stock on any strength.
Disclosure: I am short AAPL. I wrote this article myself, and it expresses my own opinions. I am not receiving compensation for it (other than from Seeking Alpha). I have no business relationship with any company whose stock is mentioned in this article.
Additional disclosure: I am long MSFT and INTC and short AAPL all through options