On Tuesday, October 22, DuPont (NYSE:DD) announced that its earnings for the third quarter surpassed street estimates by $0.04/share in terms of EPS ($0.45/share actual vs. $0.41/share estimated) but missed revenue estimates by $0.05 billion ($7.73 billion actual vs. $7.78 billion estimated). Included in its earnings release, CEO Ellen Kullman mentioned that the company would be exploring various alternatives for its performance chemicals segment.
A Look at DuPont's Performance Chemicals Segment
During the company's Q3 earnings call CEO Ellen Kullman noted that DuPont is exploring several strategic alternatives for the unit, which generates significant cash but is subject to highly volatile markets. However, she did not provide details or a timeline for deciding the future of the unit, which could be sold or spun off.
Investors should note that during the third quarter, Performance Chemicals' volume rose 12% but it was not enough to offset steep price declines for titanium dioxide, refrigerants and fluoropolymers, along with higher raw material inventory costs; the unit's operating earnings fell 38% to $254M.
According the company's most recent 10-Q, "Performance Chemicals PTOI of $182 million was $228 million lower as price declines for titanium dioxide, refrigerants, and fluoropolymers, along with higher raw material inventory costs, principally ore costs, more than offset volume increases. Titanium dioxide volume was up 25 percent from third quarter 2012 and essentially flat on a sequential basis".
During 2012, the company's Performance Chemicals unit generated a solid $7.2 billion in total sales but is only on pace to generate $6.8 billion in total sales for 2013. By taking those numbers into consideration, I'd look for a selling price in the range of $13.6 billion to $17.5 billion. On the low-end, the $13.6 billion figure represents a factor of 2.0x 2013 estimated sales, and on the high-end the $17.5 billion figure represents a factor of 2.5x the projected average of the unit's total sales for 2012 and 2013.
Recent Behavior and Trend Status
On Tuesday, shares of DD, which currently possess a market cap of $55.52 billion, a P/E ratio of 23.69, a forward P/E ratio of 14.00, a yield of 2.99% ($1.80) and a beta of 0.98 ended the session at a price of $60.17/share.
Based on their closing price of $60.17/share, shares of DD are trading 2.64% above their 20-day simple moving average, 3.08% above their 50-day simple moving average, and 13.70% above their 200-day simple moving average. These numbers indicate a short-term, mid-term, and long-term uptrend for the stock which generally translates into a moderate buying mode for both near-term traders and long-term investors.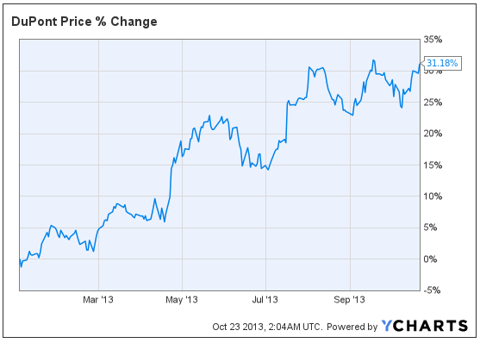 Although shares are up 31.18% since January 1st of this year, a near-term performance pop could be on the horizon if the sale of the company's Performance Chemicals unit were to come to fruition.
Recent Dividend Behavior
On August 13, 2013 DuPont paid out a cash dividend of $0.45/share which was in-line with the company's previous distribution that took place on May 13, 2013.
Although in-line distributions aren't much to write about, the company's dividend behavior since August 13, 2007 actually is. Over the course of a six-year time frame the company's dividend was only increased once between August 2007 and February 2012 when the dividend rose $0.04/share from $0.37/share to $0.41/share.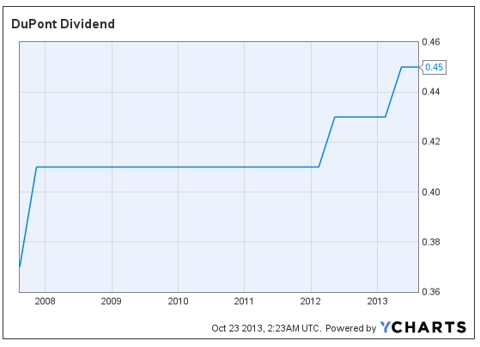 Since then, the dividend has actually been increased twice more (May 2012 +$0.02/share and May 2013 +$0.02/share) and may continue to do as the company's cash and cash equivalents has the potential to increase as a result of a possible sale of its Performance Chemicals unit.
If the company can continue to gradually increase its payout, as has been the case over the last 12 months, I see no reason why the payout wouldn't reach $0.48/share by mid-2015. Although $0.48/share is a conservative estimate, any potential increase may go even higher if the sale of its Performance Chemicals unit were to occur and close within the next 12-18 months.
Risk Factors to Consider
According to Dupont's most recent 10-K (February 2013) there are a number of risk factors all investors should consider. These factors include but are not limited to price increases for energy and raw materials could negatively impact on the company's ability to sustain and grow earnings, the fact that failure to develop and market new products and manage product life cycles could hinder the company's competitive position, and lastly, the fact that changes in government policies and laws could adversely affect the company's financial results.
Conclusion
For those of you who may be considering a position in Dupont, there are a few things I'd keep in mind over the next 12-18 months, especially since the company is exploring various options with regard to its Performance Chemicals unit.
For starters, any continued talk or mention of advanced talks with regard to the sale of the Performance Chemicals unit could send shares higher and as a result benefit shareholders from a growth perspective. Secondly, if such a transaction were to be agreed upon and subsequently closed shareholders could benefit from either a special dividend or an increase in the company's annual dividend (paid on a quarterly basis). Lastly, there is always the potential for a tax-free spin-off, in which case shareholders of DuPont could end up getting shares in the newly formed company, although no details of such a proposed entity exist at the current time.
Disclosure: I am long DD. I wrote this article myself, and it expresses my own opinions. I am not receiving compensation for it (other than from Seeking Alpha). I have no business relationship with any company whose stock is mentioned in this article.