"Money isn't the most important thing in life, but it's reasonably close to oxygen on the 'gotta have it' scale." - Zig Ziglar
The income investor clearly relies on income to survive and/or enhance his or her quality of life. Each month, instead of receiving two paychecks, many income investors choose to write themselves a monthly check. Funds and stocks distribute the dividends that income investors require at all types of intervals. By focusing on companies that distribute monthly, the income investor is able to capture yield and stabilize the cash balance of his or her portfolio.
The Dividend Schedule: U.S. vs. Foreign
Most U.S. companies pay dividends quarterly, on a schedule that is independent of the market. Foreign companies are often irregular and yield less frequently, with yearly or bi-annual distributions the often scenario. Also, the dividends are not as easy to anticipate in another currency, as currency translation to the dollar does not always give an anticipated figure.
The Income Portfolio: Cash Level Consistency
For income investors who deposit a monthly distribution check, investing part of their portfolio in monthly dividend companies can be rewarding as it establishes portfolio cash level consistency.
Most investors do not generally track each quarterly dividend and the dates they are distributed. This gives bumps of higher cash levels at random intervals in time. Also, this could spell out lower cash levels when the investor takes normal distributions before a quarterly or annual/bi-annual dividend is expected.
The Influence of Monthly Income Stocks
With monthly income, cash levels are evened out. When income checks are taken each month for withdrawals, it reduces the significance of the month-over-month drop in the cash level. In the following example, five stocks are replaced from quarterly and bi-annual distributions to monthly. Note the cash levels with both options.
This first chart is reference for the following graph. The starting cash level of the year is $5,000 in both options. The total dividends are $13,000 per year, of which $1,000 per month is taken out. The monthly totals are end of month totals that include dividend accumulation and the $1,000 monthly distribution.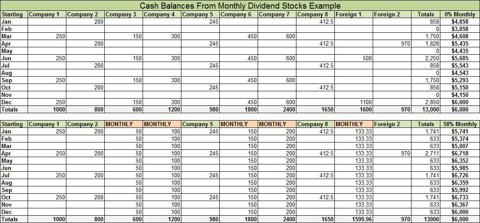 This graph showcases portfolio cash level consistency differences between the options above. At the end, both options hold a balance of $6,000.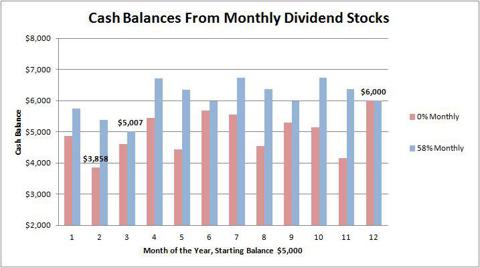 Note that with the majority of stocks as monthly dividend achievers in this example, the cash levels don't fluctuate as much or as low.
Even 20%-30% of a portfolio dedicated to monthly dividend stocks can help with cash level consistency issues. With more consistent cash levels, the investor can keep a smaller cash balance which means more stock/fund ownership.
Monthly Income Quick Picks
There are several stocks and funds that distribute monthly income, however they mostly lie in the bond fund, energy and real estate investment trust (REIT) investment classes. Here are a few examples from each, with all funds and stocks listed and based in the U.S. market.
1. iShares Investment Grade Corp Bond Fund ETF (NYSEARCA:LQD), $114.78
This massive $17.2 billion ETF follows a U.S. dollar investment grade corporate bond index. It is boring, yet it delivers. The yield is not consistent month over month as with the monthly dividend stocks, however the TTM yield is 3.5%, which is 89 basis points over the 10-year treasury, which sits today at 2.61%.
2. PIMCO Corporate Opportunity Fund (NYSE:PTY), $18.07
Eureka - PTY is the holy grail of bond funds in my opinion. Bill Gross manages it, Bill Gross invests in it and it yields a whopping 8.6%. This fund carries higher risk than LQD, as it invests globally, uses leverage, invests in below investment-grade securities and is a closed-end fund that may trade at a premium or discount. Today it trades at an 8.86% premium with $1.135 billion of assets under management. For more details about PTY, please read the recent article "Searching For Yield With Bill Gross."
3. Realty Income Corp. (NYSE:O), $41.25
Known as "The Monthly Dividend Company," Realty Income Corp has paid consistent monthly dividends for years. This company is stable and in excellent financial health. Currently, the market cap is $8.1 billion and the yield moving forward is 5.3%. For an analysis of Realty Income's margin of safety, please read "Is Your REIT Safe? Introducing The BARS-IQ Test With Realty Income Corp."
4. American Realty Capital Properties (ARCP), $13.38
ARCP is a copy-cat of Realty Income Corp. This company is growing rapidly and has high debt levels. The risk is much higher than with O, however in a stable economy the company could outperform O over the long-term. ARCP is valued at $2.47 billion and yields 6.8%.
5. Linn Energy, LLC (LINE), $28.89
Linn Energy recently moved to the monthly distribution system this July. This Houston, Texas, company develops oil and natural gas properties, has a market cap of $6.75 billion and currently yields 10.1% annually.
6. Vanguard Natural Resources, LLC (NYSE:VNR), $28.20
Vanguard acquires and develops oil and natural gas properties in the U.S. market. Also based in Houston, Texas, VNR yields 8.81% on an annual basis and has a market cap of $2.2 billion.
Disclosure: I have no positions in any stocks mentioned, and no plans to initiate any positions within the next 72 hours. I wrote this article myself, and it expresses my own opinions. I am not receiving compensation for it (other than from Seeking Alpha). I have no business relationship with any company whose stock is mentioned in this article.