In a recent post, I calculated an intrinsic value for Netflix (NASDAQ:NFLX) at $43 per share. This assumed 22% growth this year. In its third quarter, Netflix posted profits that were up 48% year-over-year on a revenue increase of 24%. Gross margins remained relatively constant, but net margins grew largely as a result of less marketing as a percentage of gross profit.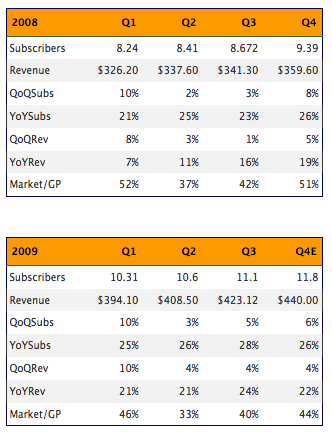 Due to its light business model, marketing serves as the largest portion of its operating expenses. Because of the decline of bricks and mortar locations from the likes of Blockbuster (BBI) and Movie Gallery (MVGR.PK), Netflix is adding subscribers without adding equivalent marketing expenses, driving down its subscriber acquisition costs.
Through the first nine months of 2009, Netflix produced operating cash flows of $219 million. Deducting 80% of content acquisition expenses (assumes 20% is dedicated to growth, 80% to maintenance of existing revenue base), results in owner cash flow of $110 million. Annualized total owner cash flow is $147 million.
The key to determining a value for Netflix is to determine how much additional cash flow the company can generate. I had estimated 22% growth in 2009 from a cash flow base of around $106 million. The company has already earned that this year with a quarter still to go. If growth continues on the same pace for the rest of the year, owner cash flow will have grown by 34%.
As an investor, I'd prefer to be conservative and determine a buy price below these growth expectations. I'm sticking with the same assumptions as last quarter, but increasing my starting cash flow. I assume 22% growth in year one, followed by 15% growth in years two through five, then 8% growth in years 6-10. I use a reversion PEG of 12, discount the cash flows back at 10%, and get a value of $66 per share.
I'd like to buy at a 25% discount to intrinsic value, or below $50 per share. I'd be comfortable buying here as Netflix has outlasted all competitors so far and may have more upside surprises in store for investors.
Disclosure: I do not hold Netflix shares.