By Chris McKhann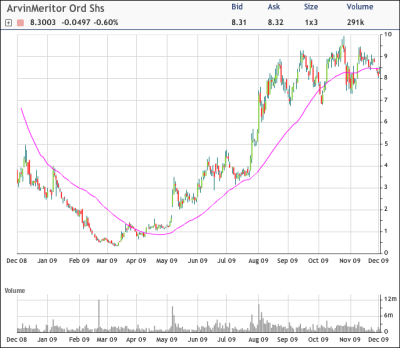 Shares of auto supplier ArvinMeritor (ARM) are up some 2,460% over the last eight months, but today we see bearish positioning in the puts.
ARM is off 0.6% on the day to $8.30. The stock continues to fall from the 52-week high of $9.94 set a month ago, but it was $0.32 back in March so a little pullback may be healthy here.
optionMONSTER's systems show 2,000 of the February 5 puts bought in institutional size for $0.20. Given the strike and expiration, this is not likely to be protective positions, as it is too far out of the money to make much sense. It would require shares to give up 30% of their value and break down through support from back in July.
So this is likely straight bearish positioning or a volatility trade against stock that is looking for the implied volatility to pick up from its 15-month low.
(Chart courtesy of tradeMONSTER)