On Monday, October 21, Northern Tier Energy LP (NYSE:NTI) announced that all repairs concerning the September fire at its St. Paul Park oil refinery have been completed and both crude towers are fully functional. Investors should note that, "the refinery has been operating at a crude oil charge of 85K-90K bbl/day since Oct. 14, consistent with throughput constraints related to the planned fluid catalytic cracker turnaround now being performed".
In the wake of Monday's announcement I wanted to not only highlight the company's operations at its St. Paul Park Refinery but also point out a number of reasons why I continue to remain cautious on units of this higher-yielding master limited partnership.
The St. Paul Refinery: An Overview
According to Northern Tier's website,
The St. Paul Park Refinery is one of only two refineries in Minnesota and one of four refineries in the Upper Great Plains area within the PADD II region. The PADD II region consists of Illinois, Indiana, Iowa, Kansas, Kentucky, Michigan, Minnesota, Missouri, Nebraska, North Dakota, South Dakota, Ohio, Oklahoma, Tennessee and Wisconsin. The refinery's strategic location allows it direct access, primarily via the Minnesota Pipeline, to what the Company believes are abundant supplies of advantageously priced crude oils. Many of these crude oils have historically priced at a discount to NYMEX WTI. Further, over the past twelve months, NYMEX WTI has traded at an additional discount relative to waterborne crude oils such as Brent, which has contributed to strong refining margins at the St. Paul Park refinery.
Performance & Trend Status
During Tuesday's session units of NTI, which currently possess a market cap of $2.14 billion, a P/E ratio of 8.30, a forward P/E ratio of 6.10, and a distribution yield of 11.67% ($2.72) were trading at a price of $22.68/unit.
Based on their current price of $23.31/unit, units of NTI are trading 10.77% above their 20-day simple moving average, 12.22% above their 50-day simple moving average, and 1.13% below their 200-day simple moving average. These numbers indicate a short-term and mid-term uptrend and a long-term downtrend for the stock which generally translates into a moderate buying mode for near-term traders and a slight selling mode for long-term investors.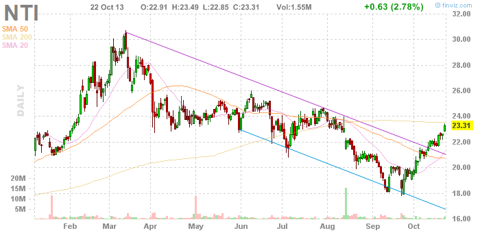 Click to enlarge
A Low Leverage and Strong Liquidity Position
As of June 30th, 2013, the Northern Tier's liquidity position consisted of $192 million in available revolver capacity and $99 million in cash and cash equivalents and its leverage position consisted of total debt/LTM adjusted EBITDA ratio of 0.4x. Although fairly positive, I'd still need to see the company's revolver capacity be in a range of $215-$240 million and cash and cash equivalents to exceed $115 million, before becoming bullish on its present liquidity position.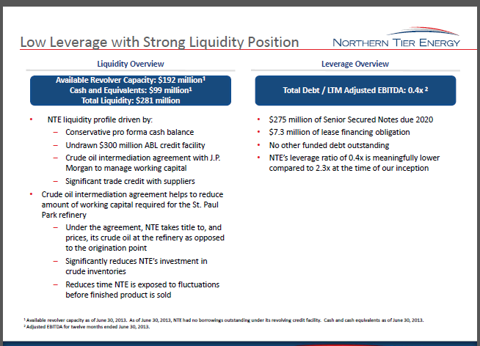 Click to enlarge
Declining Distribution Behavior
When it comes to the company's distribution behavior my fellow SA colleague Albert Alfonso pointed out that investors may be in for a lower Q3 payout due to unfavorable crack spread behavior in recent months.
He wrote that,
Northern Tier has noted that a $1.00 change in its realized crack spread has about a $6M impact on its quarterly cash available for distributions, while a 1,000 BPD change in throughput has a $1.7M impact. I estimate that Northern Tier Energy's crack spread averaged from $16.00 to $20.00 per BBL during Q3 2013. This would mark a decline of about 25% to 40% from last quarter's crack spread of $25.95 per barrel. However, Northern Tier Energy's throughput is estimated to increase from last quarter's 55,486 BPD. Using the midpoint for Q3 2013 throughput of 79,500 BPD, I estimate that Northern Tier Energy's cash available for distribution to range from $43M to $62M. On a per unit basis, this comes out to about $0.47 to 0.67 per unit. I must caution that this is a very rough estimate. At current prices, this range implies a forward yield from 9.80% to 13.90%.
As a result of Mr. Alfonso's analysis I'd take a very cautionary approach to Northern Tier especially since the company's distribution has declined significantly over the last 12 months.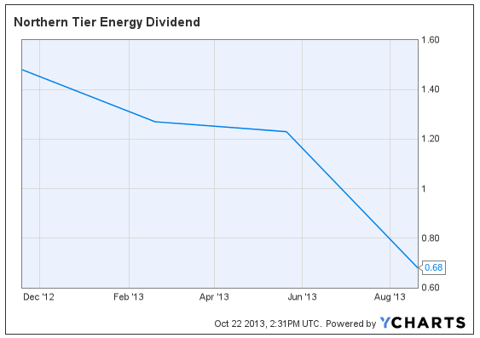 Click to enlarge
Risk Factors to Consider
According to Northern Tier's most recent 10-K (March 2013) there are a number of risk factors all investors should consider. These factors include but are not limited to the fact that the partnership's liquidity may be adversely affected by a reduction in third party credit, the company's arrangements with Marathon (NYSE:MPC) expose Northern Tier to Marathon-related credit and performance risk, and lastly historical financial statements may not be indicative of future performance.
Conclusion
For those of you who may be considering a position in Northern Tier Energy, I'd keep a watchful eye on a number of variables over the next 12-24 months as each could contribute to the company's long-term growth. These catalysts include but are not limited to the company's ability to maintain operations at its St. Paul Park refinery and further enhance its low leverage and liquidity positions, as well as its ability to maintain its distribution at-or-near current levels (without experiencing a considerable drop in its quarterly distribution) over the next 24-48 months.
Disclosure: I have no positions in any stocks mentioned, and no plans to initiate any positions within the next 72 hours. I wrote this article myself, and it expresses my own opinions. I am not receiving compensation for it (other than from Seeking Alpha). I have no business relationship with any company whose stock is mentioned in this article.