By Bryan McCormick

Palm's (PALM) daily chart shows a bullish "W" pattern in progress, but these formations are not the slam dunks that they might appear to be. There are a few features to point out that could break the formation at any time.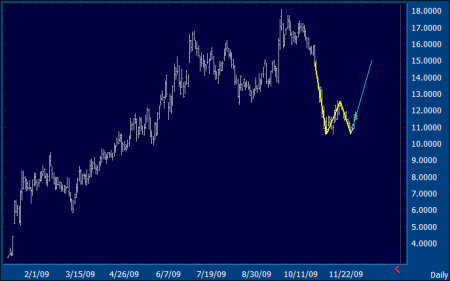 The pattern formed after the price of PALM recently "double bottomed" at the $10.60 area that forms the base of the "W" pattern, as shown in yellow here. We should therefore be mindful that the pattern would under no circumstances be valid or active on a break below that level.
In addition, price must continue to rise more or less every day now to complete the pattern, following the path of the blue upside target line. If price moves too far away from that line at any time it will lose support, a development that would call into question the validity of the pattern.
In terms of upside potential, the first hurdle that the stock would need to clear is the middle point--the apex of the "W"--at the $12.50 area. If price turns back down from resistance at this juncture, then the full potential of the pattern is not likely to be realized.
Solid double bottoms do not linger around resistance; so in this case, in the inverse of the sharp downside that created the left-hand side of the pattern, the price should be able to ascend rapidly to the objective if it is to continue. That objective is at the $15 area, the same level from which the stock first broke down back in late October.
(Chart data provided by Thomson Reuters)