"Nothing lasts forever." - Marilyn Monroe
When it comes to investing in REITs, many are looking for a stable income. Once it is determined that a REIT is safe to own, the income investor can do further research to determine the endurance of the dividend to understand if he or she would benefit over the long-term from owning the stock.
In a recent article titled "Is Your REIT Safe? Introducing The BARS-IQ Test With Realty Income Corp.," I concluded that by using a proprietary grading system (BARS-IQ), the basic assessment of Realty Income Corporation's safety at the price of $40.79 was a 79.5. Out of 100 points, that led to a BARS-IQ score of a C+. In other words, the company was deemed "safe," however not at a price that would give investors an A+ level of entry, or ideal margin of safety, into the stock.
Recent Market News
Realty Income Corp. (NYSE:O) announced a secondary share offering this week, to the tune of 8.5 million shares at $40.63 per share. The company plans to use the nearly $350 million in proceeds to reduce debt on a credit facility they have used to make acquisitions. With the reduction in debt, the company will be able to increase earnings through the reduction of their income expense, thus increasing FFO (funds from operations).
The BARS-IQ relies heavily (40%) on the P/TTM (profits over trailing twelve month) FFO. Regarding O, if FFO is stable in Q3 2013 vs Q2 2013, the BARS-IQ will jump to a B- (assuming a $41 price and $2.32 TTM FFO). With the reduction in income expenses and a continuation of otherwise stable earnings into Q4, the FFO would automatically increase from Q3 to Q4.
Assuming a penny higher Q4 vs Q2 FFO as well as Q3 FFO at Q2 levels, the company would have a TTM FFO of $2.41 entering 2014. With a stable history and astute management, I would expect $2.41 to be a conservative 2013 FFO number. As such, a $41 share price today with a $2.41 FFO would give O a P/2013 FFO of 17.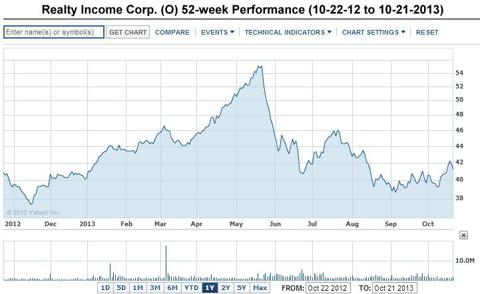 Click to enlargeRegarding O's Dividend, Will It Endure?
While the past performance of dividends are no guarantee of dividend stability and growth moving forward, it is a great indicator and a healthy start. Using the 10-year dividend history, as well as the market cap, yield and a few other metrics, the following scoring system is designed to determine a REIT is stable, attractive and suitable for the income investor.
The REIT Income Property Endurance-Investability Quotient (RIPE-IQ) Score
The RIPE-IQ Score (0-100 points)

With the ranking weights below, the highest score a company can receive is 100 points. When added together the score is an investability quotient for income investors looking for stable, income-generating REITs with a dividend that offers a high margin of safety. This proprietary score is a complex, yet easy-to-comprehend number, that in theory allows income investors a REIT grading system suitable to their needs.
In this study, each REIT is ranked according to different weightings on the following seven criteria: market capitalization, yield, 10 and 5-year dividend stability, 10 and 5-year dividend growth, TTM dividend yield, sub-sector growth prospects and property moats, percentage from 52-week high and portfolio distribution among geographic diversity and sector diversity. The weightings rely heavily on yield and safety with total return secondary, as these are the generally accepted mandates of an income portfolio.
The RIPE-IQ Ranking Metrics (100 Points Max)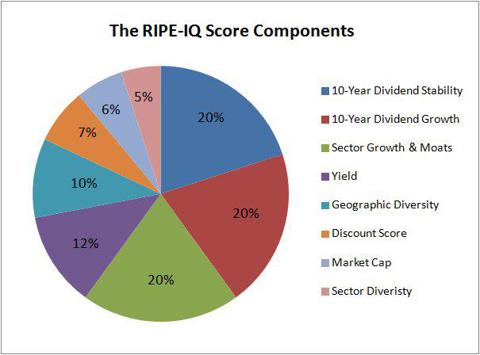 Click to enlarge
1. 10-Year Dividend Stability (20% total weight)
When the global financial crisis hit, many companies either eliminated their dividend or lowered it. Those who were able to maintain the dividend achieve a higher stability score. 2 points per year of stable dividends, if a dividend cut the company is ineligible for points until the calendar year proceeding the cut.
2. 10-Year Dividend Growth (20% total weight)
The ability to grow the dividend is a key investment component for income investors. Those able to achieve growth through the trailing ten years earn extra points. 6 points for one raise in last five years, 6 points for one raise years 6-10, 1 point each additional year the dividend is raised. If the dividend was cut, the company is ineligible for points until the calendar year proceeding the cut.
3. Sub-sector Growth Prospects & Property Moats (20% total weight)
The growth in demand for certain types of property is expected to grow faster than others over the next 20 years due to demographics, government influence and economic growth. Also, economic constraints, such as the limited amount of land in high-density locations, add huge value to REITs as it increases the difficulty of competition. A company can make computer chips anywhere, however the placement of dense residential property in high-population areas presents legal challenges, as well as time-constraints and limited supply of land. This could be termed a "property moat," as such property protects the company from competition. Proprietary grading of points.
4. Yield (12% weight)
Companies with a higher forward yield achieve a higher score. Yield is doubled for weight, such that a 5% yield equates to 10 points in the final ranking score. There is a maximum of 12 points in this category.
5. Geographic Diversity (10% weight)
A property company with 100% of their assets in one state or region holds a higher risk. Multi-regional operations, up to 10 points.
6. Percentage From 52-Week High (7% weight)
Everyone likes a stock on sale, especially when the market diverges according to investor sentiment rather than fundamentals. The lower price increases the margin of safety, thus increasing the score. 1 points per 4% below peak, up to 7 points. No penalty for new 52-week high, this will be termed the "discount score."
7. Market Capitalization (6% weight)
As companies grow, they become less risky and are assigned a higher score. The ranking gives .5 points per billion dollars in market capitalization, with 6 points maximum. Companies are only mildly penalized for the lower-end market cap range here.
8. Sector Diversity (5% weight)
A property company with 100% of their assets in one subsector (say only hospitals in medical subsector, with no exposure to research facilities, medical offices, senior living facilities, biotech facilities, etc., or retail with one major tenant) would receive less points than a property company with major industry diversity, up to 5 points.
The RIPE-IQ Score of Realty Income Corporation
The RIPE-IQ score of Realty Income Corp. is 96.5. The dividend at O showcases a high margin of safety and is positioned for growth. The overall ranking is an A+, which tells the investor that the company is well-positioned as a stable income investment at a suitable price.

Click to enlarge
O Is Just Perfectly RIPE In These Categories
O is ranked high as the company has a solid 10-year dividend history of stable and growing dividends. Without exception, O has raised the dividend in each of the past 10 years and earns 20/20 points each on the long-term dividend stability and growth scores.
Also achieving a perfect score is the sector growth & moats, geographic diversity and sector diversity. The company operates in 49 states which reduces risk and gives great geographic diversity. The retail sector in populated areas will grow with long-term economic growth and in areas of concentrated populations, there is land constraint. This gives O great long-term growth prospects and a barrier to entry for competitors.
The tenant diversity at O is wide. The largest retail industry they lease property to is convenience stores, which is 11.4% of their base. Also, the largest tenant based on revenue is FedEx (NYSE:FDX), at 5.3%. They do not rely on a particular tenant or type of tenant throughout their property base. KIn return, O achieves a perfect sector diversity score.
The RIPE-IQ Metrics That Are Very RIPE But Not Quite Perfect
O is a small company, with a market cap just north of $8 billion. This cost O nearly 2% of the RIPE-IQ score. With a larger market cap, the risk will drop and once O is at $12 billion, a perfect market cap score will be achieved.
O is also priced higher than 6% in terms of yield. A 6% yield as an entry point would offer a higher margin of safety, however at 5.33% the company does well and barely affects the score. O is already down 26% from the 52-week high, which offers a higher margin of safety and a 6.52/7 on the discount score. If O dropped to $36.40 or raised the dividend to $0.205 with a $41 share price a 6% yield would be available.
Conclusion
With a little research, income investors are able to select REITs that make long-term sense in their portfolio. The RIPE-IQ scores showcase REITs that are ripe for the picking in the marketplace today. Those with a passing RIPE-IQ grade are dividend-growth achievers that have a stable payout history and a diverse base. When they are trading at a discount versus the recent market high and offer yields closer to 6%, a higher margin of safety is achieved and the score improves.
While the RIPE-IQ does not fully integrate fair pricing, in-depth FFO analysis or debt metrics, it does showcase a ranking to whether a REIT offers a stable and growing investment that is satisfactory for the needs of the income investor. By achieving an A+ grade, O does just that and can be deemed "ripe" for the picking.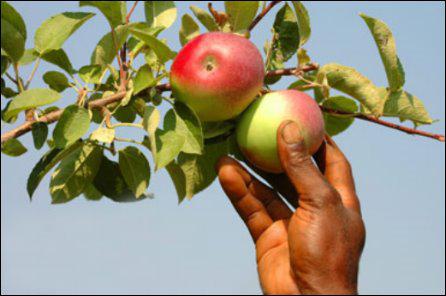 To learn more about the RIPE-IQ score and recent rankings of the mid-cap REIT sector ($10-$20 billion in market capitalization), please read "The Top Mid-Cap U.S. REITs For Income Investors."
Disclosure: I have no positions in any stocks mentioned, and no plans to initiate any positions within the next 72 hours. I wrote this article myself, and it expresses my own opinions. I am not receiving compensation for it (other than from Seeking Alpha). I have no business relationship with any company whose stock is mentioned in this article.