I reiterate my "long-term buy rating" on The Coca-Cola Company (NYSE:KO), as the company has a diverse geographical revenue base with significant exposure to emerging markets, which are likely to fuel long-term earnings growth. Also, KO has been undertaking cost saving measures, which will have a positive impact on future earnings. I believe KO will announce incremental cost savings in early 2014, during the 4Q2013 earnings release, which will help the company offset sales volume weakness in some of its key markets.
Financial Performance
Last week, the company reported mixed financial performance for 3Q2013. KO registered net revenues of $12.03 billion, down 3% year-on-year, missing consensus estimates of $12.05 billion. Revenues for the quarter were adversely affected by structural changes and foreign currency movements. As almost 56% of the company's total revenues are generated from markets other than the U.S., foreign currency movements shaved away 2% of total revenues. However, excluding the impact of structural changes and foreign currency impact, total revenues for the recent third quarter grew 4%. The company reported adjusted earnings per share of $0.53, up from $0.50 in the corresponding period last year, in line with consensus estimates.
Global sales volume growth of 2% for the quarter remained weak, as it was below consensus estimates of 3% and the long term target of 3%-4%. However, the recent soft sales volume trend is mainly a result of weak economic conditions rather than a fundamental change in changes in consumer tastes. Sales volume for Eurasia and Africa increased by 4% in the recent third quarter, below analyst estimates of 7%, mainly due to a slowdown in Russia. Latin America flat sales volume growth for 3Q2013 also missed analyst estimates of +3%. Lower-than-expected sales volume growth for Latin America for the quarter was mainly the result of a 2% volume drop in Mexico due to unfavorable weather conditions and a negative 1% volume growth in Brazil due to macros.
Markets that posted solid or better-than-expected results for 3Q2013 included North America, Europe and Asia Pacific. Sales volume for North America grew 2% in the recent third quarter, in line with consensus estimates, mainly due to flat prices in the quarter. Asian Pacific markets are among the key growth markets that are likely to fuel the company's long-term top and bottom lines growth. Asian Pacific markets experienced a sales volume growth of 5%, above consensus estimates of 3.5%. China and India are the leading growth markets in the Asia Pacific region, which experienced sales volume growth rates of 9% and 6% in the quarter, respectively. The following table shows the performance of KO's different reporting segments.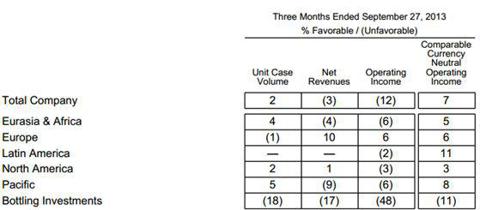 Source: Earnings Release
Stock Price Catalysts
Approximately 56% of the company's total revenue is generated from markets other than the U.S., including significant exposure to emerging markets. As markets of developed countries, including the U.S. and Europe, mature, they offer little sales volume growth; in the given situation, emerging markets like China and India offer attractive growth potential for KO. Growth potential in emerging markets is evident from the fact that the sales volume grew by 9% and 6% in 3Q2013 for China and India, respectively. As per capita and disposable income continue to rise in emerging markets, along with the growing populations, KO is well positioned with scale advantages and superior brand recognition to tap the available growth opportunities. Hence, emerging markets provide long-term growth potential to KO.
Improving the cost structure and productivity also remain among potential stock price catalysts for KO. The company anticipates enjoying annualized cost savings of $550-$650 million over time. The productivity improvement efforts are likely to be directed towards improving the global supply chain and operating expense leveraging. I believe KO will announce additional system productivity savings in early 2014 to offset the macroeconomic concerns in some of its key markets, like Brazil. I am also expecting KO to provide additional details on the bottler re-franchising in North America, which will portend well for the stock price.
Risks
As the company has significant international market exposure, foreign currency movements remain a risk to KO's top and bottom lines. KO anticipates that for the full year (2013), foreign currency movements are likely to have an adverse impact of 4% on total revenues. Also, a Mexican sugar beverage tax hike stays an overhang on the stock and is likely to negatively impact global sales volume growth. Mexico's President has proposed a tax of 1 peso per liter, which KO has called "unfair." The proposed tax increase remains an overhang, and if the proposed tax increase is approved, it will have a negative impact on the global sales volume and stock price.
Conclusion
I believe KO is an attractive long-term investment option for investors, as the company has a dominant position in the industry and significant exposure to emerging markets, which offers robust growth potential, and owns a solid product portfolio. Also, the downside stock price is limited because of a solid revenue base and strong balance sheet. However, I think the company should provide more information on the next round of productivity savings and bottlers re-franchising in North America, which would provide more short-term earnings visibility and bode well for the stock price.
Disclosure: I have no positions in any stocks mentioned, and no plans to initiate any positions within the next 72 hours. I wrote this article myself, and it expresses my own opinions. I am not receiving compensation for it (other than from Seeking Alpha). I have no business relationship with any company whose stock is mentioned in this article.