There are certain businesses which just perform better during difficult economic times. First Cash Financial Services (NASDAQ:FCFS) is certainly one of them as the company has continued to grow earnings and sales throughout the recession. Based out of Arlington Texas, the company operates 278 pawn stores and 182 payday advance stores. As mentioned in the ZachStocks October article, FCFS is expanding into Mexico which is providing a good portion of the company's growth.
The stock is up roughly 8% this week in strong volume, and more importantly, the stock is breaking above the high set in August before the stock began a basing pattern. The strong volume indicates that institutional investors are likely accumulating positions and the vote of confidence certainly helps as we build our own position in this growth opportunity.
Despite its recent price advance, FCFS still appears to be an attractive investment based on valuation. The company should earn $1.39 per share this year, and will likely grow earnings by 16% to $1.61 per share in 2010. So the current price of $20.50 indicates that investors are willing to pay a multiple of 12.7 times earnings. Given the company's stable financial position, the proven and expected growth, and the strong business model, I wouldn't be surprised to see this multiple expand to 18 or 20 – which would yield a stock price between $29 and $32. This represents an increase of roughly 48% and if management guides analysts to expect higher earnings in the years to come, both the expected EPS as well as the multiple could increase substantially.
Investors should pay close attention to regulatory issues which could crimp margins and cause store closings in some US regions. The industry has come under the regulatory microscope at times because of unfair business practices. It would behoove the company – and other players in the industry – to adopt a set of universally accepted standards by which the company treats customers (most of whom desperately need financing and will agree to difficult long-term arrangements in order to meet short-term needs). Collection practices should be carefully monitored and fall within Federal guidelines, and fees and interest arrangements should be fair and equitable.
First Cash has set themselves apart as a reputable company with an international presence. Their growth prospects appear to be strong, and the market has begun to recognize the value of this solid franchise. We are holding a position in Sound Counsel client accounts and expect to realize a substantial gain over the next few months.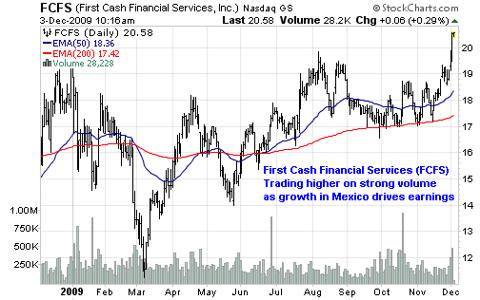 Disclosure: Author has a long position in the Sound Counsel Aggressive Equity Model.