We've received a number of responses to the bullish report, posted here last week, wherein we discussed how Synovus Financial's (NYSE:SNV) stock price might quintuple over the next several years.
Most of the comments were skeptical—which is exactly what one would you expect for a stock that's so unloved by investors it is lately trading at just 0.4 times tangible book value. I'll address those comments and questions in a moment. But first, a few words about one particular objection we get just about every time we write about a stock that's in one of our portfolios: our analysis is to be discounted, the skeptics say, since all we're trying to do here is "talk our book," and "pump and dump" the stock we are highlighting.
Please. We get a lot of thoughtful objections to what we write about around here, but this objection isn't one of them. Instead, it's a sign that whoever is doing the objecting simply hasn't thought through the matter.
What would you prefer, that we only write about stocks that we have looked at and, on the investment merits, have decided not to own? A lot of value that would provide. We might even add a P.S. to our standard disclaimer: "This stock's not good enough for us to own, but why don't you go out and buy it anyway?" Call me crazy, but I just don't think that would be helpful to anybody.
And besides, we end up doing far, far more work on names we actually own than the ones we don't. So when we write about stocks that are in our portfolio, you can have a lot more confidence that we know what we're talking about. Are we right all the time? Of course not. But when we're accused of "talking our book," you can at least know we're confident enough in the idea that we are investing in it.
OK, let me climb down off my soapbox and address some of your specific objections. Our case for Synovus, recall, is simple. The company's incredibly high credit costs have peaked; as they return to normal over the next three years, quarterly earnings will rise (vs. losses lately) to a reasonable level, at the same time the company's market valuation returns to near its historical average.
In particular, we estimate normalized earnings can reach 70 cents per share within three years, and assume the Synovus's P/E multiple will improve to the low end (12 to 13 times) of its historic range. That implies a stock price of $8 or $9 several years out, or 4 or 5 times its recent trading level.
In our piece last week, we detailed the company's recent asset quality trends and provided some projections. Some of our optimism is based on those trends, and is based, too, on the apparent stabilization in the real estate markets Synovus operates in. Also, we were encouraged following a visit with the company late last month.
If there's one critical variable to monitor in all this, it's the inflow of new nonaccrual loans. The chart below shows that, at Synovus, the inflow of new nonaccruals has been rising, is very high, and has consistently stayed higher than a nationwide peer group of banks.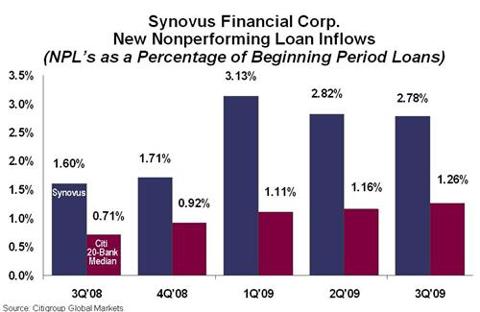 Click to enlarge
Going forward, we expect the inflow of new nonaccrual loans to decline, both absolutely and relative to peers. One reason why is simple math. The largest source of new nonaccruals has been residential construction loans, particularly around Atlanta. But by now, the amount of performing construction loans that remain on Synovus's books is so small that they simply can't provide a meaningful supply of new nonaccruals. In that particular loan category, what's going to go bad has likely already gone bad. Take a look: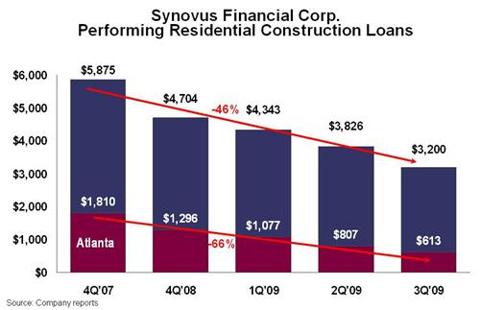 Click to enlarge
What's more, we believe management has been more conservative than its peers in putting loans on nonaccrual. Take a look at the next five charts, for instance. They show Synovus' early-stage loan delinquencies (30-89 days), by loan type, relative to a peer group of banks.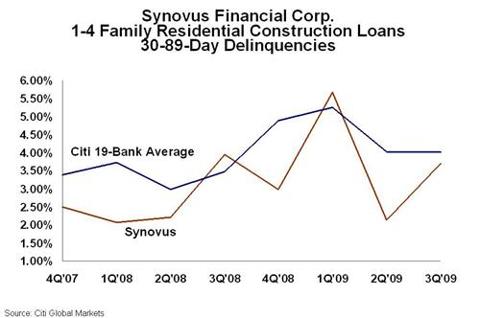 Click to enlarge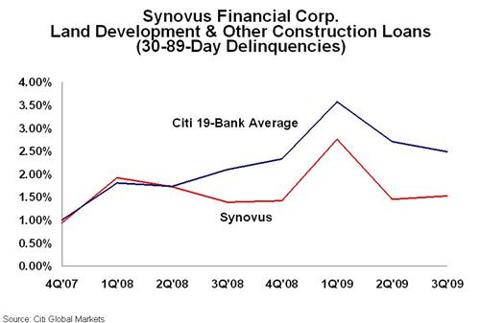 Click to enlarge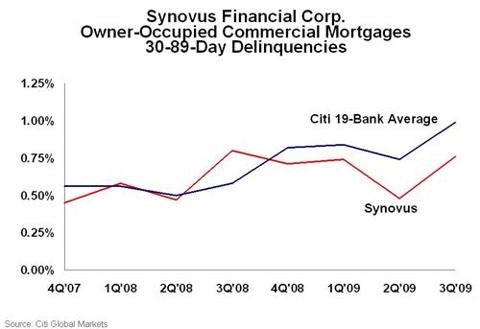 Click to enlarge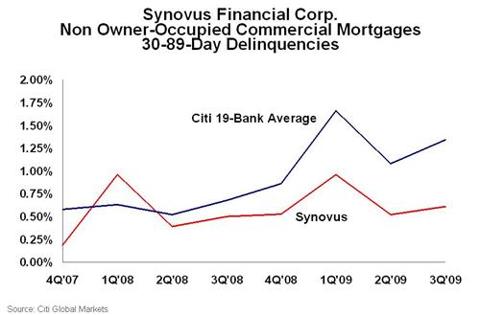 Click to enlarge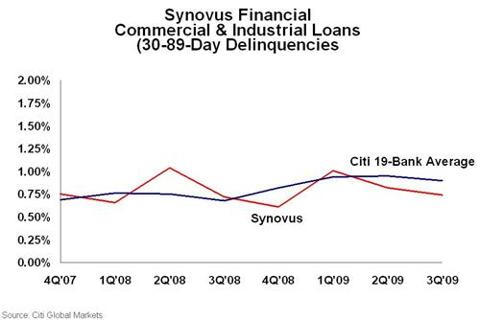 Click to enlarge
Skeptics should simply monitor the quarterly inflow of new nonaccrual loans. The amount of new inflows has to fall if credit costs are going to decline meaningfully enough for the company to return to profitability.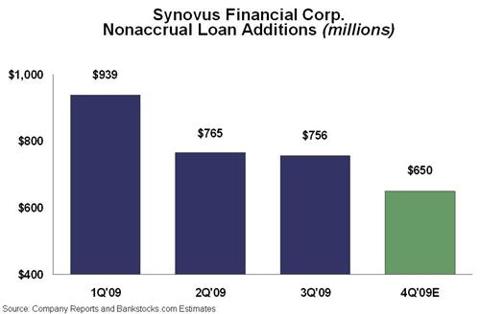 Click to enlarge
Now, to specific concerns readers have raised:
1. Macro trends aren't improving. Some bears argue that Synovus' problem loans and credit costs can't have peaked yet because macro trends, notably employment, are still getting worse, and because commercial real estate trends continue to deteriorate.
In fact, many macro trends, such as GDP growth and home sales, have already begun to improve. Others have not; employment in particular tends to be one of the last metrics to get better once the economy starts to turn. As to CRE, yes, we expect the inflow of new income-producing commercial real estate to rise (and new C&I nonaccruals to rise, for that matter), but expect the increase to be more than offset by a decline in new residential-constructions nonaccrual loans.
Keep in mind that in the most recent quarter, residential-construction loans accounted for two-thirds of the company's new nonaccrual loans, and that the overall level of new nonaccrual loans is running more than five times the "normal" quarterly level.
Given the level of new nonaccruals on the residential construction side, even a small improvement would easily offset a rise of non-accruals on the CRE and corporate side.
2. Problem loan resolution will be slow. Doubters worry Synovus will have difficulty disposing of problem loans and repossessed properties in what is currently a very depressed market. I'm not as concerned. Here's the company's track record at disposing of loans and assets over the past three quarters.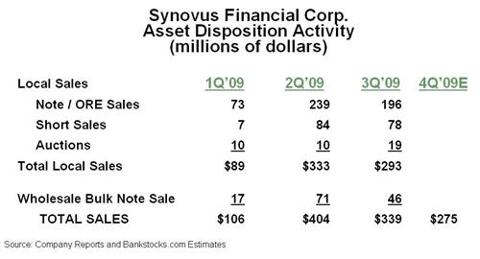 Click to enlarge
In fact, Synovus's non-centralized operating model should give it a real edge in asset disposition. Remember, the company operates 30 subsidiary banks and, for the most part, uses local employees to work out each unit's troubled assets. This tends to result in higher realizations on dispositions versus sales via wholesale auctions.
So far, Synovus's local-disposition approach seems to have worked. In July, management set a goal of disposing of $600 million in nonaccrual loans and OREO in the second half of the year. It then disposed of $339 million in the third quarter, more than half way to its goal. On our recent visit, the company expressed confidence it will hit its second-half number.
So while Synovus' high level of problem assets is a negative, we're impressed with the process the company has put in place to work these assets efficiently, as well as the progress it's made in doing so.
In addition, as a result of aggressive writedowns the company has already taken, it will likely take relatively smaller writedowns at time of disposition. That should in turn help lower credit costs.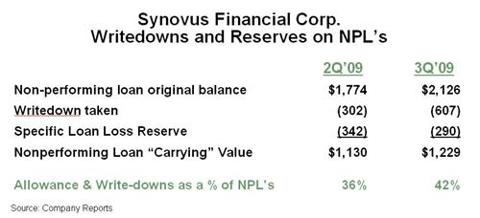 Click to enlarge
3. Synovus has significant exposure to a large development at Sea Island. While the company does not discuss individual lending relationships, media reports indicate that Synovus is one of three banks with large exposure to a troubled development at Sea Island, Georgia. We believe the company's $220 million exposure was classified as nonaccrual in the first quarter and restructured in the second quarter. It is currently performing in line with its restructured terms; if this continues, the loan could return to performing status sometime in 2010.
This was an unusually large exposure for Synovus, and is not likely a harbinger of similar, future problem credits. The property itself is of very high quality. Frankly, we wish all the company's nonaccrual loans had as bright prospects as Sea Island, and as low a potential loss content.
4. Capital is too low; another dilutive capital raise is coming. A chart above shows Synovus' current capital ratios relative to the regulators' definition of well-capitalized. We do expect the company's capital ratios to deteriorate in the coming three quarters, as operating losses persist.
However, a reduction in risk-weighted assets, both from a decline in total loans as well as a reduction in excess liquidity, should partially mitigate the impact of the operating losses. Asset sales, such as the already-announced sale of the company's remaining VISA (NYSE:V) holding, will also help.
In our base case scenario, the company's Tier 1 capital ratio would drop by about 180 basis points over the next four years, before beginning to rise again. Keep in mind that Synovus has a deferred tax asset reserve of $331 million which will be reversed once the company has demonstrated sustained profitability (we expect that to happen in 2011). The complete reversal of the reserve would add another 115 basis points back to the company's capital ratios. We do not expect an additional dilutive capital raise.
Synovus: The next Barnett/Valley National/Fleet Financial
In the last major credit cycle, in 1998-90, the credit quality problems of a few banks (Southeast Banking and Bank of New England, for instance) overwhelmed those institutions, but far more institutions (Barnett Banks, Valley National, Fleet Financial, among others) worked through their problems and then thrived. That latter group turned out to be the most rewarding equity investment in the 1990-1996 bank stock bull market.
We believe this cycle will product similar type investments and Synovus is one of our favorites.