By David Urani
The air feels nice up here just under the all-time S&P 500 highs. While earnings and QE have been taking much of the headlines, one of the feel-good stories of the past few days for me is also the decline in oil prices. Crude was almost $101 at the start of this week but now it's all the way down to $96.81. One anchor on prices this week was of course the tame job report yesterday, as 148k jobs is an increase but quite a meek one for the U.S. economy and one could naturally expect another soft one for October given the government shutdown fiasco.
We also got a couple of weekly oil inventory reports from the EIA. On Monday, there was a delayed report (because of government shutdown) from two weeks ago showing a 4 million barrel increase. Today we got the most current reading, and it showed a gain of 5.2 million barrels.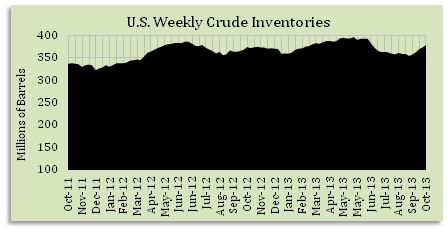 Oil - 2 yr price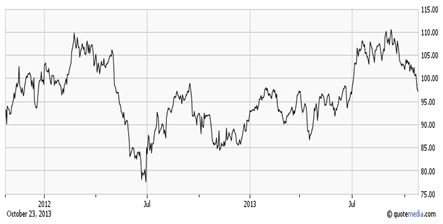 In fact, the drop in oil has been going on since mid-September when it hit as high at $110, exacerbated by the conflict in Syria. The slide has also translated somewhat over to gas prices, which are down from $3.50 a gallon national average in September to $3.31 as of the latest reading. Given the recent movement in oil those pump prices could sink a little further.