Editors' Note: This article discusses a micro-cap stock. Please be aware of the risks associated with these stocks.
Overview
Cinedigm (NASDAQ:CIDM) took a giant step forward in their positioning as a content provider with the $51.5M acquisition of a large distributor (32,000+ titles) of entertainment content from sources like National Geographic, Discovery Channel (NASDAQ:DISCA), WWE and Televisa (NYSE:TV). The deal also expands and deepens the downstream channel relationships to a point where the footprint is complete.
With this move, Cinedigm has conclusively changed their mix of business to be dominated by content. In the past investors didn't like the theater servicing business as much so CIDM shares were penalized for hit. With this acquisition (and New Video before it) the company will have the majority of revenue and incremental growth from the content business.
The picture below tells the story in a nutshell: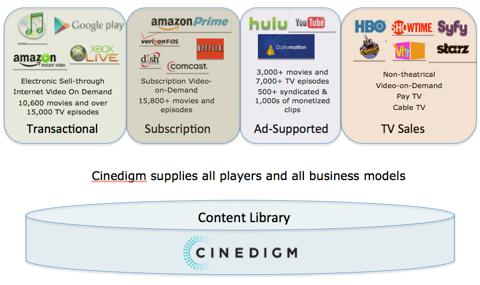 Cinedigm now has a store of content and partnerships in every type of channel and for every type of business model. Existing relationships with Netflix (NASDAQ:NFLX), iTunes (NASDAQ:AAPL), YouTube (NASDAQ:GOOG), Amazon (NASDAQ:AMZN) and Wal-Mart (NYSE:WMT) are already in place as are scores of smaller contracts across the industry. They will continue to grow the base and we expect the overall industry demand to grow at the same time. The combination will put them on a clear long-term growth footing.
Valuation & Stock Conclusion
At the time of the deal announcement Cinedigm also updated investors with recent results and guidance for the balance of the (March) fiscal year:
Revenues of $22M to $23M for the FQ2 ended September will come in just shy of consensus of $23.39M. Consequently estimated EBITDA of $10M to $11M is below the consensus of $12.6M.
Guidance for the second half of the fiscal year calls for consolidated revenues of $84M to $86M which will bring the total FY2014 revenue to $126M. For the year consolidated EBITDA will be $60M.
Our established intrinsic valuation (IV) estimate for Cinedigm has been $6.26/share for 2013 and $7.78/share for 2014. We have more work to do in order to finalize a new model but putting the figures in on a preliminary pro-forma basis we will be hard-pressed to keep it out of double digits.
Disclosure: I have no positions in any stocks mentioned, and no plans to initiate any positions within the next 72 hours. I wrote this article myself, and it expresses my own opinions. I am not receiving compensation for it (other than from Seeking Alpha). I have no business relationship with any company whose stock is mentioned in this article.