Innovation is the critical success factor for the biotechnology industry. As long as the companies in this industry are able to get new drugs approved by the U.S. Food and Drug Administration (FDA) before their earlier patents expire, all is good to go. Vertex Pharmaceuticals (NASDAQ:VRTX) is an active player in this industry. Let's take a look at how this company has been tackling the challenging economic conditions in the US and what the future holds for its shareholders.
Company profile
Vertex is in the business of discovering, developing, manufacturing and commercializing small molecule drugs for patients with serious diseases which include genotype 1 hepatitis C virus or HCV infection, cystic fibrosis "CF" etc. Vertex has recently submitted a supplemental New Drug Application "SNDA" to the FDA for the approval of KALYDECO (ivacaftor) monotherapy for the treatment of cystic fibrosis.
Historic financial performance
Revenue growth

Source: Vertex SEC Filings
Vertex was in the research stage of its drug development during the period 2008-2010 and thus reported low revenues which were primarily coming from up front license fees related to collaboration agreements with Janssen and Mitsubishi Tanabe. Royalty payments also formed part of the minor revenue base as the company had entered into a purchase agreement with Fosamprenavir Royalty to receive royalty payments arising from sales of Lexiva/Telzir and Agenerase.
From 2011 onwards, the company reported net product revenues of $950.9 million from the sales of INCIVEK in the United States. This resulted in a razor sharp increase in the company's top line growth. Royalty revenues increased by $19.8 million in 2011 as compared to 2010 due to the addition of $20.3 million sales of INCIVO by Janssen for which there were no comparable revenues in 2010. The significant increase in the collaborative revenues from Janssen in 2011 as compared to 2010 was related to $250 million in milestone payments for which there were no comparable revenues in 2010.
Sales continued to grow at a rate of 8.2% in 2012. This growth was led by a 40% increase in the net product revenues. KALYDECO was marketed for the first time and further growth was achieved in the sales of INCIVEK, which were the main drivers of this boost in the company's top line. Sales of INCIVEK increased by $210.9 million due to the realization of INCIVEK net product revenues over a full fiscal year in 2012 as compared to a partial fiscal year in 2011. Royalty revenues also continued to increase as Janssen was approved to market INCIVO in the European Union by the end of 2011. Since the approval of KALYDECO in the first quarter of 2012, most eligible patients in the United States initiated and began receiving treatment with KALYDECO, which drove Vertex's revenue higher.
Margins
Vertex saw a drastic turnaround in its operating margins in 2011 when the company properly began to market its drugs. The company reported a staggering 8.1% operating margin in 2011 compared to (486.7)% in 2010. This was a huge step forward as the company reported profits for the first time since inception. This improvement was achieved as the growth in the company's top line trickled down to positively affect its operating profits.
In 2012, the operating margin declined once again owing to a drastic increase in the cost of revenue as a percentage of sales from 4.54% in 2011 to 15.52% in 2012. This higher than expected increase in costs, due to an aggregate of $133.2 million charges for excess and obsolete INCIVEK inventories, contributed to the dent in the company's profitability.
Research pipeline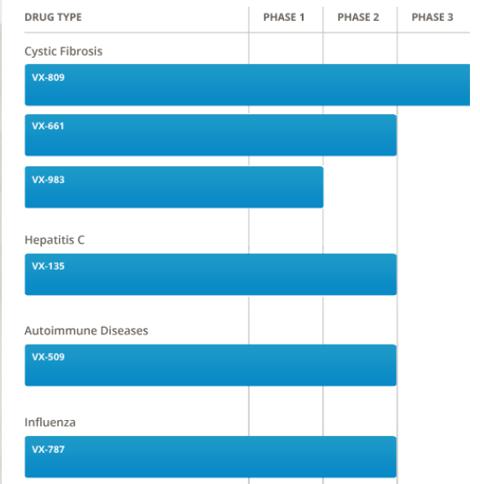 Source: Vertex Research and Development Pipeline
According to Cystic Fibrosis Foundation Therapeutics (CFFT), cystic fibrosis disease has affected the lungs and digestive system of approximately 30,000 children and adults in the United States and 70,000 people worldwide. Every year 1000 new cases are diagnosed. Vertex is focusing its research on capturing this market demand and has recently submitted an application for KALYDECO (ivacaftor) monotherapy for patients with ages 6 and older who have at least one non-G551D gating mutation in the cystic fibrosis transmembrane conductance regulator (CFTR) gene.
Presently, KALYDECO is approved for people with CF ages 6 and older who have at least one copy of the G551D mutation. After France and Germany, funding for KALYDECO has been recommended in England and Ireland, and it is expected that reimbursement in these countries will begin in 2013, which will further drive the company's revenue higher.
Hepatitis C is the second research area in Vertex's pipeline. Currently, there is no vaccine for this liver disease. There are approximately 150 million people who are chronically infected with hepatitis C virus with the addition of 3-4 million every year. A successful drug launch in this area in the upcoming years could mean big profits for Vertex.
Risks
Interest rate risk exposure
The company had 52.4% of its current assets invested in marketable securities as at June 30, 2013. These investments are denominated in U.S. dollars. Due to uncertain economic environment and the danger of US defaulting on its Treasuries once again on 15 Jan, these interest-bearing securities are materially exposed to interest rate risk and could decline in value if the US default occurs.
Foreign exchange market risk
With the US economy brimming with debt, the value of the dollar may depreciate. For the time being, the short-term debt ceiling has been raised but the country may face a similar default situation on 15th January as the government is expected to run out of funds once again after the next few months. This could adversely affect the net revenues received from international product sales.
Conclusion
The company is currently in its high growth phase and has a positive future outlook. Despite the fact that the future FDA approvals carry a lot of significance in deciding the future of Vertex, its drugs that are already on the market are doing pretty well. Hence, I believe it is a decent long-term investment for growth investors.
Disclosure: I have no positions in any stocks mentioned, and no plans to initiate any positions within the next 72 hours. I wrote this article myself, and it expresses my own opinions. I am not receiving compensation for it (other than from Seeking Alpha). I have no business relationship with any company whose stock is mentioned in this article.