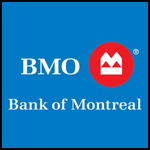 Canadian banks are an interesting lot.
Far more conservative than their U.S. counterparts, Canadian banks held up relatively well during the financial crisis of 2008 due to the fact they didn't engage in risky trading and mortgage lending practices, nor did Canadian banks take the ax to their dividends the way American banks did. In dollar terms, the dividends offered by Canada's five largest banks are all solid and the lowest yield in the group is a decent 5%. In addition, Canada's government intensely protects its banks from international competition, making it next to impossible for a foreign competitor to enter the market.
So there are some positive catalysts for Canadian banks and we found it encouraging that Bill Downe, the chief executive officer of Bank of Montreal (NYSE:BMO), Canada's fourth-largest bank, recently said that the bank will increase its dividend as earnings start to move higher. In fact, Downe said "the dividend will increase again, there's no question." That's encouraging talk to say the least.
Bank of Montreal currently yields a tidy 5.1%, paying an annual dividend of $2.64 a share. Even though the company hasn't raised its payout in two years, it's worth noting that it hasn't cut its dividend either and the five-year growth rate is an impressive 24%. Credit Suisse recently raised its 2010 earnings forecast for BMO by 9% and its one-year price target to $49 from $42.
That's below where the shares currently trade and the bank still has to contend with loan losses and a weak economic outlook, so it might be best to keep an eye on BMO until its earnings become more normalized and start to hint at an imminent dividend hike. While we've been bearish on financials for quite some time, from the dividend hunter's perspective, Canadian banks are vastly superior to their U.S. peers.
Disclosure: No positions