By Bryan McCormick
While the government has persisted in avowing a strong dollar policy through the last eight years of decline, it took a better-than-expected unemployment report to turn it around. In some respects, especially for those involved in commodities, this is the very last thing one might want to see happen.

The U.S. Dollar Index is rapidly reversing up to its 50-day moving average, hitting 75.71 at the time of this writing, which has persisted as strong downtrend resistance since a brief peak in April of this year. If the index makes it back above this 50-day average, it would be bullish for the dollar and signal a possible longer-term reversal.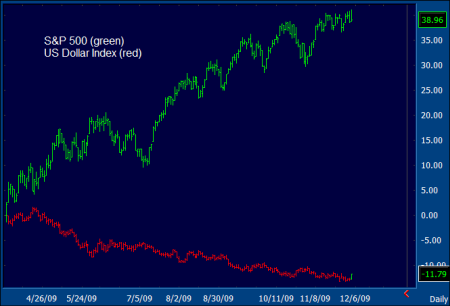 Although no one can ever say how far such reversals might go, it is best to be prepared for what it means. As illustrated by this percentage chart of the S&P 500 versus the dollar, the dollar decline has been bullish for stocks. That could be in the process of changing. But what might happen?
Precious metals are likely to suffer most first. This is largely because of the extreme pessimism against the dollar that drove people into them in the first place and has much to do with the fragility of the recent rally, which now appears to have been pure momentum.

Industrial metals are also vulnerable, particularly copper. That will hit companies such as Freeport-McMoRan (FCX), which is today is facing the double-whammy of declining precious and industrial metals. Steel makers such as U.S. Steel (X) and Alcoa (AA) are likely to feel pain as well.

Energy is also likely to move lower as the price of crude, in particular, is so sensitive to the dollar's moves. That will in turn take down many products that depend on oil. Natural gas, which has already been weak, is being hit very hard too. That is taking down the "nitrogen" sector, fertilizer, which is sapping some of the bullish potential out of names such as Potash (POT).

So while it might be hard to grasp, sometimes good news can be bad news.
Since a good chunk of market strength was predicated on dollar weakness, the reversal up is good news gone bad. With energy at 11.3 percent of the S&P and materials at 3.59 percent of the index, hits to these sectors could bring strong ripple effects. Add in the overweighting that many funds have in these sectors and the prospect for more pain seems highly probable.
(Chart data provided by Thomson Reuters)