I have recently been giving some thought to iron ore and steel, as they have performed well this year during a period of weakened fundamentals. In order to gauge (pardon the pun) the outlook for steel, it is always helpful to look at the components, notably iron ore.
One cannot determine the fundamentals of iron ore without looking East toward China. World demand for iron ore presently exceeds supply, exerting sustained upward pressure on prices. The biggest demand factor is China, which has accounted for 86% of overall demand growth since 2006. China is the largest producer and consumer of iron ore, representing approximately 54% and 35% of global demand and supply respectively. Continuous growth in China's long-term demand means that the world's largest steel producer is an important player in international markets, and will remain strong for some time.
China is expected to use more iron ore in the next five years than Australia, the biggest exporter, has produced in its history, Rio Tinto Group (RTP) said this month. The Asian nation's economic growth may accelerate to 10.5% this quarter, according to a Bloomberg survey, as stimulus spending boosts demand for automobiles and fridges. As evidence, China has proposed 90 investments in Australia valued at about A$34 billion ($32 billion) in the past 18 months, the Canberra-based Foreign Investment Review Board said in September.
So what is China up to? China's iron ore imports rose 36% to 469.4 million tonnes in the first nine months from a year earlier. Bloomberg reported that iron ore imports by China declined by 30% MoM in October 2009 from September's record because of a national holiday. Imports reached 45.5 million tonnes. That compares with a record 64.6 million tonnes in September and 49.7 million tonnes in August. Iron ore imports rose by 37% to 514.8 million tonnes for the first 10 months from a year earlier. (Click to enlarge)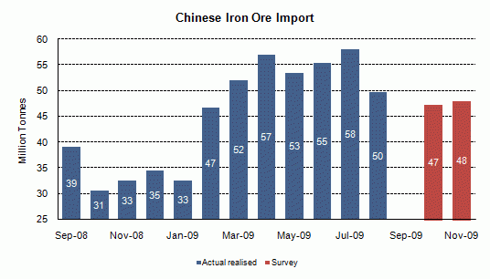 Courtesy: Danske Bank
Early last month, Chinese officials tried to downplay the ore imports.
In a statement distributed at the conference, later obtained by Dow Jones, the association said it expected demand to improve in the fourth quarter and early next year. But it also said high iron ore import volumes continue to pose a threat to fundamentals. In the year to September, iron ore imports reached 123.3 million metric tons, exceeding actual demand by 66 million tons.
Earlier, an official at the CISA commented that China now has a steel stockpile of 40 to 50 million tons, proving that there is much more supply than demand. Iron ore giants' decision to raise ore prices lacked objective evidence.
Of course, we have to realize that China is trying to get to a calendar year pricing on ore and posturing about the demand side is necessary. China is, after all, in the midst of economic growth.
China's manufacturing activity grew for a ninth straight month in November amid heavy stimulus spending but the growth rate was unchanged from October, an industry group reported Tuesday. The state-sanctioned China Federation of Logistics and Purchasing said its monthly purchasing managers index, or PMI, stood at 55.2 on a 100-point scale. Numbers above 50 show manufacturing activity expanding. "The November PMI is level with the previous month, possibly indicating the economic boom is starting to stabilize after reaching a fairly high level," a government economist, Zhang Liqun said in a statement issued by federation. Beijing's 4 trillion yuan ($586 billion) stimulus has helped to boost growth by pumping money into the economy through spending on public works projects. Economic growth rose to 8.9% over a year earlier in the quarter ending in September and the World Bank is forecasting 8.4% growth for the full year.
So if we have established that the ore market is healthy and getting healthier (I would expect that 2010 pricing will be much stronger than 2009, but not near 2008 prices), lets look at crude steel, the beginning of the steel process.
According to the World Steel Association, the trend in crude steel production looks like this: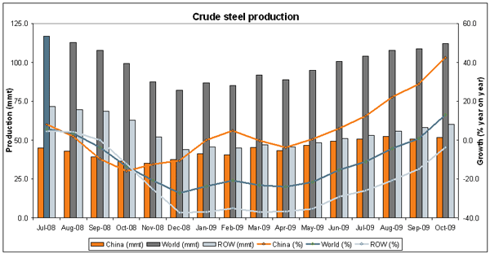 So crude steel production looks healthy (or at least healthier). Capacity utilization within the steel industry has also picked up from the beginning of the year (76% vs 58% at YE 2008).
The American Iron and Steel Institute (AISI) reported Friday that, for the month of September 2009, U.S. steel mills shipped 5,793,000 net tons, a 3.9% increase from the 5,570,000 net tons shipped in the previous month, August 2009, and a 26.9% decrease from the 7,920,000 net tons shipped in September 2008.
A month-to-month comparison of shipments shows the following changes: hot dipped galvanized sheet and strip, up 24.0%; hot rolled sheet, up 8.0%; and cold rolled sheet, up 1.0%.
Ultimately, despite China's posturing, steel demand looks like it is ready to rebound or, at least, looks like it may have troughed. Is this enough for investment? Domestic steel stocks have underperformed the S&P YTD, but X has outperformed since the lows (interestingly, NUE has underperformed over the same time period.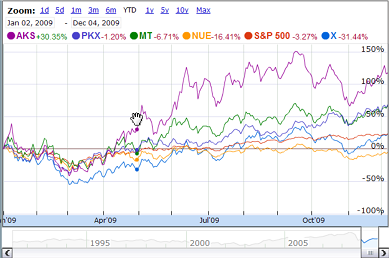 And from JPM: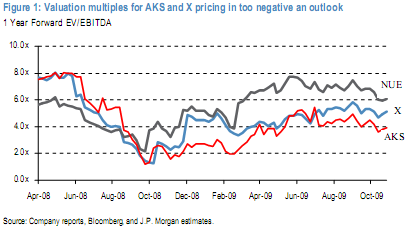 From the equity and credit perspective, I like US Steel (
X
) the best as they are vertically integrated (ore increases don't have the same impact as it does on others and are one of the lowest cost blast producers. While their numbers have been weak, I would look for a rebound which should increase EPS, and reduce leverage relative to EBITDA (on a gross debt basis, maybe 1.5-1.75x on a net debt basis). On a credit basis, X (Ba2/BB) still trades at a decent spread relative to treasuries with 5yr CDS north of +600.
Disclosure: No positions