In my view, the Microsoft (NASDAQ:MSFT) of today is a more aggressive and targeted company that it has been recognized in the stock market. For the all the flak he took, Steve Ballmer was a very effective CEO who not only tripled Microsoft's profits during his reign but also established Microsoft in enterprise at an extraordinary level of depth.
Piper Jaffray has done a survey of enterprise managers in December of 2011 and 2012 and a summary of some results was published by Microsoft on a slide presentation at its September 2013 analysts' day, repeated below: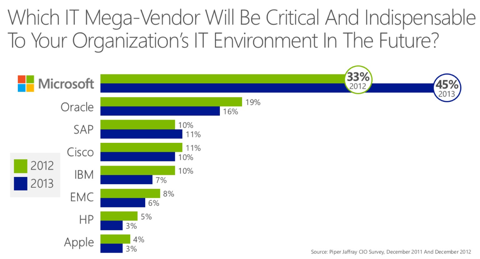 Click to enlarge
The fact that 45% of IT managers saw Microsoft as the most critical and indispensable for 2013, up from 33% for 2012, is testimony to that Ballmer legacy.
Microsoft has made other changes to its business model, which has been quietly but powerfully effective. The global launch of Office 365 in June 2011 is an example. Seeing the value of taking Office to the Cloud, Microsoft took its flagship suite of productivity software to customers providing Cloud integration not only of the Office software but also of Sharepoint, Exchange, Lync and ActiveSync. In less than 3 months Microsoft had sold 5 million seats of product.
Microsoft Office 365 was released as a subscription service in January 2013. By April, Microsoft reported that subscriptions to the Cloud based "software as a service" approach to the Office suite of software represented 25% of total sales of all versions of the software.
The subscription version of Office 365 Home Premium reached 1 million subscribers faster than other high profile internet launches including Spotify, Dropbox and Facebook (NASDAQ:FB).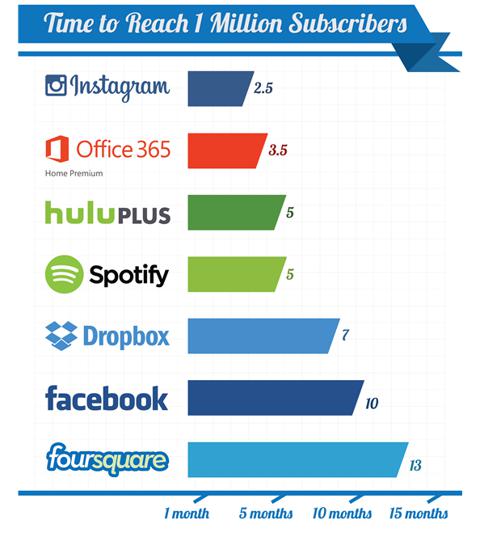 Click to enlarge
Microsoft's efforts to promote Office 365 were not limited to consumers. In its September 19, 2013 analysts meeting, Microsoft reported that over 1 million government workers around the world are moving to Office 365 and that Office 365 revenues now exceed $1.5 billion annually growing 2.4 times year over year.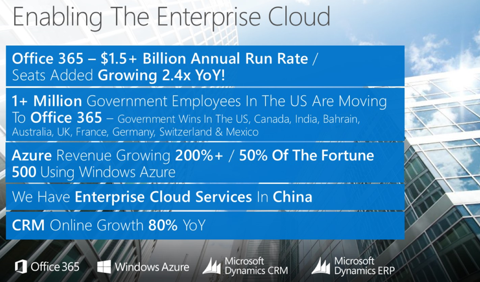 Click to enlarge
As well as sales of Office 365, Microsoft has made a significant effort to ensure that students in schools become Office users. Microsoft has offered the software free to students around the world if the faculty of their schools also used Office 365. That effort is paying off. Worldwide 110 million students and faculty use Office 365. Once familiar with the software and experienced with its use, it is likely that many of those 110 million users will become paying customers for Office 365 once they graduate.
It is easy for retail investors to lose sight of the power and breadth of Microsoft. Some of the key metrics are impressive. Windows Live has 500 million active users. Skype has 170 million connected users. Xbox Live has 35 million subscribers.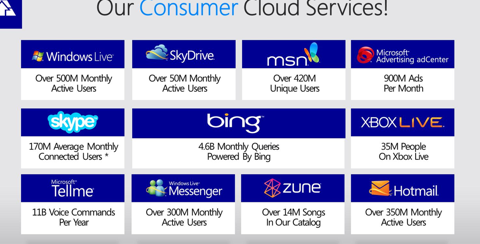 Click to enlarge
Usage of Microsoft cloud services by these users is likewise impressive. Skype drives one-third of all international phone traffic. Over 400 million people use Outlook.com. And 250 million people use SkyDrive cloud storage with over 1 billion documents and 11 billion photos stores in the Microsoft Cloud.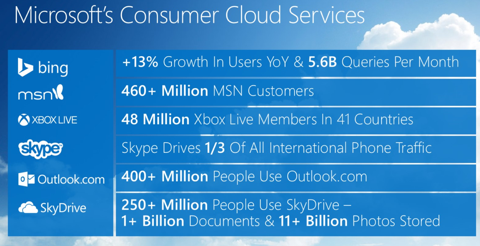 Click to enlarge
The integration of Office into the Cloud is a key element of Microsoft's strategy, including making Office applications available cross platform, ensuring the success of the Office franchise is not tied solely to the success of Windows based devices.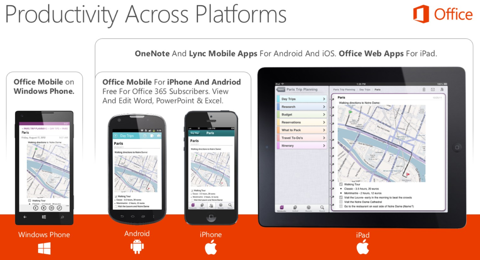 Click to enlarge
As part of its cross platform thrust, Microsoft provides mobile device management software that facilitates enterprise management of all devices regardless of their operating system.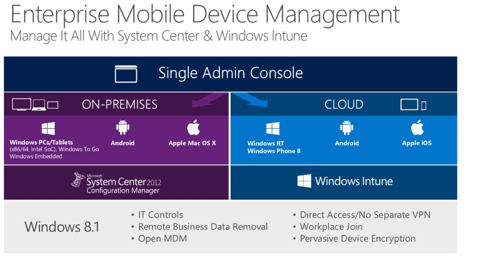 Click to enlarge
At the same time, Microsoft is making progress in its entry into the device market both under its own brands and through its partners. Windows phone, for example, is showing rapid growth in many critical markets with growth of 900% in Latin America, 400% in India, 300% in China, 300% in Asia Pacific and 700% in the Middle East and African regions.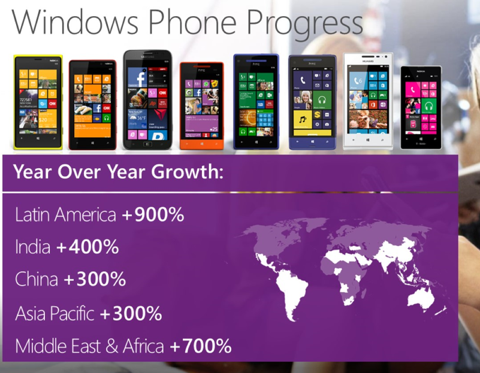 Click to enlarge
In other mobile device markets, Microsoft and its partners now have (for the first time) a wide range of interesting and functional devices across many form factors in stores and on shelves for the holiday season.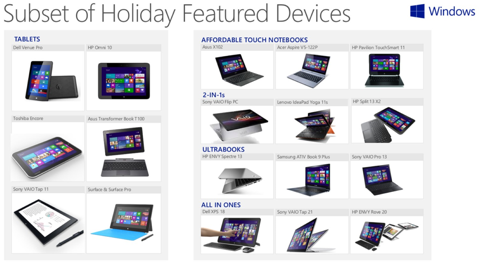 Click to enlarge
Many of these devices fall into the Ultramobile category recently created by IDC, and is forecast to grow over four fold comparing 2014 to 2012.

Click to enlargeIn addition to a renewed focus on consumers, Microsoft's enterprise business continues to be robust. Microsoft's SQL Server database product line, for example, is outperforming Oracle (NASDAQ:ORCL) and IBM.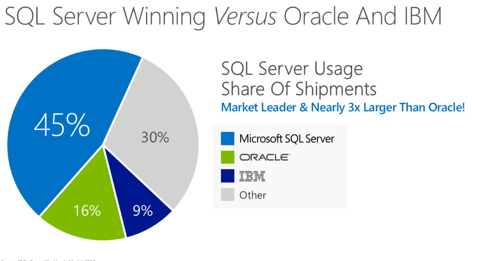 Click to enlarge
The SQL Server line is growing with a 27% increase in 2013 having increased share in the past six quarters, according to Microsoft. SQL Server is tightly integrated with Office, which Microsoft says is used by over 1 billion people worldwide.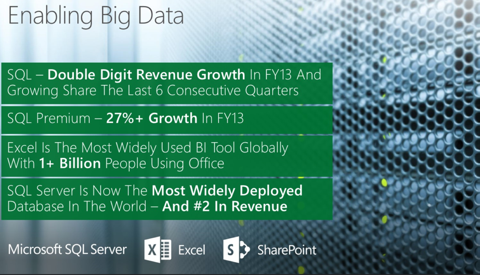 Click to enlarge
Microsoft reports earnings Thursday, October 24, 2013. Investors should get a good look at its plans and outlook. They may surprise you.
I am long calls on 10,000 MSFT at a $30 strike price expiring January 2015.
Disclosure: I am long MSFT. I wrote this article myself, and it expresses my own opinions. I am not receiving compensation for it (other than from Seeking Alpha). I have no business relationship with any company whose stock is mentioned in this article.
Additional disclosure: I hold calls on 10,000 MSFT shares at $30 strike with expiry January 2015