One of my favorite uses of Google is as a dictionary.
Seriously!
I don't need it so much as a spell-checker – it fulfills that role too – but if I want to look up the definition of a word, or make sure I'm using it in context, I turn to Google (NASDAQ:GOOG).
Well actually, I turned to Answers.com (NASDAQ:ANSW) – which used to supply the definitions if I clicked on the top right link in the search results:

It's no coincidence that I used the word "screwed" in the above screen capture. That's what Answers.com will likely be, now that Google has decided that those links should go to its own dictionary (Click to enlarge):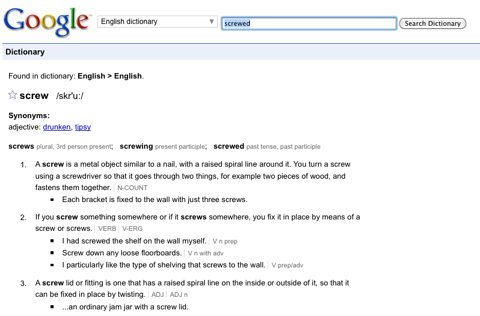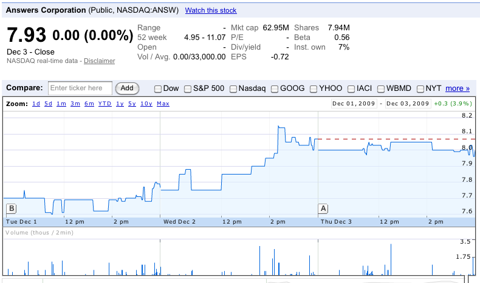 Not that Google's dictionary is new – you were always able to search "define:" and get to it – but now Answers.com is out the door. How much will that hurt Answers? Well, the first glimpse of the effects were seen in the stock market Friday.
(Click to enlarge chart)
Answers (ANSW) is publicly traded and its stock did not fare so well Friday. [Update: ANSW shares fell 1.65% on Friday to $7.80]
What do you think of Answers.com's chances of continued success now that the Google lifeline has been cut?
UPDATE: Answers CEO Bob Rosenschein tells us that Google wasn't that big of a chunk of its traffic:
"While I'm sorry to see it go, it is not material — under 5% of our traffic."
Wow! I'm shocked that more people weren't clicking on that link.
Author's disclosure: None