China Petroleum & Chemical Corp. (NYSE:SNP) or Sinopec Ltd. has a lot to brag about. It's currently ranked as No. 5, the highest of any Chinese company, in Fortune magazine's global top 500 for 2012. It also recently made headlines through its $3.5 billion bond sale, the largest in Asia in a decade (excluding Japan). But given this unprecedented success, can the company sustain and beat its major rivals in the industry?
Industry Analysis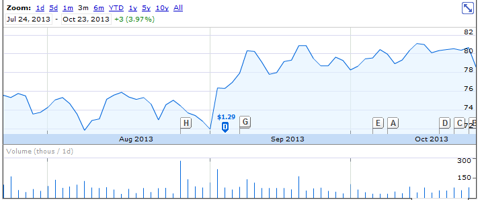 In the first quarter of this year, the Chinese economy maintained steady growth, achieving a GDP growth rate of 7.7% relative to the same period of last year. Just last March, the National Development and Reform Commission adjusted the pricing mechanism for oil products. This is to enable domestic oil product prices to closely reflect fluctuations of international crude oil prices.
China Petroleum & Chemical Corp. recently made headlines around the world due to its $3.5 billion bond sale, the largest in Asia in a decade (excluding Japan). This is in addition to the $3.1 billion raised by the company through private placement this February. The company has been purchasing overseas assets from its parent Sinopec Group, thereby improving its portfolio as it rivals with oil & gas giants such as Exxon Mobil (NYSE:XOM), Chevron (NYSE:CVX), and Total SA (NYSE:TOT).
The stock price of China Petroleum hasn't performed well in the last year, although the last few months have shown improvement. It has been trading at the same level as last October, at around $80 per share. This may not sound fantastic, but in the same period Exxon Mobil is down by 5% while PetroChina's (NYSE:PTR) share price has come down by 16%.
Recent Acquisitions and Expansions
China Petroleum & Chemical Corp. recently announced plans to acquire an interest in SIBUR's Krasnoyarsk Based Plant. Earlier the company signed an agreement on cooperation to create a joint venture which will produce Nitrile rubbers on the base of KSRP.
The company also revealed last month that it would buy assets in areas like in Russia, Columbia and Kazakhstan, totaling to $1.5 billion from its parent company. This is in line with its goal to quadruple its proven overseas reserves to 330.2 million barrels.
Financial Ratios and Analysis
Net income for the quarter stood at $11.15 billion, missing Bloomberg's analyst estimations. The significant increase in income was mainly due to improvement in earnings by its refining segment, which increased strongly by 341.80% in comparison to the same period last year. Total turnover went up 3.6% to $112.8 billion showing signs of higher demand and higher liquidity.
Refining margins increased considerably as a result of an overall increase in fuel prices in the last nine months. It is to be noted that Beijing implemented two price cuts and increased prices three times in this period. Meanwhile China's inflation has been at its lowest levels since 2010.
On the negative side, the company's earnings in the Exploration and Production segment, has reported a 17% decline in earnings to $2.63 billion. Moreover, its Marketing & Distribution income has fallen by 11.2% to $1.48 billion while its Chemicals segment has reported an enormous decline in income from $212 million to just $26.6 million.
The Debt-to-Equity ratio for the period is at 52.89 which is significantly higher (by 105%) than the industry's average. This reflects the company's growing debt and volatile earnings which is unattractive to its investors. The current ratio is at .74 showing signs of liquidity and the ability to cover its short-term needs.
The recent financial results of the company indicate higher net income which is a positive indicator for growth and appreciation in its stock price. The stable economy of China along with the rising oil prices is helping the company sustain its growth.
Rough Valuation
P/E ratio is at 9.17 for the year 2012, relative to the industry's 9.2. The mean EPS estimate for 2013 by some of the top analysts is '7.15'. Meanwhile, its Price to Earnings/Growth (PEG Ratio) for 5 years term is at 2.46 which is lower than the industry's 1.10, indicating its stock price is currently traded at a discount.
Price to Book is currently at 1.08 which is slightly lower than the industry's average of 1.64, also indicating that its price is trading at a slight discount. The same holds true for Price to Sales which is currently at .21 which is significantly lower than the industry's average of 2.08.
ROE is slightly lower at 13.33% as compared to the industry's 16.8%. This indicates some issues in the company's ability to manage its capital to further boost its profits.
Dividend yield is currently at 6.2%, which is higher than industry's average of 4.072%, indicating a relatively stable cash flow for its investors.
Recommendation:
I recommend holding on to China Petroleum and Chemical Corp. Its financial records indicate strong net income growth showing signs of efficient revenue and expense management. Its current stock valuation indicates that it is currently trading at a discount giving investors more potential for profit. On the other side, a high debt-to-equity ratio and lower ROE than the industry's standard are negative indicators for the company. However, I personally believe that its strong financial performance and valuation outweighs the former.
Disclosure: I am long SNP. I wrote this article myself, and it expresses my own opinions. I am not receiving compensation for it (other than from Seeking Alpha). I have no business relationship with any company whose stock is mentioned in this article.