Boeing (NYSE:BA) presented strong Q3 results yesterday and follows in the footsteps of many other companies this earnings season. Boeing reported:
Revenues of $22.13 billion in Q3 2013 compared to $20.01 billion in Q3 2012 (up 11%)
Operating cash flow of $2.81 billion compared to $1.60 billion last year (up 76%)
EPS of $1.51 compared to a Q3 2012 EPS of $1.35 (up 12%)
Core operating earnings of $2.14 billion compared to $1.79 billion in Q3 2012 (up 20%)
Core EPS of $1.80 in Q3 2013 compared to $1.55 for the same period last year (up 16%)
Core operating margin improvements of 0.7 percentage points to 9.7% in Q3 2013
Free cash flow of $2.32 billion which compares to $1.17 billion in Q3 2012 (a plus of 99%).
Boeing's Q3 performance follows already strong results in H1 2013. YTD numbers also show meaningful growth which is a reflection of higher aircraft deliveries and operational improvements. For the first nine month, Boeing achieved the following results:
Revenues increased 6% to $62.84 billion vs. $59.40 billion
Operating cash flow rose 104% to $6.80 billion vs. $3.34 billion last year
Earnings per share of $4.36 vs. $3.84 (+14%)
Core operating earnings of $6.04 billion vs. $5.35 billion (a plus of 13%)
Core EPS increased 17% to $5.20 compared to $4.43
Free cash flow more than doubled to $5.34 billion vs. $2.13 billion (up 150%).
Business segments
Boeing's dominant segment is its commercial airline unit which accounted for 61% of YTD revenues. The table below provides a break-down for Boeing's YTD and quarterly airplane deliveries:

Total deliveries increased 9% for the first nine month 2013 compared to 2012 and 14% in the third quarter compared to the same quarter last year. The 737 model remains Boeing's strongest product with deliveries of 330 YTD in 2013 compared to 310 in 2012. The 787 also has come a long way with deliveries up 74% YTD and 92% in the third quarter. Backlog stood at 4,800 planes with a value of $345 billion. Boeing also received 200 net orders for its planes in the third quarter.
Boeing's Defense, Space & Security division reported quarterly revenues of $8 billion vs. $7.8 billion last year (up 3%). Its segment earnings, however, decreased to $673 million vs. $827 million in Q3 2012 (down 19%). Boeing's operating margin decreased 2.1 percentage points from 10.5% to 8.4%. Backlog in this unit stood at $70 billion.
A delivery overview for the Defense, Space & Security segment is provided below. The first and second column relate to delivery volumes for the first nine month in 2013 and 2012 and columns three and four to quarterly deliveries in Q3 2013 vs. Q3 2012.

Share performance
After announcement of Q3 numbers, Boeing's shares popped and ended the day 5.34% higher. Boeing is up 77% over one year whereas Lockheed Martin (NYSE:LMT) gained 41% and General Dynamics (NYSE:GD) 27%. EADS (OTCPK:EADSY) outperformed the sector with a one year gain of 89%.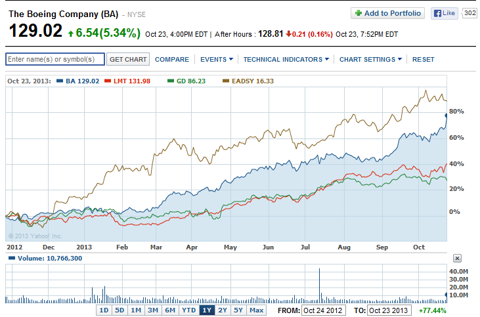 Valuation
Boeing's Q3 and YTD results are impressive and deserve nothing but acknowledgment. Investors looking for a bargain, though, are probably not well advised adding this aircraft manufacturer to their portfolios due to Boeing's high valuation which already includes a significant growth premium. Share price gains have accelerated prior to result announcement and Boeing now trades at a rich multiple of nearly 18 forward earnings which limits further valuation growth. On the other hand, Lockheed Martin and General Dynamics have much lower multiples and more attractive dividend yields. Boeing is currently the sector darling riding high on its 737 and 787 models. The high present valuation and increased momentum in the wake of Q3 results make it unlikely that investors get a bargain purchase here.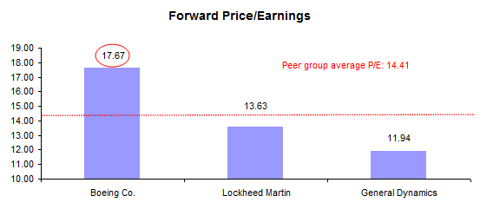 Lockheed Martin is a valid alternative to Boeing with a dividend yield of over 4%. Even General Dynamics pays a substantially higher dividend yield of 2.60%. Boeing's relative underperformance in terms of cash flow yield is attributable to accelerating share price gains since September.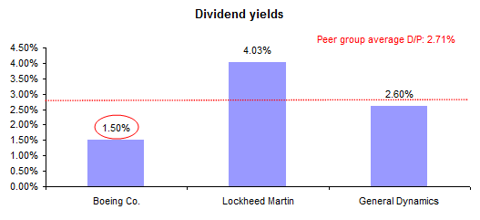 Summary
Boeing clearly has an attractive product portfolio with growing deliveries and a high backlog. At a price of nearly 18 times earnings, investors pay a substantial premium which suppresses multiple expansion. Cash flow and earnings growth are unlikely to persist at Q3 rates especially considering that Boeing already fetches a market cap of $100 billion. Lockheed Martin and General Dynamics achieve more attractive valuations in the market and can provide income investors with much better dividend yields. Given the rich valuation of Boeing, high expectations for future growth and low earnings- and dividend yields, investors pay a meaningful growth premium upfront. Investors seeking exposure to the aircraft manufacturing industry could instead take a closer look at lower-cap aircraft producers that have much more potential to catch up in valuation.
Disclosure: I have no positions in any stocks mentioned, and no plans to initiate any positions within the next 72 hours. I wrote this article myself, and it expresses my own opinions. I am not receiving compensation for it (other than from Seeking Alpha). I have no business relationship with any company whose stock is mentioned in this article.