Editors' Note: This article covers micro-cap stocks. Please be aware of the risks associated with these stocks.
On October 16, the US market experienced several stocks which made big jumps ahead in terms of share price, apparently against no significant news. Among those mid-day gainers there were also two pharmaceutical companies that are based in PRC, in particular Biostar Pharmaceuticals Inc (NASDAQ:BSPM) and China Pharma Holdings, Inc. (NYSEMKT:CPHI).
Biostar Pharmaceuticals Inc.: +0.26 (31.03%).
The company is engaged in the development, manufacture and marketing of over-the-counter (OTC) and prescription pharmaceutical products for various diseases and conditions in the People's Republic of China. For a full description of the company's activity you can go here.
Despite BSPM's the fact that working capital management is not really a model of efficiency to imitate, the business stands on a strong basis.
Let's have a look at BSPM's cash conversion cycle (CCC) trends over the past 2 years by assuming the fiscal year starts on July 1, 201(n) and ends on June 30, 201(n+1).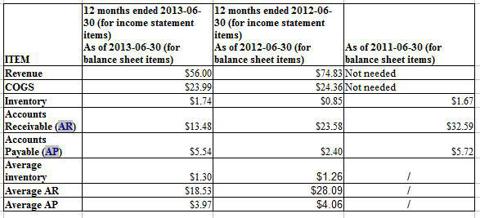 This means that BSPM's cycle is 80 days for the last 12 months ended June 30, 2013 (it improved from the corresponding previous period).
Biostar's Cost of Sales (COGS) is about $23.99 million for 12 months ending June 30, 2013 (assuming that the year begins July 1, 2012 and ends June 30, 2013). About $65,726 per day ($23.99 millions / 365 days).
Since BSPM's CCC is 80 days, the company funds its working capital needs to the tune of about $5.26 million per year ($65,726 x 80 days). The working capital must be financed either with equity and/or loan.
If we assume that the interest on this debit is 7.80% (see interest rate on short term loans, last 10-Q 2012 page F-10) then the cost of this financing is about $410,130 per year ($5.26 millions x 7.80%). If the CCC declines further then the amount needed to finance the working capital needs of the company, the cost of the same funding will reduce as well. This is not a big thing (0.73% of sales) since Biostar can fund its business from its free cash flow (read Biostar Pharmaceuticals' CEO Discusses Q3 2012 Results - Earnings Call Transcript). But if the company can still improve its cash conversion cycle (especially by converting the amount of accounts receivable in cash more quickly), more cash can be saved and used to finance, for example R&D costs, which is a very important item for a developer, as well as producer and marketer of pharmaceutical products. Even more so the company ''will continue to expand its product portfolio, enhance its marketing and distribution to support the growth in the second half of 2013'' (see Biostar Pharmaceuticals' CEO Discusses Q2 2013 Results - Earnings Call Transcript).
SALES VERSUS CASH RECEIVED FROM CUSTOMERS:
''As at the end of the day, sales without the resulting cash are useless.'' (source: here).
Unfortunately, the company does not give us enough information to identify risky revenues. They are constantly striving to improve their internal accounting controls, particularly those related to revenue recognition and they use estimates for, but not limited to, the accounting of certain items such as allowance for doubtful accounts, depreciation and amortization, impairment, inventory allowance, taxes and contingencies (source: BSPM, FORM 10-Q, 30/06/2013, page F-7).
Since the company's information is really essential on how to recognize revenue, we will check reported revenues which can be affected by estimates and assumptions against the actual cash received from customers.
We can compare revenue and cash received from customers for the 1 year period (from July 1, 2012 to June 30, 2013) with those for the 1 year period before (from July 1, 2011 to June 30, 2012):
Revenue for 1 year ended June 30, 2013: $56.00M. Change in accounts receivable: $13.48M (as of 2013-06-30) - $23.58M (as of 2012-06-30) = -10.1 (in millions of USD). Advances from Customer: -.
Cash Received from customers: $56.00M + $10.1M = $66.10M
We can see that the cash the company received from its customers during the period July 1, 2012 - June 30, 2013 exceeds revenue. This is a good sign for us.
Revenue for 1 year ended June 30, 2012 : $74.83M. Change in accounts receivable: $23.58M (as of 2012-06-30) - $32.59M (as of 2011-06-30) = -9.01 (in millions of USD). Advances from Customer: -.
Cash Received from customers: $74.83 + $9.01 = $83.84M
We can observe that revenue decreased 25.2% and cash received from customers also decreased 21.2% in 12 months. So the decline of cash received from customers was a bit less drastic than the decline of sales.
The revenue decline was caused by the suspension of sales of gel capsule products in the PRC because as reported by PRC State Food and Drug Administration (SFDA) authorities, they were found to have high chromium levels after a nationwide inspection.
But since the approval from Xianyang SFDA authorities to restart sales of gel capsule products in July 2012, BSPM implemented the plan to recover its sales of capsule products and management said that there are improvements quarter-over-quarter in turn. As a matter of fact the ''last quarter financial results BSPM's positive momentum continues in the second quarter of 2013, with 79.6% year-over-year growth and 21.2% quarter-over-quarter growth in sales''.
The business of BSPM stands on a strong financial basis. According to the last quarter results, the current ratio is 3.66, the company has enough cash to fund the business and no long term debt.

As of June 30, 2013, BSPM's NCAVPS: (41.45 - 10.84) / #11.60M shares outstanding = $2.64 per share.
On October 16, 2013 BSPM's share price closed at $1.11.
As of today BSPM's share is quoted far below its NCAVPS.
Book Value Per Share (mrq): $5.20.
China Pharma Holdings, Inc.: +0.041 (14.39%): the company develops, manufactures and markets generic and branded pharmaceutical products primarily to hospitals and private retailers in the People's Republic of China. Currently the company's main focus for its therapeutics includes CNS, cardiovascular, cerebrovascular, wound recovery, digestive disease and infectious diseases.
For more information about its business you can find directly on the website of the company.
CPHI is another company that is trading far below its NCAVPS as you can see from the table below.

As of June 30, 2013, CPHI's NCAVPS: (101.12 - 14.65) / #43.58M of shares outstanding = $1.98 per share. On October 18, 2013 CPHI's share price closed at $0.32. So as of today CPHI's share is quoted far below its NCAVPS.
Book Value Per Share (mrq3): $3.31.
We also notice that about 54.7% of total current assets is represented by receivables and about 33.3% is represented by inventory. In the following tables we analyze CPHI's cash conversion cycle trends from fiscal year 2008 to fiscal year 2012 and on a QOQ basis (Q2 for 2008-09-10-11-12 and 2013).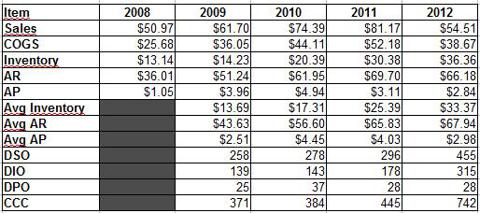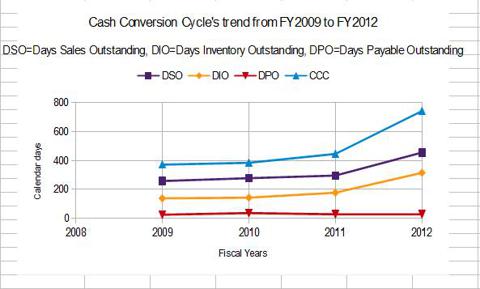 Here is the cash conversion cycle calculated on QoQ basis.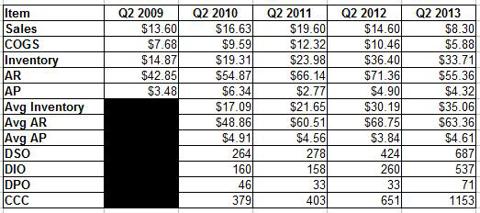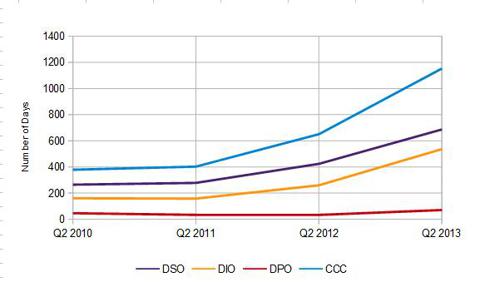 The company's cash conversion cycle trend goes up starting in fiscal year 2010 and increased almost 67% from 2011 to 2012 and 77.11% from Q2 2012 to Q2 2013. This is mainly due to:
CPHI's temporary high inventory condition in order to avoid any negative impact from the production facility new GMP upgrading and construction
and the increased time the company needs to collect its accounts receivable from customers.
Concerning the second cause the company is still working to control the trade receivables through a reduction in their sales-on-credit. In addition the company is confident about the fact that even if the collection of receivables is - by nature - slow because over 90% of their drugs are sold to state-owned hospitals, it is anyway reliably collectible demonstrated by their collection of all receivables in the past.
Although these customers typically pay after the due date of the receivables, since the majority of hospitals in China are backed by the government, the management believes that the deferred payments from state-owned hospitals are secure and will eventually be collected. So far, we have always been able to collect our receivables and have not written-off any receivables in our 19-year history of doing business with hospitals. (CPHI, 10-K, 31/12/2012, page 41)
This can be true because as far as we know other Chinese pharmaceutical companies are experiencing the same problem by proving that this is clearly a characteristic of the business environment, but for sure CPHI must do something in order to solve this issue because the amount of its trade receivables is running on worrying figures. Since CPHI's normal credit or payment terms extended to customers are 90 days, it is clear that these terms are not at all respected.
The classification of AR on the basis of their age shows a company's tendency to accumulate old AR: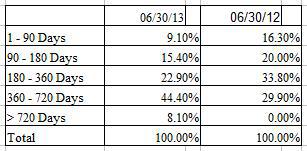 CPHI's bad debt allowance estimate is currently the sum of 3.5% of accounts receivable that are less than 360 days old, 10% of accounts receivable that are between 360 days and 720 days old and 100% of accounts receivable that are greater than 720 days old (10-Q form, June 30, 2013).
Since receivables that are older than 720 days are 8.1% of the total account (as of June 30, 2013), it means that the company set aside an allowance for doubtful accounts (i.e. there are still possibilities of being collected) equal to $5,119,200 only for receivables aged than 720 days. This amount has not been written off yet and we hope that this is not a standard to measure the success of the credit department because the company has not written-off any receivables in its entire business' history. If this is the case maybe it is advisable to reconsider the standards with which the performance of the credit department is evaluated. We generally don't like to see that bad debt expenses drop to the bottom line while credit department is considered to achieve good performance in managing receivables..We will look closely at that amount of receivables.
An efficient management of receivables is fundamental to ensure a good functioning of the credit department. The credit department must: a) collect and arrange information needed to decide on the granting of credit to particular customers, b) monitor the collection of receivables to make sure that the necessary is done to collect the receivables at their maturity and c) in the case of accounts receivables which customers can't pay or don't intend to pay, the company must establish and implement appropriate action to recover the credit and prevent loss.
Since a chief part of the increase in CPHI's selling expenses was due ''to maintain necessary personnel and expenses to support the sales and collection of accounts receivable'', it sounds like the company has figured out where the problem is and what kind of actions to take in order to resolve it.
When we have a look at the company's income statements we can see below that CPHI's sales revenue decreased by $26.66 million, or 32.84%, to $54.51 million (2012) from the $81.17 million (fy2011) generated and CPHI's net income decreased by $14.65 million, or approximately 76%, to $4.62 million (2012) from $19.27 million generated in 2011.
Why did revenue decrease during the period observed?
Because of the implementation of the everchanging Healthcare Reform policies and the associated price adjustments, the revenue decreased during fiscal year 2012 and because during the three months ended September 30, 2012 the company reduced its sales-on-credit in order to control the accounts receivables. (source here)
CPHI's sales revenue also decreased by $6.57 million, or 45%, to $8.03 million (Q2 2013) from the $14.60 million (Q2 2012).
During the first 6 months of 2013 sales have been temporarily impacted by the prudent marketing strategy of the company that consists of ''a more stringent screening of existing and potential distributors and hospital customers in terms of speed of payment'' in order to gradually reduce the huge amount of accounts receivable by rising their conversion speed into cash (see China Pharma Holdings' CEO Discusses Q2 2013 Results - Earnings Call Transcript).
Furthermore, the company operates in a market where there is a lot of competition because of a large number of small and medium-sized companies and also because these companies manufacture and sell many products that are not protected by intellectual property rights. Consequently it becomes vitally important for the company expanding revenues from the core portfolio of products while continuing the development process of new products and all this is, as a matter of fact, is the company's business strategy.
Why consider these two Chinese stocks micro-cap then?
Because we think that CPHI and BSPM are two companies that meet that investment philosophy that looks at undiscovered micro and small companies with great prospects at an attractive price, and which followers have the patience to hold a position until other investors recognize their value.
We think that many of the small companies that operate in the drug industry will likely be eliminated by the implementation of the new GMP because higher GMP standards means higher manufacturing costs. Therefore it becomes unsustainable if the company's business is not based on a strong balance sheet ready to rebound to profit quickly. On the other hand CPHI and BSPM have, in our opinion, the traits to survive the update of their productions and quality control of drugs systems to the new standards (and actually they already did).
Furthermore, the developments that the new GMP introduces will significantly increase the overall quality of China's pharmaceutical industry and therefore will improve the competitiveness of Chinese pharmaceutical companies on the global market.
We can't hide a little bit of concern about the high amount of accounts receivable recently accumulated by these companies and especially by CPHI (of which, however, we have exposed the causes above). We still feel very confident that with the accomplishment of the new GMP upgrading and the strong launch of new products, AR collection and sales performance of these companies will realize significant improvements. Furthermore, in the meantime that pricing of pharmaceutical products will continue to be under pressure (for some time) because the Chinese government's commitment to invest heavily in healthcare will remain in place during the 12th five-year plan and beyond (although CPHI has finished its three-year reform initiate to improve access to affordable healthcare) these companies are now actively exploring changes to the product portfolio and developing new sales channels and sales tactics.
The reincorporation of CPHI into the State of Nevada from the State of Delaware will permit the company to continue to benefit from tax relief and to take advantage of the great flexibility to the Board of Directors that Nevada laws offer. Above all, strong protection from hostile takeovers and against piercing the corporate veil.
Be aware that we are talking about micro-caps with very low daily volume trading and BSPM has to regain compliance with the Nasdaq Marketplace Rule after notice of delisting. Concerning CPHI, I would wait till the situation on receivables becomes more clear. So keep a very close eye on these two micro-caps and do your homework on them!
Disclosure: I have no positions in any stocks mentioned, but may initiate a long position in BSPM over the next 72 hours. I wrote this article myself, and it expresses my own opinions. I am not receiving compensation for it (other than from Seeking Alpha). I have no business relationship with any company whose stock is mentioned in this article.