Introduction
US Airways (LCC) has just released its Q3 financial results, and it's needless to say I was looking forward to see if LCC was able to show results which are as impressive as Delta Air Lines' (NYSE:DAL) financials yesterday. The airline sector has been a bad sector to invest in for quite a while now, but the past quarters most of the US airline companies seem to have turned the corner and the vast majority is profitable again (which is a big difference from their European competitors which are still losing money). In this article, I'll have a look at the financial statements, the balance sheet and the merger with American Airlines' parent AMR Corp. (AAMRQ).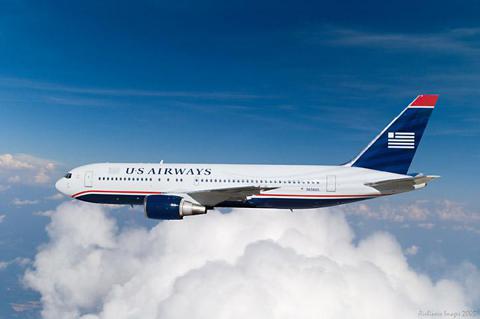 My view on the financial results
First of all, LCC reported a 9.1% revenue increase to $3.86B compared to the same period last year. This is mainly caused by an impressive 12.2% jump in the mainline passenger revenues which accounted for in excess of 2/3rds of the total revenue, compared to 65% last year.
What's more important is that even though the revenues increased by 9.1%, the operating costs increased at a much slower rate of just 5%, mainly caused by a lower rental payment for aircrafts.
Looking at the bottom line, despite the higher revenues, the net profit decreased by almost 12% thanks to a higher tax bill which is approximately 11,900% higher than in the same period last year. This is caused by the fact the company can no longer carry over previous operating losses to offset against the profits.
I think the reason for today's drop in the share price is because most investors are focusing on the bottom line, which shows a 26% EPS decline. However, most people should be aware this will be the 'normalized' situation from now on, as LCC will have to pay taxes again. If US Airways didn't have to pay tax this quarter, the EPS would actually have increased to $1.54/share. But as said, people will have to get used to a lower EPS from here on.
My view on the balance sheet
The balance sheet has improved a lot since the end of last year (mainly thanks to the 31 million additional shares). Of interest is the huge increase in the working capital position from just $279M to a much healthier $1.67B, thanks to a $1.2B increase in the company's cash position. The current ratio increased to a higher 1.46 (keep in mind a ratio higher than one means the company has sufficient current assets to cover its current liabilities).
I'm personally very happy with the improved balance sheet of the company which allows US Airways to be more flexible. I'm also positive about the increased book value which increased to $7.77/share compared to $4.86/share at the end of last year. If LCC is able to continue the results of the past quarters in Q3, I'm aiming for a book value per share of $8.80 by the end of this year, and the BVPS will very likely reach a double-digit number in 2014.
The never-ending story of the merger with AMR Corp.
As everybody knows, US Airways is trying to finalize merger talks with AMR Corp. which is the holding company of American Airlines.

As a platinum member of American Airlines' AAdvantage program, I can only applaud a merger between two relatively strong companies. There will be huge benefits for the travelers (as I will have more hubs and connection points to choose from, as well as a flight schedule which might better fit my needs) as for the merged entity (as the synergy benefits will be huge (estimated at $1B by 2015)). As such, as both a traveler and potential investor in the 'new American Airlines,' I hope both companies will get the nod from the regulators soon.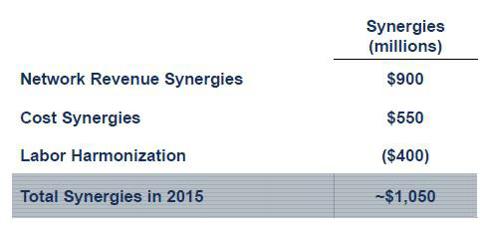 Investment Thesis
I've always been a bit wary about investing in airline companies as the sector is extremely volatile, I've got the impression most of the US carriers have turned the corner and are now very profitable again.
I'm impressed with US Airways' financial results this quarter, and it looks like the recovery is sustainable. It's very important to look further than just the EPS as the bottom line is influenced by the company's higher tax bill.
I'm convinced US Airways will benefit hugely from a merger with American Airlines, and I hope to see both companies merge very soon in order to create one big strong US flag carrier which will be the largest and most lucrative airline company in the world.
As a lot is depending on successfully concluding the merger talks, I won't take a position in LCC just yet. I prefer to wait until all regulatory hurdles will be cleared as it's obvious the combined entity will have a much higher chance of survival in another economic downturn than two separate entities.
Disclosure: I have no positions in any stocks mentioned, and no plans to initiate any positions within the next 72 hours. I wrote this article myself, and it expresses my own opinions. I am not receiving compensation for it (other than from Seeking Alpha). I have no business relationship with any company whose stock is mentioned in this article.