It's been an amazing run in the stock market. But I have to admit that I start to feel a bit uneasy about things when I see all news reported as good news, because it either means the economy is getting better or more QE is coming. That wouldn't bother me so much if corporate earnings were still booming and the economy was growing strongly, but neither one is occurring. In fact, the market is just driving higher on what looks like sheer optimism of continued QE and little else.
You can see this optimism in two indicators you'll recognize. The first is Warren Buffett's favorite valuation metric - total market cap to GNP. The latest reading of 110% has only been surpassed by the Nasdaq bubble.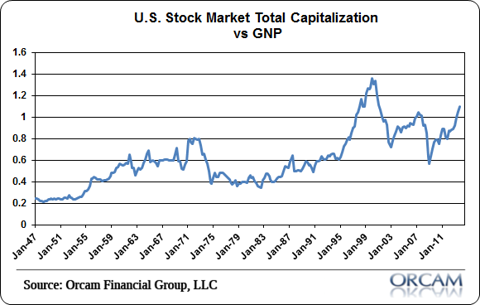 Click to enlarge
(chart via Orcam Research)
The other chart that makes me feel uneasy is the amount of borrowing that's being done to purchase equities as evidenced by NYSE margin debt at all-time highs: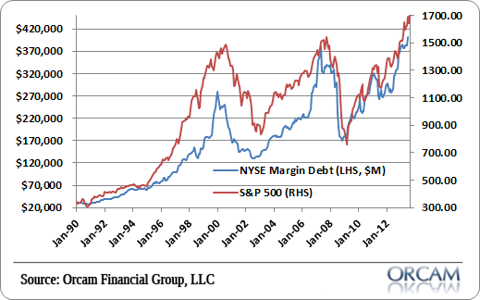 Click to enlarge
(chart via Orcam Research)
I'll be honest - I've never really understood the obsession with equities, and being a macro guy I probably never will, because I have so much love for so many asset classes and approaches. But if I were 100% allocated in equities at this point in the cycle, I would feel rather uneasy about my positioning.