In many respects, commodity imports to China helped stabilize and even bolster commodity prices throughout 2009. Needless to say, Chinese supply and demand for commodities in 2010 will be a crucial element in determining whether commodities remain strong or weaken throughout 2010.
Focusing on oil, it can be observed that global oil demand turned positive during Q4 2009, thanks to Chinese strength.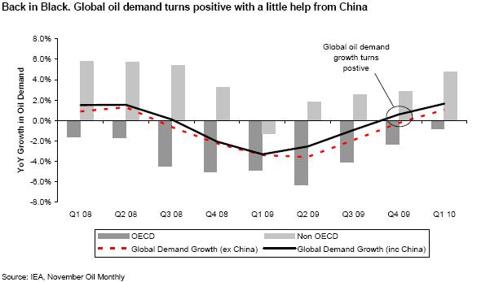 According to Bernstein Research,
we expect China year over year apparent oil demand growth to be close to 4%, most of which will come from growth in genuine demand rather than storage as 4Q demand continues to strengthen.
They go on to point out that while 4% growth in oil demand out of China is right around the historical average, given that 6 months ago the International Energy Agency estimate for Chinese oil demand growth was slated at -1%, the 4% growth rate is really quite remarkable.
In Bernstein's view there will be three key variables that continue to drive oil demand in China:
1. Historical relationship between GDP growth and oil demand – As it turns out, historically oil demand in China has been 50% of GDP growth which implies that oil demand growth should be approximately 4% given the IMF's projection of 8-9% GDP growth in 2010. Bernstein addresses some critics who are concerned that the fiscal stimulus will be withdrawn early by arguing that withdrawal of fiscal stimulus is unlikely,
given the government commitment to this program and the time scales required to complete some of the major infrastructure projects which have been started. [Furthermore], it is difficult to stop building highways, bridges, and buildings half way through.
2. Increasing demand for transportation fuels –
As has been widely quoted, vehicle output is up a staggering 80% year over year with demand for goods and passenger vehicles particularly strong.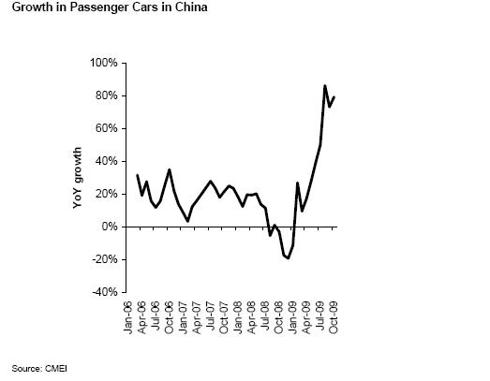 3. The second phase of the Chinese strategic petroleum reserve (SPR).
Plans are underway to construct storage sites at 8 new locations where China will add a further 170mmbls of storage in addition to the 104mmbls completed under phase 1. Some of these sites should be ready by the end of the year. Assuming the SPR is filled over a 3 year time frame this could add a further 1% to 2% to Chinese oil demand, in addition to the 4% to 5% growth which is expected from normal GDP growth.
In conclusion,
If we avoid a 'double dip' in GDP in OECD countries and China continues to act as a proxy for emerging market demand, global oil demand growth in 2010 should be strong and supportive of oil prices which we believe will continue to rise.
Disclosure: Author holds a long position in PSEC