Earlier this year, I predicted that Alcon (ACL) shares would rise to $181 a share. That is coming to pass. Alcon has moved quickly up to $160.
To recoup the story, Novartis (NYSE:NVS) bought 74 million shares of Alcon from Nestle's (OTCPK:NSRGY) in 2008 at $143.18. However, their contract didn't end there. Nestle's was given the right, starting January 1, 2010, to sell its remaining 52% stake of Alcon to Novartis at a price 20.5% higher than its trading price to a maximum of $181. In August 2008, after the deal was announced, Alcon soared to a high of $175. With the crash, Alcon plummeted to $71. Investors seemed to forget about the second part of the deal: the potential $181 target starting in 2010. They've now awakened to the looming date on the calendar, when Nestle's can reap its $181 reward. On January 1, 2010, Nestle's can sell its remaining 155 million shares of Alcon for $28 billion.
Minority shareholders comprising 23% of Alcon stand to join the ride. Novartis is under no obligation to buy these shares. However, in January, Novartis will buy Nestle's shares at $181 a share. It stands to reason that the value of all shares will rise toward this price.
Let's look at what's happened to the share prices of these two companies: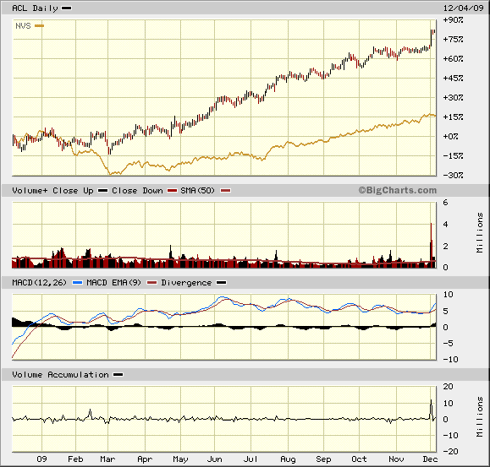 Let's make some more predictions:
1) Normally, we find out about big deals like this as they happen. There's now a lead time of a month. So what will this mean for Novartis? The company needs to come up with $28 billion soon. Has it prepared itself? It has $14 billion in cash and cash equivalents, $21 billion in goodwill and intangibles, $24 billion in longer term assets (of which a lion's portion is the Alcon stock already owned). It is going to need to 1) borrow at least another $14 billion to fulfill its contract with Nestle's, in the end, probably more like $18 billion ,or 2) do a secondary offering. Debt now is $14 billion. Expect $31-32 billion total in debt when the deal closes.
2) What does Novartis get? Lots of Alcon stock. Ownership of Alcon? No. For that, Novartis must buy out minority shareholders, something that management has stated it has no interest in doing. It is very hard for a parent company to get value out of owning a portion of another company. After all, what do you get? Share appreciation for your portfolio? Dividends? Novartis will be paying 22.3 times the value of EBITDA for its next purchase of Alcon stock. They'll be forced to "pay up" without consummating anything at all. And, if the Alcon stock goes down after the deal, well, there goes Novartis's balance sheet. So, next prediction: Novartis ultimately will buy out minority shareholders.
3) Novartis stock price is way too high. It has to come up with $28 billion to buy Nestle's out. In order to achieve its objectives, it must acquire another 68 million shares outstanding. (Too bad, Novartis didn't make a deal to buy everyone out when Alcon crashed to $71.) I think that investors are beginning to realize that the deal is coming: 1) witness the extraordinary volume of shares that were traded in Alcon on December 2 -- 4 million shares when normally 600,000 shares trade and 2) huge volumes selling Novartis the same day. (see chart)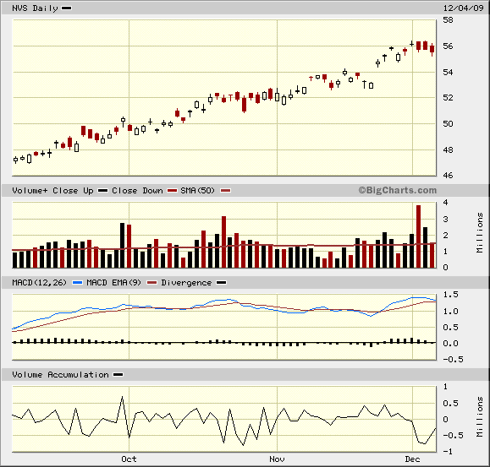 Bottom line: Novartis is a sell. Alcon is a buy.
For those interested: below is the Novartis-Nestle's deal.
Novartis to Acquire 25 Percent Minority Stake in Alcon from Nestle

HUENENBERG, Switzerland--(BUSINESS WIRE)--April 7, 2008--Nestle S.A. and Novartis AG announced today that they have reached an agreement pursuant to which Nestle will sell 74 million of its shares of Alcon, Inc. (NYSE: ACL) common stock to Novartis in a cash transaction at a price of $143.18 per share. Once consummated, Novartis would own a minority stake in Alcon of approximately 25 percent of Alcon's outstanding shares, while Nestle would remain Alcon's majority shareholder with approximately 52 percent of Alcon's outstanding shares.

Nestle and Novartis also announced that the agreement contains put and call option rights on the remaining Alcon shares owned by Nestle, which commence on January 1, 2010 and expire on July 31, 2011. As outlined by the two parties, these rights grant (i) Novartis a call option to buy Nestle's remaining Alcon shares at a fixed price of $181 per share and (ii) Nestle a put option to sell its remaining Alcon shares to Novartis at the lower of Novartis's call price of $181 per share or at a 20.5 percent premium above the market price of Alcon shares, which will be calculated as the average price of Alcon shares during the week preceding the exercise date of the put option.
Disclosure: long ACL no position NVS