As many readers are aware, I look for new issues and/or filings as part of my daily review. The other day, on my daily new issues trolling, I came across a preferred issue that might be of some interest to investors. First Republic Bank (NYSE:FRC) just issued a new 7% Series E, non-cumulative perpetual preferred stock. Let's take a look.
First Republic Bank is a full-service bank specializing in private banking and private business banking. The Bank's wealth management affiliates offer trust, investment consulting and advisory services. Founded in 1985, First Republic specializes in exceptional, relationship-based service offered through preferred banking or wealth management offices primarily in San Francisco, Palo Alto, Los Angeles, Santa Barbara, Newport Beach, San Diego, Portland, Boston, Greenwich, Palm Beach and New York City. First Republic offers a complete line of banking products for individuals and businesses, including deposit services, as well as residential, commercial and personal loans.
A summary of the offering:
The first step of the evaluation is to determine the value of the preferred versus First Republic's outstanding preferred stock:
The above table leads me to like their 6.70% Series A preferred stock more than the newly issued Series C. The reason is simple: if it only costs me 3 basis points on a stripped yield basis to buy at a discount to par (an obtain a higher yield to call), it is worth the 3 basis points.
The next question is how does the FRC Series A stack up against its peers? For this, I am using Regions Financial (NYSE:RF), Cullen Frost (NYSE:CFR), Webster Financial (NYSE:WBS) and Huntington Bancshares (NASDAQ:HBAN) as peers for the preferred comparison.
Versus their peers, I still like the preferred even though it doesn't have the highest yield. If you believe the rating agencies, it is, at most, 20 basis points below lower rated Webster. First Republic's Series A preferred is attractive relative to peer preferred, but is there a fundamental reason? The following is a summary financial snapshot versus the peers listed above as well as Comerica (NYSE:CMA), New York Community Bancorp (NYSE:NYCB), Keycorp (NYSE:KEY) and M&T Bank (NYSE:MTB):
Versus all the listed peers, First Republic holds its own and shines - strong on every metric. There is no fundamental reason that FRC Series A should trade at yields higher than it does, and I would argue that it should trade tighter (lower yield) than most of its peers. Essentially, the First Republic Series A preferred stock is cheap. Add to this that it has sold off during the latest "rate rout", and you have a compelling investment.
And finally, a look at the equity versus peers for confirmation of the story: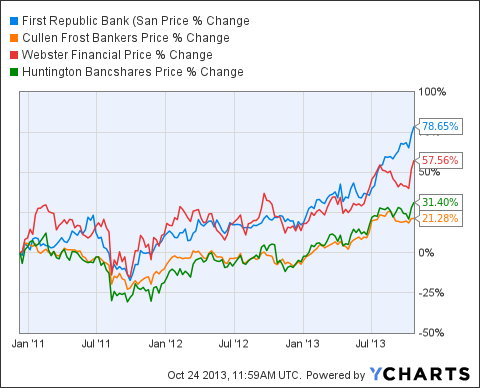 FRC data by YCharts
Bottom Line: I like First Republic's conservative profile, business lines and financial metrics. The new preferred is attractive, but I prefer the Series A. Either is a strong investment and should be considered for an income portfolio.
Disclosure: I have no positions in any stocks mentioned, but may initiate a long position in FRC over the next 72 hours. I wrote this article myself, and it expresses my own opinions. I am not receiving compensation for it (other than from Seeking Alpha). I have no business relationship with any company whose stock is mentioned in this article.